Student Opportunities
Biology Student Staff Positions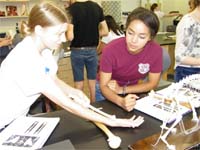 Positions in the Biology Department help students to develop leadership skills by growing in their knowledge of biology, acquiring hands-on experience, participating in teaching labs, joining in a weekly pre-lab meeting and working closely with faculty and fellow students. The biology department employs thirty to thirty-five students each semester. Most students work as paid teaching assistants, but student employees also manage the greenhouse, care for research organisms and aquarium fish in display tanks, wash glassware, and help with administrative duties in the department. For students with a career interest in teaching biology, working as a teaching assistant can provide them with valuable practical experience. Teaching assistants spend between six and ten hours a week working closely with instructors in introductory and upper level biology courses. Their responsibilities include setting up for lab courses, working closely with professors, helping during classroom instruction, grading assignments, and being available to answer students' questions outside of class.
The Department offers such positions as:
Teaching Assistants (TAs) in labs
Lab Prep Assistants
Greenhouse Assistant
Animal Room Assistant
Fish/Hydroids Assistant
Applications are accepted in early November for Spring Staff Positions and early April for Fall Staff Positions. (Summer positions are also available)
For Further Information on Biology Student Staff Positions and job descriptions:
Contact: Coreen Ogilvie, Biology Lab Associate,
coreen.ogilvie@wheaton.edu

Biology Student Advisory Council
Do you have ideas, questions, or concerns about the Biology major? Do you want to take a
leadership role in the Biology Department? If so, consider joining the Biology Student Advisory Council (BSAC). BSAC consists of Biology students interested in interacting with Department Faculty and Staff on matters of mutual interest. It is led by students with one faculty advisor. BSAC sets its agenda according to student interests and priorities in biology. Freshmen through seniors, come join us! Your insights will help future students.
Biology Symbiosis Club
Symbiosis aims to foster community within the Biology Department by providing an atmosphere which
enables students to get to know each other while growing in their love for biology. This is accomplished
through monthly extracurricular events, including field trips. For more information about how to get involved, contact the Biology Department Office.