Why Study Chinese Language and Culture?
With over one billion speakers, Chinese is one of the oldest languages still in use and along with English is the most commonly spoken language in the world. China occupies a unique status in the 21st century as the center of an ancient civilization that is also an increasingly dominant power in global economics and politics. The study of Chinese language and culture promotes intercultural understanding and cross-cultural communication between East and West, opening up a world of possibilities via the acquisition of linguistic and intercultural skills important for both professional development and personal enrichment and equipping those who pursue careers in ministry, business, diplomacy, health professions, and education in China today to interact with the local people effectively.
Why Study Chinese Language and Culture at Wheaton
Wheaton College's Chinese Language and Culture Major and China Studies Minor program offers beginning through advanced-level Chinese language classes along with a wide range of China-focused content courses in a variety of disciplines. Students gain both language proficiency and familiarity with China. Additionally, Wheaton offers a Chinese through Scripture language course that broadens students' understanding of biblical reception and translation, and invites students to understand God through a new lens. Besides coursework, program events, extracurricular activities, Wheaton in China or other study abroad opportunities are also exciting and enriching components and integral aspects of the program.
The study of Chinese language and culture at Wheaton College seeks to increase students' marketability and career prospects in the business world and to prepare students for graduate school and ministry by offering opportunities to broaden global perspectives, build cross-cultural skills and deepen one's faith and perspective on the Bible.
Are you interested in a learning experience that is both educational and transformational? Check out our alumni stories to find out more. There is also a special opportunity (CLIP-B) for ROTC cadets at Wheaton College to be paid up to $3000 per academic year for studying Chinese language and culture. Incoming freshmen are also welcome to explore the 2-credit Wheaton College Summer Institute course: Learning the Chinese Alphabet and Pronunciation.
100%
Majors studied abroad
20+
Language and culture courses in 9 departments
10+
Annual extracurricular events and opportunities
What Will I Learn?
As a Chinese Language and Culture major at Wheaton, you will learn the forms and functions of the Chinese language, understand native speech and writing, and attain reasonable fluency in Chinese with a specialized exposure to the country of China. From grammar, composition, conversation, business Chinese, and reading courses to topical courses on Asian studies, history, philosophy, business and economics, international relationships, political science, and religious studies, the Chinese language and culture curriculum will allow you to develop a broad grasp of Chinese language and culture. Our most recent graduates have gained Advanced-Mid proficiency on the ACTFL Proficiency Scale and have published essays in competitive Chinese journals.
You will have many opportunities to explore Chinese culture and traditions through courses, Chinese Language and Culture Club events, Mandarin Table, YouAi student group, Pui Tak Center ministry in Chinatown, Chicago, Certificate in Asian Studies, Language Resource Center, Wheaton in China, and other on- and off-campus activities.
Take a look of our annual program events and activities here: Lunar New Year, Mid-Autumn Festival, Mandarin Worship Night, Tea Time, Dumpling Party, Home Gathering, and Calligraphy Night.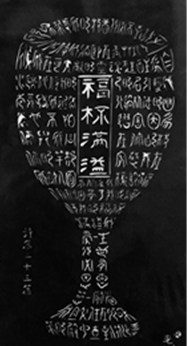 The Chinese Language and Culture program at Wheaton aims to point students to the beauty and truth of God and to unveil His presence in everything they learn. The reward of language learning for our students is, therefore, not merely the pursuit and possession of language skills or economic ambition only in the service of self. The program invites students to explore how learning a language can be a part of their Christian identity as representatives of the Kingdom of God, equipping them to relate to others with respect and to interact with all of God's world from a Christian perspective, developing an understanding of God's work among peoples and cultures. Our classes such as Chinese Through Scripture offer students opportunity to strength language skills, build Bible literacy, and learn more about God. Check out some of our student learning artifacts.
The character artifact shown here is a traditional Chinese paper cut art piece. The entire script of Psalm 23 is cut into the shape of a cup. The four words in the center of the cup characterize Wheaton students' experience of joy in this type of learning-- "My cup overflows."
AHS/Pre-Med: Knowing Mandarin and Chinese cultures will expand the reach of healthcare services and allow you to more personally interact with Mandarin speaking patients. This has been shown to lead to better diagnosis and care.
Business/Economics: Understanding Mandarin will give you a competitive edge in the increasingly globalized world of business, arguably more than knowing any other language. Your resume will stand out in your initial job search, and you will be able to communicate with Chinese business partners from the second largest economy in the world.
Bible/Theology/Christian Formation and Ministry: Students frequently cite an enhanced faith and perspective on the Bible as one of the outcomes of the Chinese Language and Culture program. Classes like "Chinese Through Scripture" will broaden your understanding of biblical reception and translation, and teach you to understand God through a new lens.
International Relations/Political Science: Fulfill your language and study abroad requirements while learning one of the most diplomatically important languages in today's world.
Philosophy: Asian Studies will expose you to the Eastern texts and traditions that are an important part of Western philosophical developments. Colleges that have traditionally focused on Western texts are increasingly adding Eastern Classics programs to their core curriculum, meaning an Asia-related degree would make you more competitive in graduate school as well.
Sociology/Anthropology: Supplementing your Sociology or Anthropology degree with an Asian Studies or Mandarin major or minor will deepen your cross-cultural skills while offering concrete contexts for social and cultural exploration. With a semester abroad in China, you're well on your way to an Anthropology and Mandarin double-major.
Students pursuing a double major at Wheaton College have also paired their Chinese Language and Culture degree with:
Asian Studies
Biology
Business and Economics
Chemistry
Education
History
Another Modern and Classical Languages
Psychology
Physics
Where Will My Degree Take Me?
Our alumni are engaged in a rich variety of occupations and career paths after graduation. Most recently our students are working as the following:
Business Consultant
Entrepreneur/Business Owner
ESL Teacher in the U.S. or Abroad
Chinese Teacher in U.S. K-12 Schools
Overseas Missionary/NGO Worker
Translator
Freelancer/Blog Writer/Editor
Researcher
Bilingual Real Estate Agent
Psychologist
Medical Scribe
Other
Students are strongly encouraged to intern during their school year or summer in contexts where Chinese language and culture are pertinent or in Chinese-speaking areas of the world to gain appropriate intercultural skills and awareness. Most recently students have interned at the following:
Ministry: non-profit organization in Madrid in the pursuit of justice, peace and reconciliation working to support Chinese women in human trafficking and prostitution
Government and Policy: Congressional Intern at U.S. House of Representatives, Senate Foreign Relations Committee—Middle East, North Africa, and Public Diplomacy Team, Intern in the Office of Chinese and Mongolian Affairs
International: Executive Office Intern for U.S. Embassy in Singapore, U.S. Department of State Intern in Guangzhou, China, English Tutor at Pui Tak Center, ESL Instructor in Huai'an Joy International School
Between 20-25 percent of Chinese Language and Culture program students pursue advanced degrees in Asian studies, Chinese, public policy, foreign service, economics, theological studies, creative writing, music history, and more. Graduate schools, law schools, and seminaries that have admitted our students include:
Harvard Graduate School of Education
Georgetown University
Northwestern University
Princeton Theological Seminary
Columbia Law School
George Mason University
Seattle Pacific University
Bowling Green State University
Other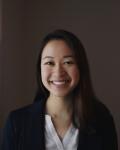 Our Chinese major Cassia Waligora '21 was awarded the prestigious Charles B. Rangel International Affairs Fellowship as she attends the M.A. program in Asian Studies at Georgetown University towards a position in the United States Foreign Service as a U.S. Diplomat in 2023.
Read the story of Cassia Waligora.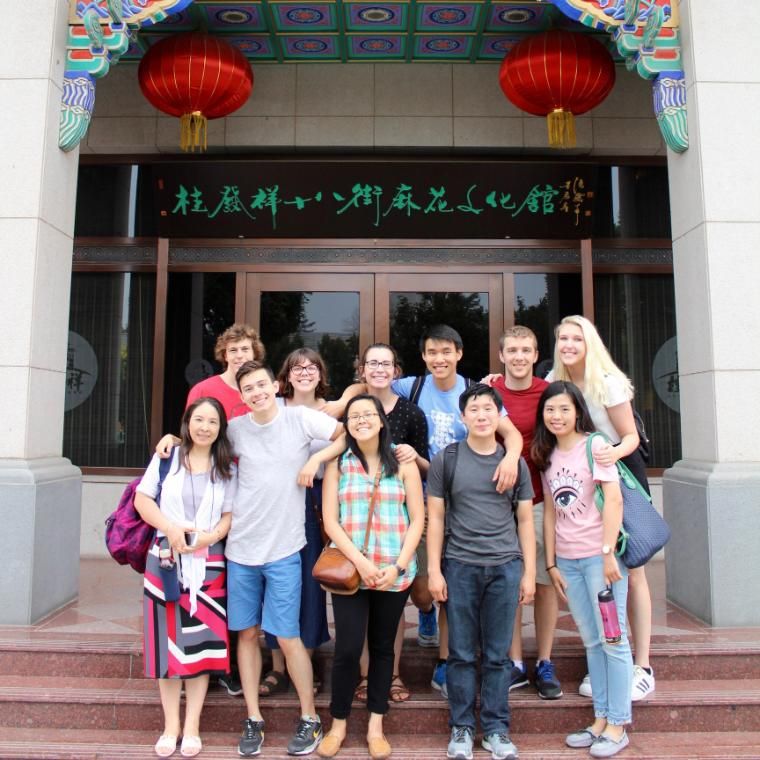 Wheaton in China
Wheaton in China is a six-week program that combines intensive language study and cultural courses, immersion and excursions. You'll live and study on the campus of a Chinese University and visit Beijing, Xi'an, and many local cultural and historical venues.
Rose Wang, M.A. – Section Coordinator
Schell 301
630-752-5633
For general inquiries on the Chinese Language and Culture program, please reach out to Prof. Rose Wang, the section coordinator.