---
Global & Experiential Learning at Wheaton
Wheaton offers semester-long programs, summer programs, and spring break learning opportunities in locations around the world. Learn more >
---
FPE Abroad
"This program is truly the opportunity of a lifetime for all students and faculty involved."
–Dr. Seth Norton, professor of business and economics and former director of the Wheaton Center for Economics, Government, and Public Policy.
An eight-week immersion program, FPE Abroad is co-sponsored by the Department of Business and Economics and Wheaton Center for Faith, Politics, and Economics. Students earn eight credit hours in business and economics and/or international relations courses while studying the interaction of political and economic policy, the effects of globalization on human flourishing, and the economic well being of countries. As part of the course work, student teams develop and present guided, corporate-level research. More >
Recent trips include:
2010 Eastern Europe
2011 Latin America
2012 China
2013 Africa
2015 Panama, Peru, and Columbia
2017 Eastern Europe
2022 Denmark, Norway, Sweden, Finland
---
Human Needs and Global Resources (HNGR)
In partnership with host organizations worldwide, HNGR students participate in transformational initiatives that enable people to live whole, secure, and productive lives.
Since the program's inception, more than 750 students have completed HNGR internships in more than 70 countries worldwide. Learn more about HNGR >
Alumni Highlight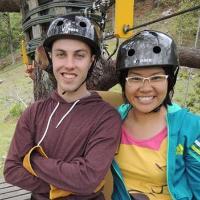 "I was shaped very heavily by both the HNGR program, as well as by challenging economics courses like Economic Growth and Development and Health Economics. I was most heavily influenced by a few outstanding professors and staff from the Business and Economics Department who challenged me to take principles I saw throughout both Scripture and the study of economics and combine them into a worldview and actions that could have a real impact on people around me." - Andy Koetz '14
---
More Resources
Students are also encouraged to learn about other study-abroad programs from the Center for Vocation and Career, office of Global and Experiential Learning, or through the Council for Christian Colleges and Universities >>.