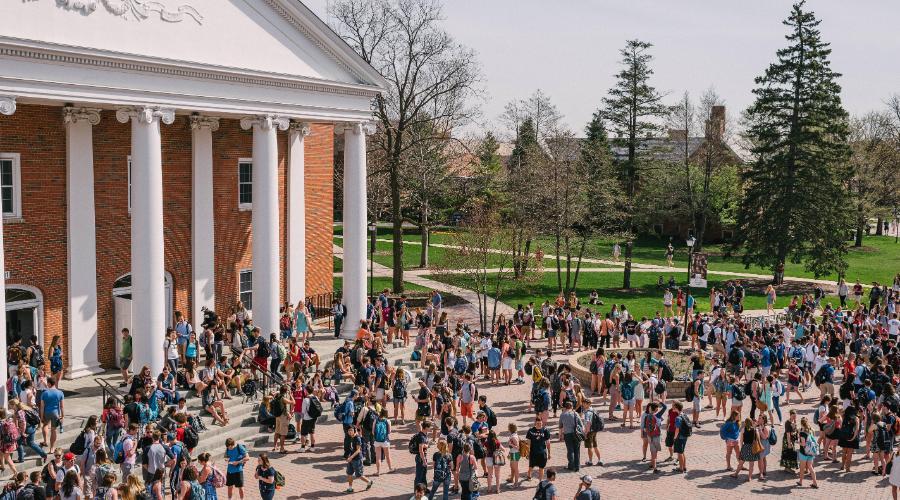 Thank you for your interest in Wheaton College! We are pleased you are applying and look forward to working with you throughout the application process.
Please note that you may apply to the College of Arts and Sciences or to the Conservatory of Music, but not both. This is the application process for the College of Arts and Sciences. If you wish to pursue a Bachelor of Music or a Bachelor of Music Education, please apply to the Conservatory of Music.
Before you begin the process, please review the definitions and timing information below. All the requirements listed must be met in order to be considered for admission.
Apply Using the Wheaton Application
Apply Using the Common App
Definitions
Other Types of Applicants
Deadlines and Timing
First-year Admission
| Admission Round | Application Due | Supplemental Items Sent by | Decision Notification by | Reply-by Date |
| --- | --- | --- | --- | --- |
| Early Action I | October 15 | October 22 | December 1 | May 1 |
| Early Action II | November 15 | November 22 | January 1 | May 1 |
| Regular Decision I | January 15 | January 22 | March 1 | May 1 |
| Regular Decision II | February 15 | February 22 | April 1 | May 1 |
| Rolling Admission | N/A | N/A | Three weeks upon application completion | N/A |
| Spring Entry | Rolling | Rolling | November 1 | December 1 |
Transfer Admission
| Entry Term | Application Due | Decision Notification by | Reply-by Date |
| --- | --- | --- | --- |
| Spring Entry | Rolling | November 1 | December 1 |
| Fall Entry | Rolling | April 1 | May 1 |
Application Steps
1. Complete Your Application
2. Request Transcripts and Reports
3. Request Recommendation Letters
Academic Recommendation
A report from one of your core academic teachers (English, science, social science, math, or foreign language) is required. This should be someone who knows your classroom performance well. Homeschool students should refer to the academic recommendation form for further instructions.
After starting your online application, you will have the option of sending an online recommendation form by email to the recommender you have chosen. From the "My Account" page of your online application account, click on "Submit Supplemental Items" in the application checklist, then follow the instructions for sending a recommendation request.
4. Satisfy Christian Faith Reference
You can satisfy the Christian Faith reference requirement in either one of two ways:
5. Send Standardized Test Scores (required for some)
Starting with the Fall 2024 entry term, we strongly encourage test submission (SAT, ACT, CLT) to be considered for an Aequitas Fellowship and our highest academic scholarship. Please review additional test score requirements for admission if you are a homeschool student or an international student. If you would like a standardized test score considered for admission and scholarship, you can indicate this on your application. We accept SAT, ACT, or CLT (Classical Learning Test) test scores. All test scores should be sent directly from the testing company to Wheaton College or included on your high school transcript.
6. Schedule an Interview (optional)
Interviews are an optional part of the application process that allow us to get to know applicants better. Appointments for on-campus, telephone, or video call interviews can be scheduled by calling the Visit Coordinator at 800.222.2419 x2 or by emailing us.
Students who are living outside the United States are welcome to schedule a video or phone interview. Please send a request for an international interview to admissions@wheaton.edu.
6. Apply for Financial Aid
All applicants are considered for academic merit scholarships. Please consult Cost & Aid for instructions on how to apply for need-based financial aid. Direct your questions to the Student Financial Services Office at 800.222.2419, or contact them via email. The priority processing deadline for financial aid is November 15 for First-Year Early Action and Spring applicants, February 15 for First-Year Regular Decision applicants, and March 1 for Fall Transfer applicants.
What's It Like to Apply to College?
Sophomore Lucy Brown shares her experience, what she learned through the college application process, and how she decided to come to Wheaton