From the President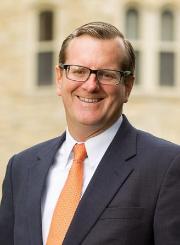 Dear Parents,
Newly minted graduates have departed Wheaton's campus after the conclusion of a wonderful school year marked by enthusiastic student response to a life of generous Christian discipleship.
At Wheaton's 164th Commencement last weekend I had the privilege to present diplomas to more than 800 graduates in the presence of their faculty members and families. Our live-streamed service was available to the parents and families of our international students, some of whom could not obtain a visa to visit the US for Commencement, or because of COVID have not seen their student for the past four years! The joyful formal ceremonies were bookended with praise to Jesus Christ, whose glory and honor are at the center of Wheaton's mission.
Our graduates were challenged by Dr. Marlene Wall, President of LCC International University, to use their Wheaton education and God-given gifts to "welcome the stranger" (Matt. 25:35). Her insights drawn from leading a multi-national Christ-centered institution in Eastern Europe during a time of military conflict was a reminder that our identity as Christ-followers is proven by our hospitality.
In Christ's service,


Philip Ryken
President
Congratulations, Class of 2023!
And welcome to the Wheaton College Alumni Association! Parents, you are welcome to watch (or re-watch!) the full Baccalaureate and Undergraduate Commencement ceremonies at these links.

Student and Faculty Academic Awards
Numerous students and faculty were given special recognition during our annual Honors Convocation Chapel and in the 2022-23 Honors Convocation Program. These honors and awards recognize the achievements of students who have distinguished themselves academically, honor retiring faculty, and celebrate those who earned promotion or tenure or received faculty awards. Congratulations to all!
Important Dates for 2023-2024
| | |
| --- | --- |
| Classes Begin | August 23 |
| Homecoming Weekend | September 29-30 |
| Fall Break | October 14-18 |
| Family Weekend | November 3-4 |
| Thanksgiving Break | November 22-26 |
| Christmas Break | Dec. 15-January 7 |
| Classes Begin | January 8 |
| Spring Break | March 2-10 |
| Commencement | May 5 |

Center for Vocation and Career

The Center for Vocation and Career is pleased to present our annual Life After Wheaton report for the undergraduate Class of 2022. The Class of 2022 reported a 99.2% landed rate (employed, interning, furthering education, or pursuing other adventures of their choice) within six months of graduation, compared to the national average of 84.1% in 2021 (NACE).
The CVC serves our recent graduates by offering career coaching resources for two years after graduation. Whether your student is continuing at Wheaton in the fall or has already graduated, our team is available throughout the summer for in-person and virtual coaching appointments.
If your student is looking for ways to develop workforce skills and build their resume this summer, encourage them to check out employer-designed job simulations through Forage, get paid for short-term professional assignments through Parker Dewey, or browse thousands of courses on LinkedIn Learning.
Congratulations to all our 2023 graduates!
Student Financial Services
2023-2024 Financial Aid Awards
Continuing student financial aid award reviews for 2023-24 will begin after spring term grades have been posted. Please be sure that your student's 2023-24 FAFSA has been filed and have them check their financial aid dashboard to complete any outstanding requirements to avoid delays in receiving their award notice this summer. All required documents not submitted by electronic forms, such as tax return transcripts and W-2's, should be scanned and uploaded using our Secure File Transfer. Emailing sensitive information is not recommended for security reasons.
Please encourage your student to monitor his/her Wheaton email account over the summer! This is our main method of communication regarding any missing or incomplete items that are needed to complete their award. Additionally, an email will be sent to your student when their award is ready to view and accept in their student portal.
Billing and Payment
Monthly statements will continue when there is a balance (amount due or a credit) or activity on your student's account. Please log in and review their account for copy/print, room check out fines and other miscellaneous fees that may be posted over the next few weeks. Additionally, please make sure that your student has an Electronic Refund account set up in their Billing & Payment Gateway profile to expedite refunds of credit balances. Students returning in the fall can leave credit balances in their accounts to offset future charges however, graduating students or students that will be taking a gap semester/year should request a refund so that we are not holding funds for non-enrolled students. Refund requests for credit balances must be submitted by the student using this online form. eRefund Request Form
Fall 2023 billing statements will be available online in the Billing & Payment Gateway in late July with a due date of August 23, 2023 (first day of classes). Students and their authorized users will receive an email when the bill is ready to view or print online. Fall payment plan enrollment will be opened when bills are published. Wheaton bills by semester, so payment plan participants must re-enroll each semester. Please visit our website for more information on Billing and Payment at Wheaton.
Not receiving monthly e-bill notices? Students need to grant parent access to the Billing & Payment Gateway under their profile for Authorized Users. Students log in through their student portal and, once authorized, parents will receive two automated emails with login credentials which will allow access to account activity, on-line payments, and payment plans. This also gives our office permission to speak with parents about their student's account. We recommend that parents and students log in to the Billing & Payment Gateway at least once each month when the eBill notices are received to review their accounts for new charges or credits. Authorized Users log in here.
Please direct questions to Student Financial Services at sfs@wheaton.edu or 630-752-5700.
Student Missionary Partners Send Out Students
Student Missionary Partners is excited that students are going to eight different countries this summer to serve in various capacities -- from empowering entrepreneurs to serving in hostels. Students will partner with incredible organizations in Mexico, Costa Rica, Ecuador, Norway, Croatia, North Africa, Zambia, and Thailand. Please pray God would equip students for these ministries, for safe travels, strong team bonds, and that students will be a blessing to our partner organizations. If you feel led to participate in this ministry through financial giving, please follow this link.
How to Pray for Wheaton in the Month of May
For seniors still discerning their post-graduate plans -- For I know the plans I have for you, declares the Lord, plans for welfare and not for evil, to give you a future and a hope. Jeremiah 29:11
For those in the campus community who ended the academic year depleted and/or heavy hearted -- Come to me, all who labor and are heavy laden, and I will give you rest. Take my yoke upon you, and learn from me, for I am gentle and lowly in heart, and you will find rest for your souls. Matthew 11:28-29
For incoming students preparing to attend Wheaton College in the fall – Commit your way to the Lord; trust in him, and he will act. Psalm 37:5
With thanks for your involvement and prayers,
The Wheaton College Parent Engagement Team