Wheaton College announces the appointment of Matthew Erickson to serve as the sixth executive director of HoneyRock since its founding in 1951.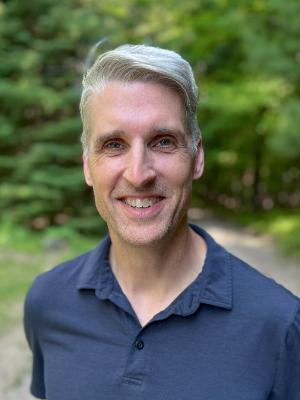 "Matt Erickson's passion for Christian discipleship, exceptional leadership skills, and deep roots in the HoneyRock community make him the right executive director for this exciting season of HoneyRock's ministry, which now has an impact around the world," said Dr. Philip G. Ryken, President of Wheaton College.
HoneyRock is a robust, year-round campus of Wheaton College, offering a growing gap year program for high school graduates (Vanguard), a pioneering undergraduate orientation program (Wheaton Passage), a fellowship program for college graduates (Fellows), a globally recognized graduate program, five leadership schools serving over 250 undergraduate students each summer, the 4-year Chase Leadership Program for undergraduates at Wheaton, and an exemplary summer camp program that serves as a model for the global Christian camping movement. These programs provide valuable opportunities in experiential leadership development for today's youth, emerging adults, and students of all ages.
"A Christ-centered, spiritually communal leader with a deep and abiding love for HoneyRock and Wheaton College, Matt Erickson will bring his extensive professional experiences and commitment to holistic, immersive education to our internationally recognized academic center for Christian outdoor leadership," said Dr. Karen An-hwei Lee, Provost of Wheaton College.
Erickson received his M.B.A. in management & strategy, finance, and marketing from Northwestern University's Kellogg School of Management after completing his B.A. in business and economics at Wheaton College. He is currently completing his tenure as chief revenue officer with LeadVenture, a "software as a service" company. Erickson is also a third-generation HoneyRock camper, a HoneyRock camper parent, and is completing six years on the HoneyRock Advisory Board.
"I am thrilled to be part of the next phase of HoneyRock's future, including growing key programs, re-investing in people and infrastructure, and most of all continuing to advance its mission and vision," said Erickson.
Erickson takes over for Dr. Rob Ribbe '87 who has served as the Center's executive director since August 2000. Dr. Ribbe will step into a newly created role as director of academic programs and associate professor, leading the growing graduate program in outdoor and adventure leadership. This master's degree is designed to train leaders for the Christian Camping Movement worldwide.
"Not only is Matt highly qualified to lead this organization with 15 years of executive leadership experience, but he also truly understands the mission and culture of HoneyRock," said Dr. Ribbe. "I am confident that the Lord has been preparing Matt for this role and am excited to support him as he leads our fantastic HoneyRock team into the future."
Erickson will begin his role at HoneyRock in October 2023.
About Wheaton College
Wheaton is an explicitly Christian, academically rigorous, fully residential liberal arts college and graduate school located in Wheaton, Illinois. More than 40 undergraduate degrees in the liberal arts and sciences, and 18 graduate degrees are offered by top-quality professors. Wheaton College is located in suburban Wheaton, a residential community 25 miles west of downtown Chicago.
About HoneyRock
HoneyRock Center for Leadership Development is Wheaton College's academic center dedicated to building the church and benefiting society worldwide by fostering the development of whole and effective people through transformational outdoor experiences. HoneyRock's programs gather, train, and provide thought leadership to leaders through a range of programs, including summer camp, gap year, undergraduate college orientation, and a master's in outdoor and adventure leadership.