The grant will fund the Rhythms of Faith project led by Wheaton's HoneyRock Center for Leadership Development.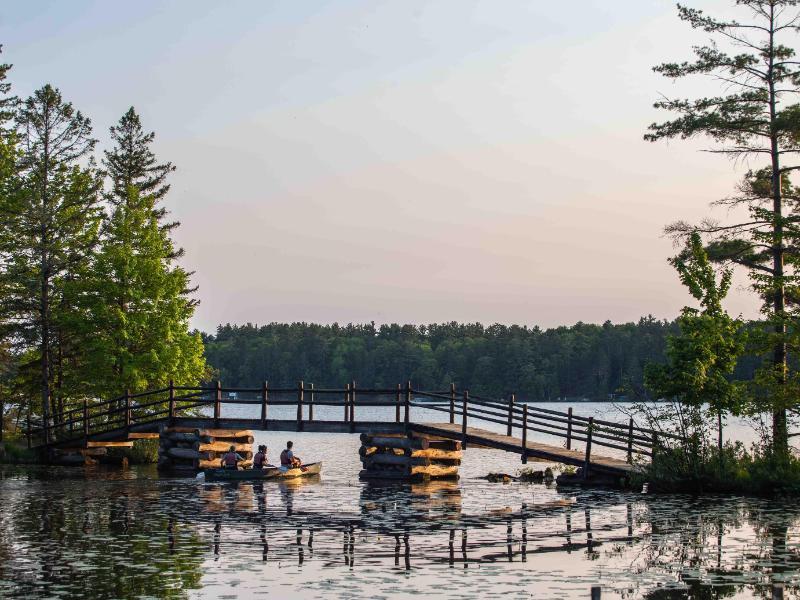 Over the course of this 5-year initiative, the Rhythms of Faith project will engage more than 25 camps, 500 congregations, and 10,000 families in learning, training, and mutual support surrounding family faith practices. The project aims to develop and refine strategies for family faith formation to disseminate through various channels, including coursework, graduate education, articles, books, and consulting resources.
The project is funded through Lilly Endowment's Christian Parenting and Caregiving Initiative. The aim of the initiative is to help parents and caregivers share their faith and values with their children.
Wheaton's HoneyRock Center for Leadership Development will play a central role in coordinating the Rhythms of Faith project. As an academic center dedicated to gathering, training, and providing thought leadership to Christian camping, HoneyRock offers various programs, including summer camps, gap year, undergraduate student orientation, and a master's degree in outdoor and adventure leadership. These programs provide valuable opportunities for experiential leadership development and spiritual formation for today's youth and emerging adults.
"We are thrilled to receive the Lilly Endowment grant and embark on the Rhythms of Faith project," said Dr. Rob Ribbe, Associate Professor of Outdoor and Adventure Leadership and Director of Academic Programs at HoneyRock. "By establishing intentional faith practices within families and strengthening the partnership between camps, churches, and families, we believe this project will have a transformative impact on the spiritual formation of young people."
Joining forces with Wheaton College is Sacred Playgrounds, a renowned research and consulting firm specializing in enhancing the impact and effectiveness of camps and churches. Sacred Playgrounds collaborates with denominations and the Christian Camp and Conference Association, offering comprehensive evaluation and assessment of their impact, as well as research-based coaching to enhance their efforts.
Wheaton College is one of 77 organizations receiving grants through this competitive round of the Christian Parenting initiative. Reflecting the diversity of Christianity in the United States, the organizations are affiliated with mainline Protestant, evangelical, Catholic, Orthodox Christian, and Pentecostal faith communities. Many of the organizations are rooted in Black church, Hispanic, and Asian Christian traditions.
"We've heard from many parents who are seeking to nurture the spiritual lives of their children, especially in their daily activities, and looking to churches and other faith-based organizations for support," said Christopher L. Coble, Lilly Endowment's Vice President for Religion. "These thoughtful, creative, and collaborative organizations embrace the important role that families have in shaping the religious development of children and are launching programs to assist parents and caregivers with this task."
About Wheaton College
Wheaton is an explicitly Christian, academically rigorous, fully residential liberal arts college and graduate school located in Wheaton, Illinois. More than 40 undergraduate degrees in the liberal arts and sciences, and 18 graduate degrees are offered by top-quality professors. Wheaton College is located in suburban Wheaton, a residential community 25 miles west of downtown Chicago.
About HoneyRock
HoneyRock Center for Leadership Development is Wheaton College's academic center dedicated to building the church and benefiting society worldwide by fostering the development of whole and effective people through transformational outdoor experiences. HoneyRock's programs gather, train, and provide thought leadership to leaders through a range of programs, including summer camp, gap year, undergraduate college orientation, and a master's in outdoor and adventure leadership.
About Sacred Playgrounds
Sacred Playgrounds is a research and consulting firm that partners with camps and churches to deepen their impact and effectiveness. Through thorough evaluation, assessment, and research-based coaching, Sacred Playgrounds enhances the efforts of organizations within the camping ministry.
About Lilly Endowment Inc.
Lilly Endowment Inc. is a private foundation created in 1937 by J.K. Lilly Sr. and his sons Eli and J.K. Jr. through gifts of stock in their pharmaceutical business, Eli Lilly and Company. While those gifts remain the financial bedrock of the Endowment, it is a separate entity from the company, with a distinct governing board, staff and location. In keeping with the founders' wishes, the Endowment supports the causes of community development, education and religion and maintains a special commitment to its hometown, Indianapolis, and home state, Indiana. A principal aim of the Endowment's religion grantmaking is to deepen and enrich the lives of Christians in the United States, primarily by seeking out and supporting efforts that enhance the vitality of congregations and strengthen the pastoral and lay leadership of Christian communities. The Endowment also seeks to improve public understanding of diverse religious traditions by supporting fair and accurate portrayals of the role religion plays in the United States and across the globe.