Renowned evangelist Dr. Billy (Jang Hwan) Kim will address the members of the Graduate School and the Undergraduate Classes of 2022 at Wheaton College's 163rd commencement ceremonies on May 7 and 8, respectively.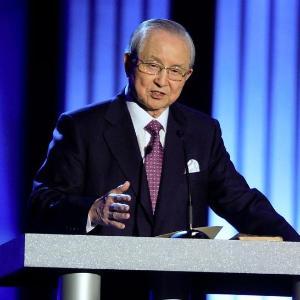 Dr. Kim is Chairman of Far East Broadcasting Company-Korea (FEBC), a global radio network with broadcasts heard daily in 145 languages and 50 countries to a potential audience of 4 billion people. In 1993, Kim received the highest civilian award for radio broadcasting and media ministries from former South Korean President Roh, Tae-woo.
Dr. Kim received an honorary doctorate from Wheaton College in 1992 (LittD), the year that his son, John Kim, graduated with an MA from Wheaton College Graduate School. His grandson will also graduate from the College this spring.
"We could not be more pleased that Dr. Billy Kim will join Wheaton College for our 163rd Commencement ceremonies," said Wheaton College President Philip Ryken. "Our ongoing relationship with this exceptional ambassador for Christ has been a joy for this institution, and we look forward to his message to our students as they prepare to go out and serve Christ and His Kingdom."
Dr. Kim serves as honorary chairman for the Christian Council of Korea, honorary board chairman for Korea Youth for Christ and Myongji University, director of Christian Service, Inc., and the Korean National Police chaplain. He served as translator for Wheaton College alumnus Billy Graham's 1973 Crusade in Seoul, which drew more than 1 million people each evening.
In his global travel to share the Gospel, Dr. Kim often brings the Korean Children's Choir, whose members range from ages seven to thirteen. A ministry of FEBC-Korea, the group has performed at numerous churches, schools, and concert halls throughout the United States and Korea, including Carnegie Hall, the White House, and several times at Wheaton College since 2010.
Dr. Kim was born in Korea in 1934. An American serviceman helped him enroll at Bob Jones Academy in South Carolina in 1951. Billy showed early talent for speaking, was a good student, and met his wife Trudy at Bob Jones University. He returned to Korea to earn a Master's degree and was ordained for the ministry.
Beginning to work at the Suwon Central Baptist Church in January 1960 with just ten members, he helped the church to grow to over 15,000 members. He retired as its senior pastor in December 2004. He is the founder of the Suwon Central Christian Academy and Capital Bible College and Seminary.
Dr. Kim earned a BA in Bible (1958) and an MA in New Testament & Theology (1959) from Bob Jones University, and has honorary degrees from a variety of schools, including Wheaton College (LittD, 1992).
Media inquiries can be directed to Joe Moore at 630.991.6557.