Wheaton pulls together amid the pandemic with services like Mastodon Meals, in which students serve meals to students in quarantine.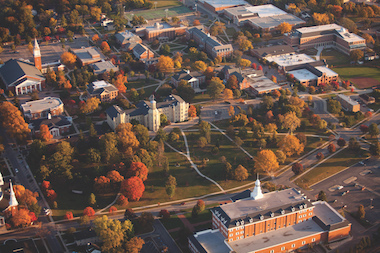 Staying COVID-Safe, Thunder Strong during a global pandemic means that some students might find themselves having been inadvertently exposed to someone with COVID-19 and needing to quarantine.
But for students who live on campus and get their meals from the College's Dining Services, Bon Appetit, quarantine poses a challenge. How can students effectively quarantine to protect others and still get three square meals a day?
Enter Mastodon Meals.
Headed by the College's Office of Christian Outreach, Mastodon Meals is a meal-delivery service in which students bring meals to fellow students living on campus who are in quarantine or isolation. Wheaton's OCO equips students to learn from, serve alongside, and partner with communities around the world in the redemptive work of the gospel.
Typically OCO's work means serving organizations or communities outside of the Wheaton campus. COVID-19, however, has curbed some of the OCO's usual school year service, according to Interim Director Jared Falkanger. This year, the OCO is redirecting inward, while still keeping an eye out for opportunities to serve communities beyond campus.
"Physical acts of service or ministry are limited this year," Falkanger said. "Mastodon Meals is a really tangible way to do something that is very necessary and very important."
Students receiving Mastodon Meals in quarantine first fill out a form with their name, campus address, any allergies or sensitivities, and what type of meal plan they'd like to use to pay for their Mastodon Meals. Bon Appetit is also offering a quarantine option--$15 for three meals a day while a student is in quarantine.
Then, Mastodon Meal volunteers pick up the Wheaton van, grab the cold breakfasts and lunches from Bon Appetit, dropping both the meals at the residence halls of quarantined students around 8:30 a.m. Around 5 p.m., the volunteers would do the same with hot Bon Appetit dinners.
"At the OCO, we aim to cultivate the discipline of service in students," Falkanger said. "We're grateful to be able to do this even during a global pandemic where other service opportunities are limited."—Emily Bratcher