First Director for New Center for Family and Relational Health, Dr. Wendy Smith, shares her vision for the role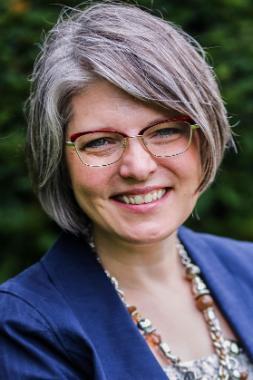 When Dr. Wendy Smith interviewed to be the first director of Wheaton College's new marriage and family therapy clinic, she skipped ahead a little and pitched an additional counseling center in the South Chicago neighborhood of Roseland.
"I want to work here," Smith told the hiring committee. "And I want you to join my work in Roseland."
The College agreed to both.
Opening in October with COVID-safe precautions, the Center for Family and Relational Health at Wheaton College is a community clinic where Wheaton's M.A. in Marriage and Family Therapy students receive supervised clinical experience and people in the community can get counseling services at competitive rates. Almost simultaneously, Smith is opening Roseland Good News Center for Family and Relational Health on the South Side of Chicago with Pearl Willis, who also owns the Roseland Good News Daycare Center, which offers free or low-cost childcare services for young and low-income moms living in Roseland.
Over the course of her postdoctoral fellowship year at Cedar Tree Counseling, Smith has offered free counseling services to mothers and families connected to the daycare center. "There's just so much need," Smith said. "I'm at the end of my postdoc year, and I have a waiting list."
"The big picture vision is to establish the Center for Family and Relational Health in Wheaton and fulfill that vision for the Wheaton community—giving students training and offering counseling services to the local community," Smith said. "Roseland would serve as a sort of practicum site, offering students a different kind of counseling experience under the supervision of licensed mental health professionals."
Both the centers in Wheaton and Roseland officially launch in October, which will make for a busy fall season for Smith. Smith, however, is looking forward to the challenge. The Wheaton Center will serve Chicago's western suburbs, offering couples and families therapy at competitive prices.
"I have seen a lot of the pain that happens when marriages and families are struggling," she said. "I've experienced it in my childhood. I've seen it, and I want to be able to impact others the way I've been impacted through counseling, through friends, through the church community—so much can be turned around for people who are able and willing to put in the work. I want to be a part of helping people heal the pain in their souls so they can learn, grow, and love well."
In Roseland, a district that struggles with crime, poverty, and community violence, there are unique needs that Smith believes Wheaton is well-poised to meet.
"I can think of no better way that I can contribute to the mission of the Marriage and Family Therapy program to 'deepen ethnic diversity, equity, and inclusion, promote racial reconciliation, and advance intercultural understanding' than to offer direct experience for students to serve people who are among the most underserved in the Chicagoland area," she said. "Clients served at this center would be primarily at-risk African Americans who have lived through poverty, trauma, abuse, neglect, racism, and community violence. While there is much needed by way of individual counseling, I believe the need for couples and family interventions is even greater."
Smith—who dreamed of becoming a counselor when she was an undergraduate at The Ohio State University—spent nearly two decades in the market research field before returning to school for an M.A. in Clinical Psychology in 2016 and a Psy.D. in Clinical Psychology in 2019 from Wheaton. In 2003, she also earned an M.S. in Christian Counseling from Cairn University.
Smith couldn't be more excited by the prospect of finally pursuing a dream 25 years in the making.
"I'm looking forward to supporting and strengthening the sense of calling that students bring to the Marriage and Family Therapy Program," she said. "I'm grateful for the opportunity to help them along the way toward personal and professional growth as therapists."--Emily Bratcher