How 2010 alumnus Avery Bright's Wheaton experience equipped him with the technical and creative skills he needed to thrive as a professional musician during COVID-19.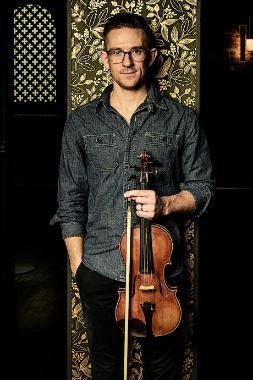 Since graduating from Wheaton a decade ago, Avery Bright '10 has become a professional musician, composer, and producer, working with recording artists ranging from U2 to Michael W. Smith to Phil Wickham, Danny Gokey, Ben Rector, Keith and Kristyn Getty, Little Big Town, and OneRepublic. He's also played on Star Wars movie scores, spent time in-studio with Dolly Parton, toured Europe, and has played in the pit for arena concerts for rock bands including The Who and Paramore.
When coronavirus began to spread in the U.S. in March 2020, the live music industry turned upside down. Tours, weddings, and live concerts dried up almost completely. Artists and performers had to adapt to remote work quickly--something Bright had been unknowingly preparing to do for years.
Bright has his own recording studio inside of his home outside Nashville, which has provided him with the flexibility to maintain remote work for hire during the global outbreak of COVID-19. Even before the outbreak of COVID-19, Bright worked with clients all over the world--from Colombia to Russia to the UK and Tasmania, Australia--and was able to grow that side of his business as the pandemic threatened the production of live music worldwide.
"I feel very fortunate about the way I'm set up to record remotely from my studio," Bright said. "I had no idea that it would play well into a global pandemic. I love the connections it's created for me with artists and producers around the world."
As a professional musician, session musician, arranger, and composer, Bright divides his time between playing in major studio sessions around Nashville, composing original works on commission for licensing in videos, movies, and video games from his home recording studio called "The String Cell," and writing and performing original songs and covers as individual artist "RØRE" and as part of duos "Allen & Bright" and "kïngpinguïn."
Bright credits his Conservatory training, private lessons with Dr. Lee Joiner, and his participation as fiddle player in a student-led bluegrass band called "Tim Dennison and the Creepers" with fellow Wheaties Tim Dennison '11, Dan Fager '10, Scott Cunningham '10, Caleb Lindgren '10, and Lee McComb '10 as major contributing factors to his adaptability, flexibility, and success in Music City today.
"I was always sort of the black sheep of the Conservatory because I was at Wheaton for the classical training, but I played in a bluegrass band as a fiddle player and liked to improvise," Bright said. "My teacher, Dr. Joiner, was always supportive of this. He explored playing jazz and was open to 'getting off the page,' as it were. So I always felt comfortable at Wheaton exploring those spaces, and I learned the violin world was much bigger than the obvious path of playing professionally in a symphony or string quartet. Nobody ever told me to stop thinking creatively."
Bright's music theory courses at the Conservatory were also integral in preparing him for his career.
"My Conservatory training helped prepare me for some of the technical requirements to execute on studio work like playing in tune and sight reading. I also learned the importance of being flexible," Bright said. "Those are must-haves for a recording musician. I also learned how to work with different types of people, how to write my own music, and how to think beyond what's on the page. Wheaton was amazing preparation for that."
Bright noted that his participation as a fiddle player with Tim Dennison and the Creepers was a highlight of his Wheaton experience.
"There's no way any of us will ever play in a band that had that much fun," Bright said. "We all knew it, too: 'This is as good as it gets.'"
Bright pointed out that, while the transition to working in the COVID-19 pandemic has been very difficult for people and musicians who are completely live-music based--touring musicians with bands, or road crews for big tours, for example--he noted that a lot of artists have pivoted to remote recording and production of livestream concerts, where artists are able to connect with their fan bases and play live online.
"At this time, the silver lining to not being able to play live is you have a golden opportunity to be creative," Bright said. "People are making EPs from home, writing new songs, doing co-writes on Zoom or Skype, and are finding ways to make it work."
Bright also pointed out that some larger recording studios are opening back up for business, but at an expense.
"Since March, I've played a couple of large recording sessions with 12 players on the floor in the recording room—we were all six feet apart, everyone was in a mask for the whole session. It was all done according to safety regulations, but it's more expensive and difficult that way now because of the regulations and takes longer," Bright said. "You also can't have as many people as you normally would in the studio. All of that takes work, time, and money."
Looking to the future, Bright is building out a new studio space above his garage that is larger than his current studio space and will enable him to record ensembles rather than solely overdubs by himself.
"It's a custom-designed, sound-isolated 'floating' room, big enough for four-to-six string players at a time, which will speed up my workflow and productivity a lot," Bright said. "I'll also be able to hire more of my friends and colleagues and attract bigger budget projects while providing an incredibly high quality of sound."
Looking forward to his expanded home studio space is one way Bright is encouraging himself and others around him to "look for the silver lining" in the midst of a global pandemic.
"Max out your newfound free time. Instead of watching Netflix, go find your voice. Educate yourself on something new. Find a new skill or hone one you already have."--Allison Althoff Steinke '11