This blog features stories about the Wheaton College Graduate School. Our guest contributor this week is Dr. Douglas Moo, Kenneth T. Wessner Professor of New Testament. Adapted from his latest book (with Jonathan Moo), "Creation Care: A Biblical Theology of the Natural World," Dr. Moo's blog post explains how the gospel can, and should, impact our relationship to the environment.
Environmentalism in Gospel Perspective
"Environmentalism" can be a dirty word to many evangelicals. And when one sees some of the extreme forms of this movement, one can understand why.
But I am convinced that the Bible, rightly read, calls on all believers to be involved in what we might call "creation care."
I develop this case in a book I co-wrote with my son, Jonathan Moo: Creation Care: A Biblical Theology of the Natural World (Grand Rapids: Zondervan, 2018). Here I make one simple point:
There is no conflict between gospel and creation care.
In fact, care for the created world is a necessary implication of the gospel. The "good news" that the New Testament proclaims is that through Jesus Christ, Son of God and Messiah of Israel, God has brought his plan to reestablish his reign over all creation to its climax. Jesus' incarnation, death, resurrection, and ascension inaugurate God's kingdom. Jesus is Lord – good news! A special emphasis in this good news is the offer of salvation to sinful human beings. As Paul summarizes for the Corinthians, "Christ died for our sins"; and it is "by this gospel" that "you are saved" (1 Cor. 15:3, 2). Nevertheless, the gospel is "the power of God for salvation" (Rom. 1:16) only because it is, more basically, the story of the Son of God, who entered into our state as David's descendant (that is, the Messiah) and who was raised to become Son-of-God-in-power and Lord of all (Rom. 1:2-4).
We must say to many believers: "your gospel is too small!" The good news is about the whole of the created world. It reveals the way in which God's purpose for all of creation are accomplished in Christ, the means by which a world racked by sin and corruption is renewed and restored to its Creator.
The creation that God brought into being has not been abandoned by God. He continues to care for it and is determined to "liberate" it from its "bondage to corruption" (Romans 8:19-22). This liberation is part of God's great rescue operation that we call "good news."
Believers are called to live "gospel-shaped" lives. Becoming a disciple of Christ means adopting the values and habits that are in keeping with the "good news" story.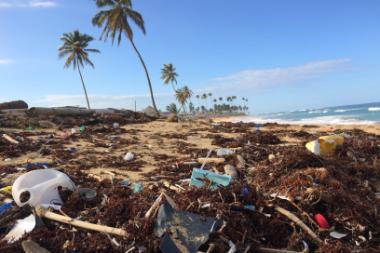 This story recounts God's extraordinary grace in providing forgiveness for rebellious, selfish sinners – and so we tell fellow sinners about this astonishing good news. The story also speaks of God's purpose to reconcile people to one another, as Paul makes clear in Ephesians 3:6: "This mystery is that through the gospel the Gentiles are heirs together with Israel, members together of one body, and sharers together in the promise in Christ Jesus." And so we work for reconciliation between ethnic groups and races and social classes. The story speaks of "good news for the poor." And so we reach out to the poor and the outcasts in our society. And the story speaks of creation being set free. And so we seek ways to begin that work of liberating creation.
Dr. Moo is the author of several commentaries, books, and other publications of Biblical Exegesis and Biblical Theology, and serves as chair of the Committee on Bible Translation. Dr. Moo teaches and is a supervisor in the M.A. in Biblical Exegesis and Ph.D. in Biblical and Theological Studies programs.
________
Photo Credits:
Garbage on Beach: Photo by Dustan Woodhouse on Unsplash

M.A. in Biblical Exegesis
Learn more about the M.A. in Biblical Exegesis.
How to Apply
With simplified admissions requirements and a lower tuition rate, the time has never been better to apply to the Wheaton College M.A. programs in Biblical and Theological Studies.