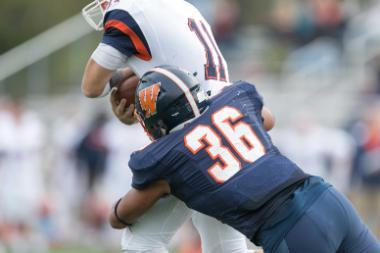 In late October, the National Football Foundation & College Hall of Fame (NFF) announced the finalists for its 2018 William V. Campbell Trophy, an annual award that recognizes the country's best scholar-athletes. Wheaton College Senior Eric Stevenson is among 13 finalists up for the trophy.
Stevenson, who plays linebacker for the Thunder and serves as team captain, is an economics major with a 3.83 cumulative grade point average. Following graduation this coming May, he plans to pursue an MBA.
"Eric is an exceptional student-athlete who is highly motivated both in the classroom and on the football field," said Mike Swider, head football coach at Wheaton College. "He is committed to excellence and his achievements reflect that level of commitment."
The NFF Scholar-Athlete program was founded in 1959, and Stevenson's recognition marks him as Wheaton College's first honoree. He is the seventh honoree from the College Conference of Illinois & Wisconsin (CCIW).
No stranger to awards, Stevenson has also racked up other regional and national awards for his excellent performance both in the classroom and on the football field, including a 2018 preseason All-American award from D3football.com and a 2017 Second-team All-America recognition from the College Sports Information Directors of America (CoSIDA).
This season, Stevenson is leading the Wheaton Thunder defense with 64 tackles; he finished the 2016 and 2017 seasons with the most total tackles.
As a finalist for the William V. Campbell Trophy, Stevenson will receive an $18,000 postgraduate scholarship. He is also invited to the Dec. 4th NFF Awards Dinner in New York City, where the winner will be announced. The winner of the trophy will receive a postgraduate scholarship of $25,000.
"Eric has been a great ambassador for Wheaton football and is a shining example of what this program stands for both on and off the field," Swider said. "Most importantly Eric has a deep love for our Lord, Jesus Christ."
Wheaton College Athletics
The student athletes at Wheaton College are just as committed to their sports as they are to their studies. Find out more information about the Athletics Department.