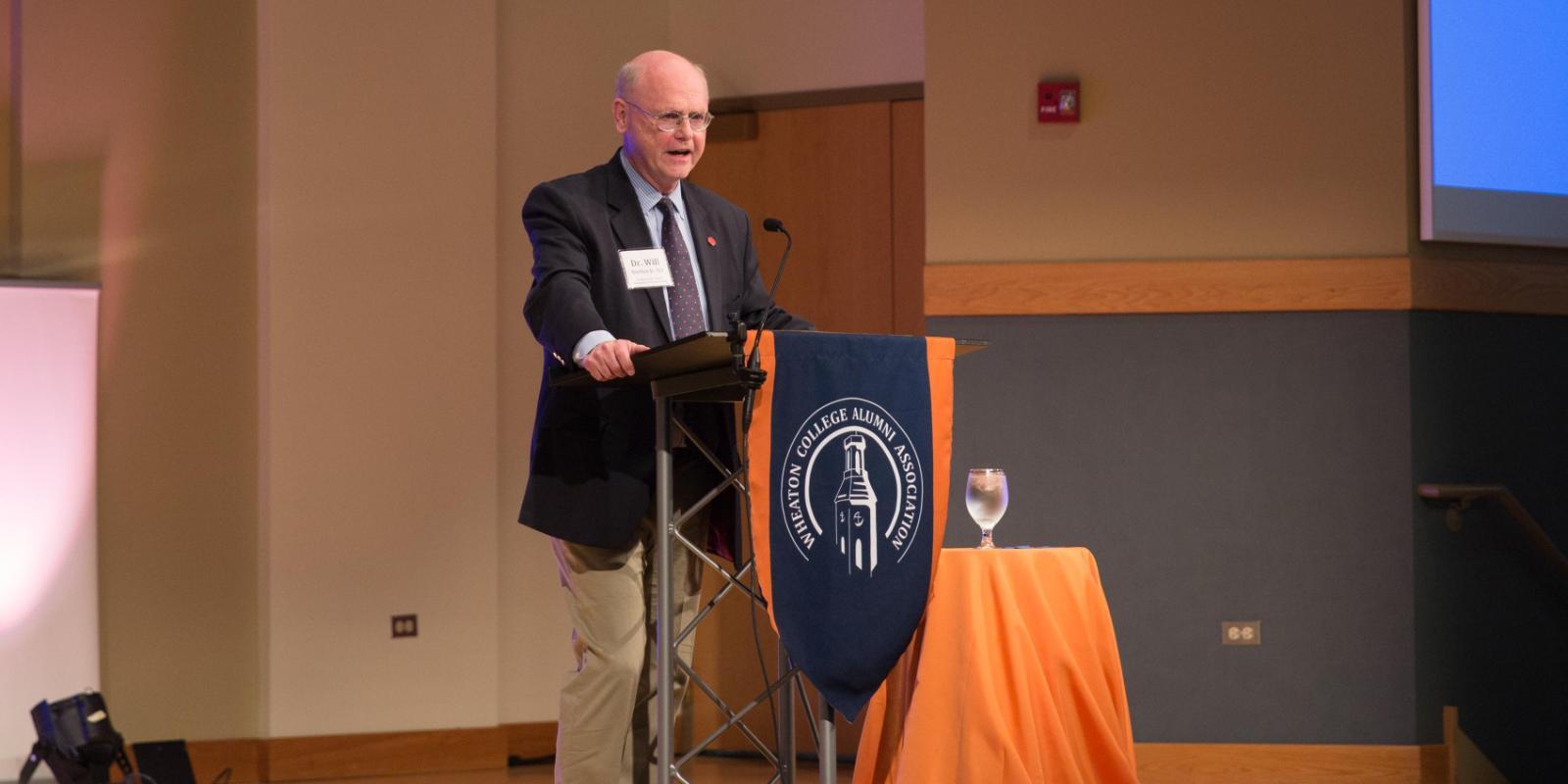 The Wheaton College Alumni Association presented Dr. H. Wilbert Norton Jr. '63 with the 2018 Alumnus of the Year Award for Distinguished Service to Society.
Norton, who serves as dean of the Meek School of Journalism and New Media at the University of Mississippi, was recognized for his influential leadership and mentorship in the world of media education.
"If ever there was ever a time that we needed quality journalism, this is the time," Wheaton College President Philip Ryken says. "We are thrilled to present the Distinguished Service to Society award to somebody that has upheld the highest standards of Christian ethics, who has been a light for Christ in an important mission field, and who represents the kind of commitment to a lifelong calling that ought to be the ideal for Wheaton College students and alumni everywhere."
Norton is one of the nation's longest serving media education deans. Prior to his work at Ole Miss, he served as dean of the College of Journalism and Mass Communication at the University of Nebraska-Lincoln from 1990-2009. In 2005, he was named the Scripps Howard Foundation Journalism Administrator of the Year, and his journalism students have gone on to win Pulitzer Prizes and work at media outlets such as The New York Times and The Washington Post.
Born in the Belgian Congo, Norton is the eldest son of former Wheaton College Graduate School Dean Dr. H. Wilbert Norton Sr. '36, who also received Wheaton's Distinguished Service to Society award in 1986. Norton entered Wheaton as an undergraduate already committed to pursuing a career in journalism, and he began his career in the field, working for The Daily Journal in Wheaton and at the Chicago Tribune.
Charles Overby, former chairman and CEO of the Freedom Forum, the Newseum, and the Diversity Institute, describes Norton as a man whose deep convictions and humble faith are evidenced every day of the week, not just on Sundays.
"He is a man on the go, a teacher through words and deeds, a servant leader who practices his humility in the workplace, a fearless man of conviction, and a man who can laugh and makes others laugh through his happy heart. He is my lifelong friend, but more than that, he is my lifetime role model," says Overby.
"Will is the senior administrative statesman of journalism mass communication higher education in America and internationally," adds journalist and academic Dr. Doug Anderson in a video tribute. "Will is much more than an internationally respected educator. He is a great leader, loving husband, devoted father, unselfish human being, and caring friend."
The Distinguished Service to Society award has been presented each year since 1953 to alumni who exemplify the mission of the College through excellence in their field of service. A list of previous awardees is available here.
Wheaton College
Wheaton College (Wheaton, Ill.) is a coeducational Christian liberal arts college noted for its rigorous academics, integration of faith and learning, and consistent ranking among the top liberal arts colleges in the country. Find out more information about this school.