Wheaton College is pleased to welcome Dr. Crystal Downing and Dr. David C. Downing as the new co-directors of the Marion E. Wade Center and co-holders of the Marion E. Wade Chair of Christian Thought.
The Wade Center is a major research archive of materials by and about seven British authors: Owen Barfield, G.K. Chesterton, C.S. Lewis, George MacDonald, Dorothy L. Sayers, J.R.R. Tolkien, and Charles Williams.
Beginning July 1, 2018, the Downings will share administrative responsibilities at the Wade Center and will teach and write about the Wade authors.
"The opportunity to have two such distinguished scholars leading the Wade Center is very exciting and holds great promise for continuing the Wade's strong legacy of work on the seven authors," says Lisa Richmond, director of library and archives, including the Marion E. Wade Center.
Crystal Downing currently serves as Distinguished Professor of English and Film Studies at Messiah College in Pennsylvania. She has published on a variety of topics, with much of her recent scholarship focused on the relationship between cultural theory and religious faith. Crystal has also received a number of teaching awards and, in 2001, received the Wade Center's Clyde S. Kilby Research Grant. Her third book, Changing Signs of Truth (IVP Academic, 2012) focused on semiotics, usually defined as "the science of signs."
"Having started to read the work of Owen Barfield, I now understand why he was so highly regarded by C.S. Lewis, and I can't wait to plunge into the Barfield holdings at the Wade," Crystal says. "I would also love to teach a course called "Semiotics and the Seven," assessing how the seven authors at the Wade, including Barfield, might help Christians faithfully respond to changing signs of truth in culture today."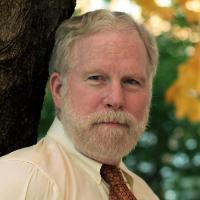 David C. Downing is currently the R.W. Schlosser Professor of English at Elizabethtown College in Pennsylvania. He has published widely on C.S. Lewis, including The Most Reluctant Convert: C.S. Lewis's Journey to Faith (IVP, 2002), and received the Clyde S. Kilby Research Grant in 2000. David has spoken extensively throughout the U.S. and internationally.
Regarding the relationship between faith and fantasy, David notes, "Both faith and fantasy require a person to reach beyond the everyday world of the senses. An imaginative work asks readers to "suspend disbelief," to pretend they are getting an actual glimpse of an alternate reality. Christian faith requires not only that you suspend disbelief, but also that you mindfully embrace belief—to interpret and understand the world we see in terms of the evidence of things unseen."
The Downings are the first to be jointly appointed to the Wade directorship in the more than 50-year history of the Wade Center. They follow Wade founder and first director Clyde S. Kilby (1965–1980), director Lyle W. Dorsett (1983–1990), and director Christopher W. Mitchell (1994–2013). Since 2013, Marjorie Lamp Mead has served as Interim Director of the Wade Center in addition to serving as Executive Editor of VII: Journal of the Marion E. Wade Center.
Further Information
The Marion E. Wade Center provides valuable resources for scholars worldwide. For more information about the Marion E. Wade Center, visit wheaton.edu/wadecenter.