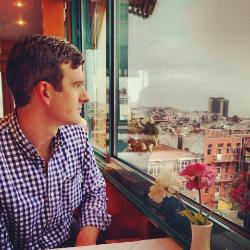 Name: Drew Bratcher
Education:

B.J. Journalism, University of Missouri
M.F.A., University of Iowa
Philosophy of Education:
I teach students to register and appraise their experiences, and the experiences of others, through writing that edifies, instructs, and evinces the image of God in man.
Before Wheaton, I was:
Writing and editing essays for various magazines and teaching writing at American University in Washington, D.C.
A big question I'm trying to answer through my work:
What should art do and be given the complexity of human beings and the reality of death?
I wish I could teach everyone that:
Nonfiction is a literary genre defined, ostensibly at least, by what it is not. I want to give readers a better sense of what it is: a capacious category with a dynamic heritage that finds expression in a variety of modes, from literary journalism and memoir to cultural criticism and the lyric essay.
Last book I read for fun:
I have been reading Sheila Hale's big biography of Titian, trying hard not to skip forward to the part about the 1542 portrait of Ranuccio Farnese, one of my favorite paintings in the National Gallery of Art.
Four people I'd like to take to coffee:
The older I get and the farther I drift from Nashville, my hometown, the more I think I understand the melancholy joy at the heart of old country songs. So I'll go with Lefty Frizzell, Hank Williams, Kitty Wells, and Webb Pierce.
English Faculty
The faculty in the Wheaton College English department are committed to excellence. Their goal is that graduates will enjoy good literature and learn to write clear, coherent prose. Find out more information about the English professors here.