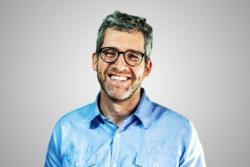 In September, Wheaton College Graduate School announced the launch of the new M.A. in Humanitarian and Disaster Leadership. This is the first graduate program in the world to emphasize both humanitarian and disaster leadership grounded in evangelical faith. As we approach the application deadline for the first cohort, set to begin classes in August 2018, we asked HDI Senior Fellow Kent Annan—cofounder of Haiti Partners and author of multiple books on humanitarian and development topics, including Slow Kingdom Coming (2016), After Shock (2011), and Following Jesus through the Eye of the Needle (2009)—about what students can expect in this new program.
What is the purpose of this new MA in Humanitarian and Disaster Leadership?
We'll be serving students so they can develop as faithful, humble leaders. We'll be helping them learn how to take an evidence-based approach to this work. We'll be enabling them to develop core competencies that are expected in this vocation, so they can thrive in their careers. And we're doing all of this so the students can serve people who are vulnerable in our world.
Why are you interested in helping to launch this program?
My work, study, and writing over the past 25 years has been focused on humanitarian, disaster, and nonprofit topics. This has included working with refugees in Europe, working in long-term humanitarian development in Haiti for 15 years, and being involved the Haiti after the earthquake. My books have been about these experiences and topics, about how to think faithfully about them as Christians, and how to respond with best practices. So I'm thrilled about teaming with other talented colleagues so we can serve students as they want to keep growing in how they serve others.
Why would someone want to pursue this degree?
As we serve others, especially those who are in vulnerable disaster situations or humanitarian crises, we want to love our neighbors in the best way possible. So this will be a rigorous program that at its core answers the question: How can we love our neighbors in the best way possible? This is, of course, a crucial question. And for people in this vocation, whether they're just getting started or wanting to sharpen skills along the way, this degree offers them a chance to keep getting better at serving others. What a great reason to do a program!
You've written about this sector, but you've also very much been a practitioner who has worked in other countries, cofounded a nonprofit, etc. Why were you attracted to being involved in this program?
As someone who has done this kind of work for a long time, there are crucial elements I've seen contribute to success in my own experience and in others. For example, it's crucial to have good spiritual formation and Christian thinking; this is demanding work that can put you into people's lives (and their suffering) at moments when their vulnerable. Also, there is lots of good research happening, and the fact this program is housed within the Humanitarian Disaster Institute is, I think, a huge plus for students. They'll be around leading research. For me, I always wanted to be sure our programs were learning and improving. So developing those skills and being in this kind of institute will be valuable. Bringing together faith, rigorous thinking, and a commitment to learning and applying best practices is something that will serve our students well.
What kind of people will be studying in the program?
It's great to see what people have in common in the program – and the way there is diversity. We have people applying right out of undergrad, people who are mid-career and working in this field either in the U.S. or another country, and people who see this as an opportunity for a bit of a career shift. The program was conceived to serve people at all these different stages, so we're excited to see that people are seeing the value it can have in their careers. This isn't an exhaustive list, but we see people applying who want to (or some who already do) work with disaster response, public health, refugees, and human trafficking. There are other vocational tracks you can be prepared for too, but these are examples.
If a student is interested, what is a good next step?
Our website has a lot of great and helpful information to see if this is a good fit for you (wheaton.edu/HDL). From there, students can learn more, connect with admissions, and find all application deadlines and materials. Colleagues and I are also happy to talk with you personally if we can help you to discern if this is the right program for you.
Applications for the M.A. in Humanitarian and Disaster Leadership are currently being accepted. To join a cohort, apply here.