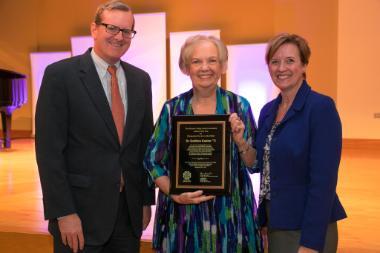 Last week, the Wheaton College Alumni Association presented Dr. Kathleen Kastner '71 with the 2017 Alumna of the Year Award for Distinguished Service to Alma Mater.
Kastner, who has taught at Wheaton for 45 years as a professor of percussion, was recognized for her decades of mentoring students both musically and spiritually.
Conservatory alumnus Calvin Coleman '05 notes Kastner's commitment to her students' holistic development. "Kathy was unique in how clearly she demonstrated a desire to help us become not just more skilled or more successful, but to help us take time to observe, evaluate, and discern how to be healthier humans as we grew to understand ourselves and the world around us."
During a time when percussion was a rare academic major, Kastner was hired by Wheaton to help teach a few new percussion majors, a percussion methods class, and to start a Percussion Ensemble. She still teaches percussion methods, but has added music appreciation, 20th-century music history, and world music, and she offers private music lessons and personal discipleship to countless students.
Percussion Ensemble alumna Amy Trotter Ponce '02 remembers how Kastner was always willing to "enter into friendships and mentoring relationships with students." And that commitment, Ponce says, was not limited to her time at Wheaton. "She maintains friendships with alumni all over the globe, and continually encourages and inspires us with her testimony of how God is moving."
Kastner, for her part, sees these friendships as mutual. "I have many good friends that were once students and I'm so thankful for the ways that they pushed me to grow as well."
Not only has Kastner kept friendships with alumni around the globe, she has also made her rounds to study world music. She observed world music first-hand during travels to Hawaii, New Zealand, Australia, Palau, Java, and Bali, all experiences that have continued to add depth to her teaching back at Wheaton.
Besides being an innovative and dedicated teacher and performer, Kastner is an accomplished marimbist and author of The Marimba: Teach It!. She has served with the Percussive Arts Society on its Board of Directors, as an editor of Percussive Notes, chair of is scholarly research committee, historian, and its Illinois state chapter president.
Her relationships with students, though, are the heart of this distinguished career. "As I think back over these past 45 years, there have been so many memorable moments," Kastner says, "but what I cherish the most are the many students that I have been privileged to work with—to teach, to challenge, to pray with, to cry with, to laugh with and to mentor."
The Distinguished Service to Alma Mater Award has been presented annually since 1953. The Alumni Board looks for significant contributions to the total life of the College community and spiritual impact had on students and colleagues. Faculty receiving this award must also have achieved excellence in their field of study.
Previous award recipients include Dr. Beatrice Batson, MA '47 (2007), Marilee Melvin '72 (2006), Dr. Roger Lundin '71 (2006), Dr. Walter Kaiser '55 (2005), Dr. Mark Noll '68 (2003), Dr. Arthur F. Holmes '50, MA '52 (1978), Dr. Hudson T. Armerding '41 (1976). A complete list can be found online.