Posted July 26, 2017 by
Tags: #MyWheaton Global and Experiential Learning Internship
My Internship at the State Department Consulate in Guangzhou, China
I chose to attend Wheaton to experience a community of believers that are passionate about serving Christ. Additionally, I wanted to go to a school with challenging academics, and Wheaton is definitely a challenging school.

As part of my international relations major I am required to do an internship. I applied for an internship with the State Department in October, and after a lot of prayer and by the grace of God, I received an email asking if I was interested in the internship. I had only a vague idea where Guangzhou was in China at that point, but I was incredibly thankful for the opportunity to intern at the Consulate.
I have been interning now for five weeks, and I have five weeks left. My internship has given me invaluable experience working in government, as well as a wonderful opportunity to experience life in a new country. I begin every day with fingerprinting people who come to the Consulate for visas. After fingerprinting I have lunch, which is one of my favorite parts of the workday, and not just because the food in Guangzhou is delicious! Usually I go out to lunch with a group of consular officers. I really enjoy getting to eat with consular officers, ask them questions about their work, and get advice for my future. After lunch I usually work on projects or shadow consular officers while they adjudicate visas. These experiences have been unique as they have given me insights into consular work.
I am really thankful for my experience at Wheaton in preparing me for this internship and my future career. Chinese classes have been some of my favorite classes at Wheaton, and studying Chinese has really helped me now that I am interning in China. Additionally, the support and encouragement from my international relations professors helped me prepare well for my internship. Wheaton has also given me a unique perspective on working in politics as a Christian that I'm sure will serve me well in whatever future career I pursue.
Future Wheaton students should seriously consider taking a summer or a semester to experience life in a different country, specifically one with a vastly different culture from that of the United States. While it can be challenging at times, living in a different culture has helped me understand others better and have more compassion for those who are different from me.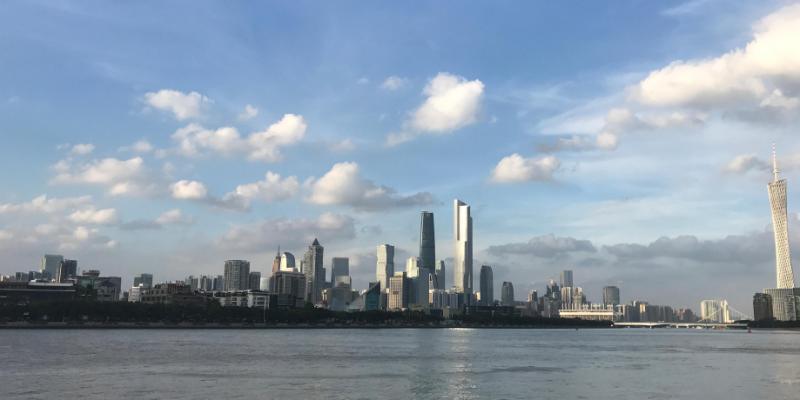 Hannah Streed '18 is an international relations major pursuing a minor in Chinese and a Peace and Conflict Studies certificate. Photo captions (from top): Hannah at the Consulate General's American Independence Day event; Guangzhou skyline with the Canton Tower and the Pearl River.
To learn more about Wheaton, connect with Wheaton College Undergraduate Admissions. Set up a visit, or apply now.