Posted July 12, 2017 by
Tags: #MyWheaton Global and Experiential Learning Spiritual Life The Liberal Arts
A Look Inside Wheaton's Pilgrimage to Santiago Trip
Falecia Sanchez '18 and Wyatt Anderson '19 traveled on Wheaton's Pilgrimage to Santiago trip during summer 2017, and share some insights about their experience visiting Spain and hiking the Camino de Santiago trail in the blog post below.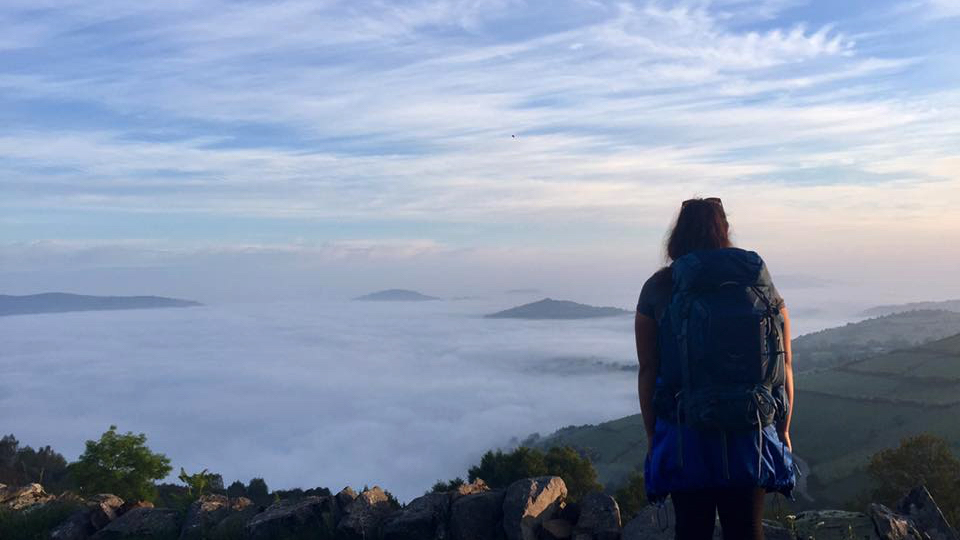 Falecia: After watching the movie The Way, visiting the Cathedral of Santiago, attending Pilgrim's Mass, listening to a Camino scholar lecture on the history of the Camino, and talking to pilgrims who arrived in Santiago de Compostela during the Wheaton in Spain study abroad trip in 2016, I found myself hoping to return one day to walk the Camino. Thus, when Professor Sharenda Barlar of the Modern and Classical Languages Department asked a year later if I would assist in her research of pilgrims on the Camino, my immediate answer was, "Yes!"
Wyatt: This summer, we walked across Spain, along an ancient pilgrimage route called "El Camino." We first flew to Madrid, and toured many of Spain's northern cities including Pamplona, Roncesvalles, Leon, Santo Domingo, Burgos, and Astorga. In each city, we took in the history, culture, and cuisine, visiting everything from museums and cathedrals to restaurants. We then left from Astorga, and began the long walk of 273 kilometers to Santiago de Compostela.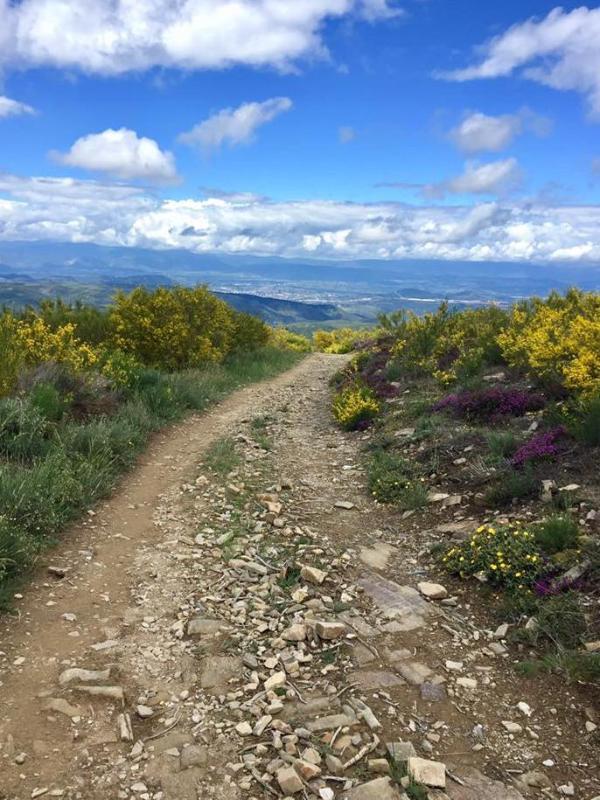 Along the way we learned a great deal, though exactly what we learned varied depending on who we met and what we saw. One of the people I met was Tania, a middle-aged woman from Germany, who didn't know what to think of religion after some deaths in her family. My friend Eric and I walked with her for 10 km. It is amazing the subjects you can cover in a 10k conversation. We talked about everything from siblings to faith, and we were all able to talk about what we believe and why. In the end, I gave her my fidget spinner, given to me by a man named Tony the previous day, and told her to pass it along to someone else in the spirit of the Camino.
Falecia: In the future, I hope to become a professor of either philosophy or Spanish literature, and Wyatt's conversation with Tania is a perfect example of why this trip was a wonderful opportunity for me to apply the knowledge gained from my study of Spanish and philosophy at Wheaton. My Spanish courses have provided linguistic, historical, and cultural contexts to better understand and connect with Spaniards and other Spanish-speakers while my philosophy courses have provided a logical foundation to tackle the hard questions that many pilgrims on the Camino are asking, such as: What is my purpose in life? Does God really exist? If He does exist, why is there so much suffering?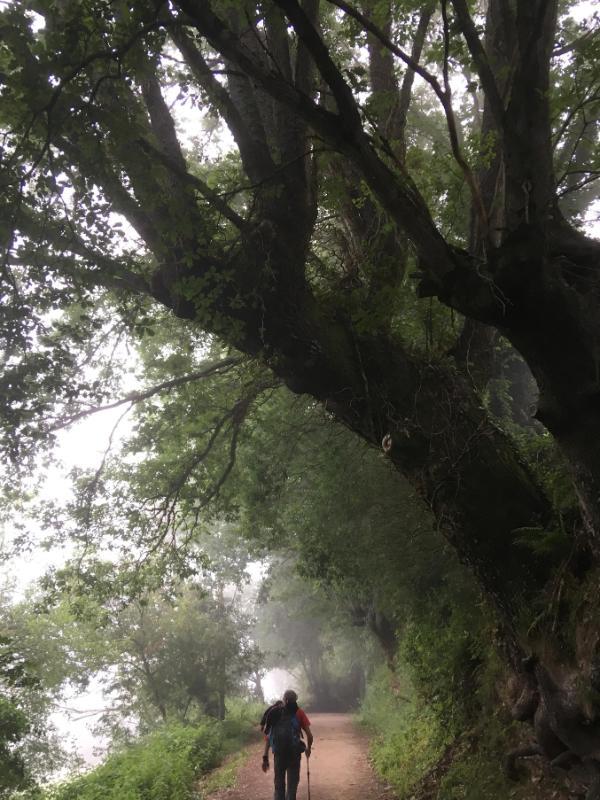 Wyatt: As a biology major, I paid a lot of attention to the woods along the Camino, and I think I found my biggest takeaway in the woods of Galicia. They stirred in me a nostalgia, but I had never seen them before. They reminded me of stories I read when was young, but I wasn't sure which one. They reminded me of someone I once knew, but forgot. They reminded me of home, but again, I had never set foot there before. The conclusion I came to was that these longings betrayed my longing for God. And I recognized that my longing is part of His story of redemption that runs through all cities, suburbs, farmlands, and forests, if we only take the time to look.
Falecia Sanchez '18 is studying Spanish, and Wyatt Anderson '19 is studying biology, Spanish, and chemistry. They both traveled on Wheaton's Pilgrimage to Santiago trip during summer 2017. Photo captions (from top): Wyatt and Falecia in front of a statue of Santiago el Peregrino (St. James, the Pilgrim); a walking path along Molinaseca, Spain; Falecia overlooking the morning fog along the Galician mountains; The woods of Galicia.
To learn more about Wheaton's Pilgrimage to Santiago trip, visit their website. To learn more about Wheaton, connect with Wheaton College Undergraduate Admissions. Set up a visit, or apply now.