More Than a Residence Hall
For almost 60 years, Smith-Traber Hall has been home to freshman and sophomore students at Wheaton. More than just a roof over your head, Smith-Traber is a key pillar of your education - a place where you can process and live out all that you are learning in the classroom. The friends you make and the lessons you learn here together will last for a lifetime.
Conveniently located, Smith-Traber is a short five-minute walk from the Chrouser Sports Complex, the Meyer Science Center, Anderson Commons, and the Beamer Student Center. The building's separate men's and women's wings meet on the ground floor in a large lounge with shared space for studying, playing games like ping-pong or pool, or just hanging out.
Smith features five floors of women's rooms configured as two-person doubles with the option of converting to four-person suites. Traber features six floors of men's rooms configured as two-person doubles.
See Inside Smith-Traber
Take a short tour of Smith-Traber with two of our student Residence Assistants (RAs). RAs are juniors who provide servant leadership to the students on their floors. They're there to help students problem-solve, cultivate a spiritual life together, and facilitate hanging out through brother-sister floor events, late-night hangouts, community worship and much more!
Graduate Resident Advisers
Graduate Resident Advisers are students in the Wheaton College Graduate School who live on site in underclassman dorms, helping with the administration of the residence hall, as well as the personal, physical, and spiritual needs of students.
Meet the Graduate Resident Advisers of Smith-Traber.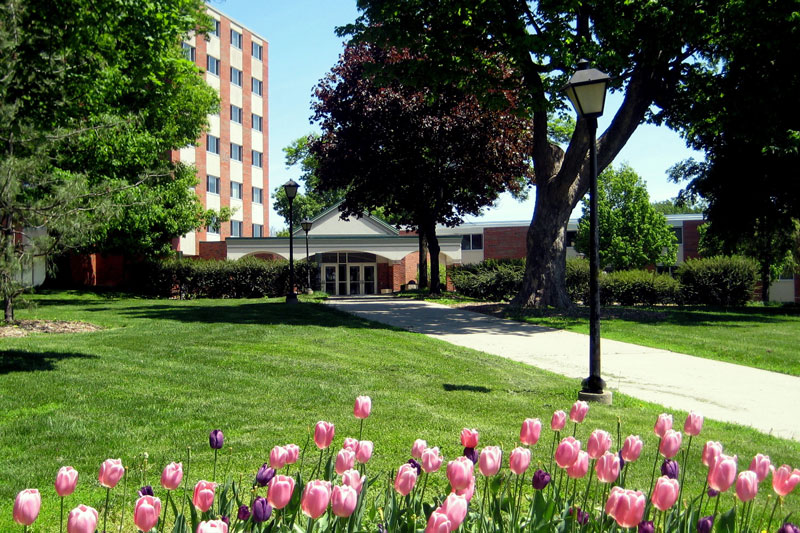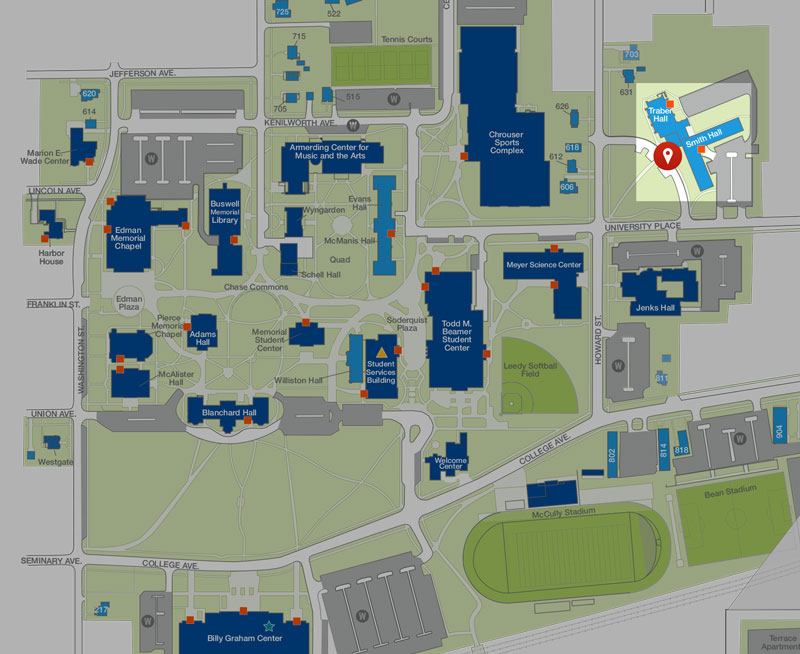 A central bathroom is located on each floor.
A central laundry room is shared by the entire building.
Laundry room is equipped with an ironing board. (Traber floor lounges are also equipped with an ironing board.)
Limited summer storage is available.
Limited indoor bike storage is available.
Outdoor bike racks are available during the academic year.
One vacuum is located on each floor.
Smith-Traber contains a hall kitchen shared by the entire building, which includes two stoves, a refrigerator, microwave and minimal cooking utensils.
Also shared by the entire building are foosball/pool/ping pong tables, a copy machine, a Prayer Chapel, Quiet Study Room, 24-hour computer lab, conference room, and community TV lounge. Wireless internet is available in the main lobby.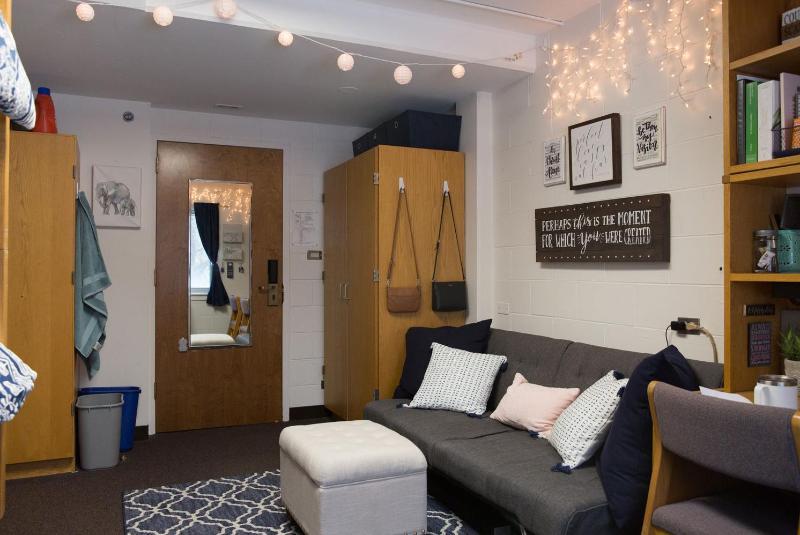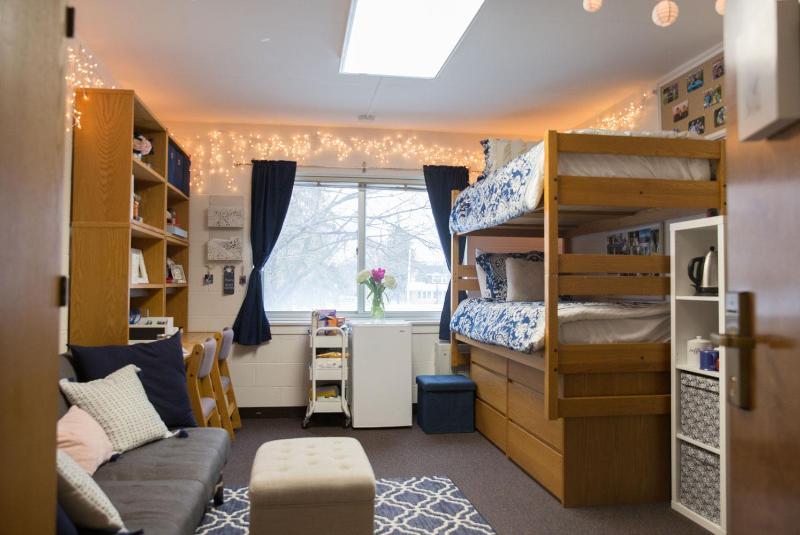 Average number of students per floor: 32
Room dimension: 16' x 11.5'
Window dimension: 50" x 73"
Wardrobe dimensions: 22" depth x 40.5" width
The bed height is 9" off of the ground allowing some storage underneath
Each Room Is Equipped With:
a 36" x 80" extra long mattress for each student
one bulletin board
six electrical outlets
one internet port per student and wireless internet( )
RT London modular furniture system that offers different lofting configurations depending on the size and space of the room
air conditioning/forced air heat in each room
one wardrobe per student (Smith) or one closet per student with hinged outward folding doors (Traber)
one desk chair per student
a wastebasket
miniblinds
carpet
mirror
one towel bar or hook per student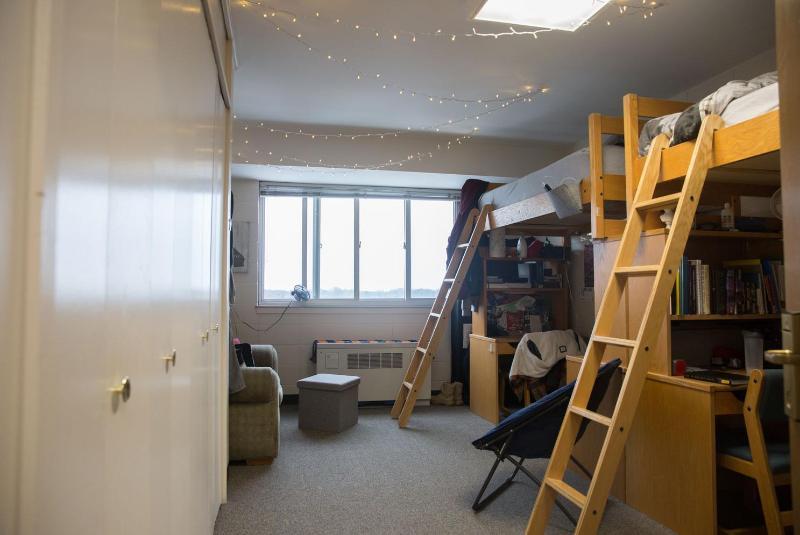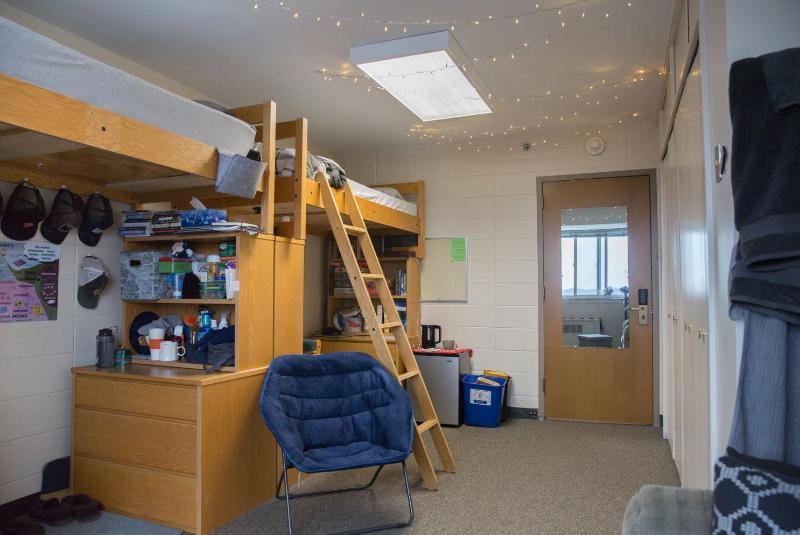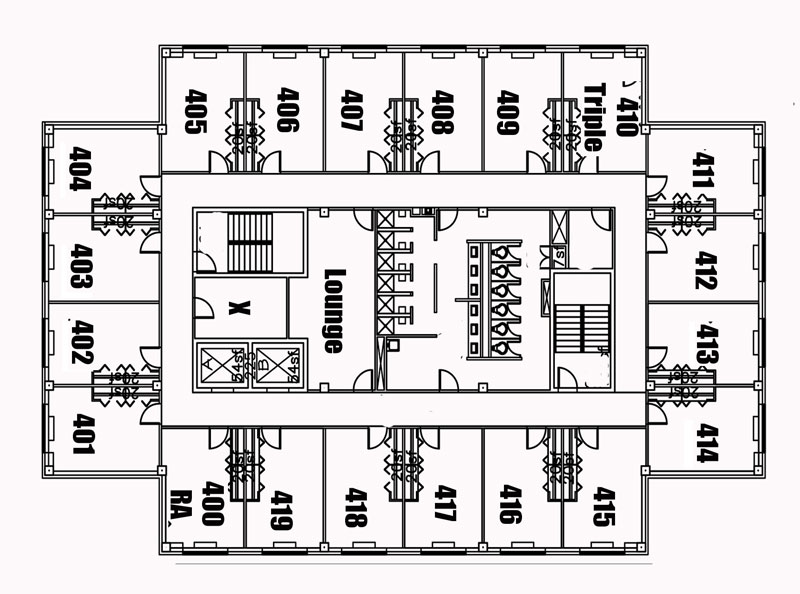 Average number of students per floor: 40
Room dimension:12' x 17.5' (Traber)
Window dimension: 50" x 86" (Traber)
Closet dimensions (Traber): 22" depth x 47.5" width
The bed height is 9" off of the ground allowing some storage underneath
Each room is equipped with:
a 36" x 80" extra long mattress for each student
one bulletin board
six electrical outlets
one internet port per student and wireless internet( )
RT London modular furniture system that offers different lofting configurations depending on the size and space of the room
air conditioning/forced air heat in each room
one wardrobe per student (Smith) or one closet per student with hinged outward folding doors (Traber)
one desk chair per student
a wastebasket
miniblinds
carpet
mirror
one towel bar or hook per student