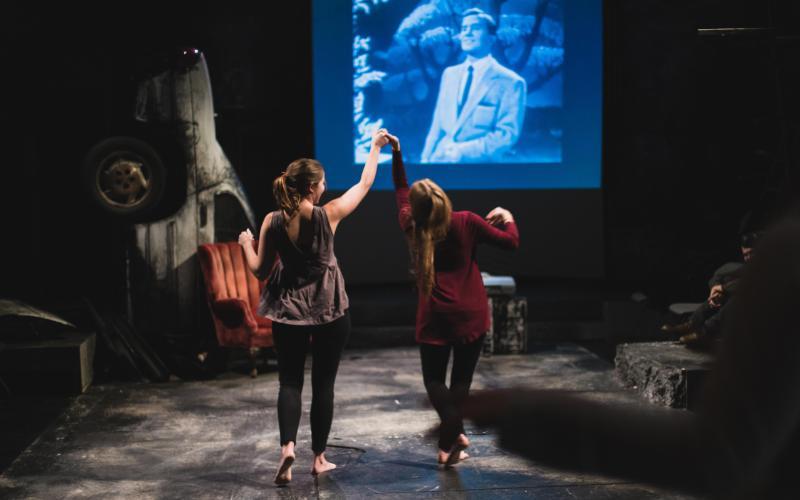 Where do I start?
Our annual Theater Informational Meeting will be held on Thursday, August 29 @ 4:00pm in Arena Theater. Come to this meeting to find out more about how to get connected in our theater! We will be announcing our season, giving tours of our theater, and providing details about Workout auditions, which will take place September 2-5.
How do I get involved?
There are a number of ways to get involved in Arena Theater!
1. Workout
Wheaton's theater ensemble, Workout, has enjoyed nearly 50 years of producing theater in the context of an intentionally constructed producing ensemble. Each fall, students in Workout audition to be part of this highly committed theater group that meets to train together twice a week, produces and acts in each of our three mainstage plays, and benefits from being a part of a transformational community. See our most commonly asked questions here.
2. Crews
An integral part of our theater education hinges on working on a crew. Crews typically meet Monday, Wednesday, Friday, and Saturday for about 3 hours, and are the major place to connect with your classmates and theater teachers. Through participating in a crew, you are an active part of every show that goes up in Arena Theater, regardless of casting or Workout membership. We work with various Chicago designers in each aspect of our productions so that you can gain a professional viewpoint into making theater after college. The best part - you can try a different crew for every show to gain experience and insight into all the different aspects that go into putting a show up. Options include Costume, Set, Lights, and Props. Email andy.mangin@wheaton.edu for more information.
3. Classes
We offer a variety of classes in theater at Wheaton designed to engage our students creatively, intellectually, and spiritually. Our curriculum can be approached in several ways, according to the needs and interest of the student. Students can choose to study multiple levels of acting - as well as directing, design, or theory - as a single class designed to enrich their engagement in another discipline, as a building block toward a Theater Minor, or as part of a Communication Major (with a Theater Emphasis). Please find a detailed description of the courses we offer here. No matter where you decide to go in your Theater education, Theater Survey (COMM 271) is the foundational prerequisite for all of your studies. Open to all students, the class is a great way to become familiar with what Wheaton has to offer - whether your interest is acting, design, or directing.
How can I use a Theater education after college?
Our program has always included students from across majors. We firmly believe that a theatrical education enriches and informs any number of career paths. Here's what a few of our grads have to say about how Arena Theater informed their lives career after college:
"The community at Arena Theater provided me with an opportunity to connect with people in new ways, most remarkably impacting my understanding of "working it out" with other people. Since leaving Arena Theater I've held onto my memories of the work we did as an ensemble, these memories serving as interpersonal resources as I navigate my life. With new friends, my job and new experiences, these memories remind me to have breath during a discussion, argument, or negotiation with another person. They encourage me to be intentional, soft, and generous in my interactions. They sit somewhere between my mind, gut, and spirit, providing me with confidence in the present moment."
Chloe Cucinotta '15
Marketing Manager / EXPO CHICAGO, (The International Exposition of Contemporary & Modern Art) / Chicago
"It was one of the first rehearsals of my first show at Arena Theater, and I sat in a circle on the floor listening to older theater students speak. Just speak. And listen. Just listen. For a few moments it was like they were talking with a thick and far off accent that I couldn't quite understand. These people were speaking and listening more humanly than I had ever known, and my unpracticed spirit didn't quite know how to translate. But I do remember one thought: this is where I need to be. This is why I came to Wheaton. In retrospect I can't imagine my life today with Workout and Arena Theater. It gave me the language--body, spirit, and mind--to speak with the world as my heart has always longed to speak."
Blake V. Kent '02
Pastor-Writer-Photographer / Vancouver, BC
"My time at Arena Theater got at the heart of acting, and of Shakespeare, Miller, Norman, and Stoppard. It was the beginning of a long journey into learning what it is to be actively present in the world, with myself, with others, and with God that extends far beyond the acting work that is now a part of my life. I met God like I had never met Him before at Arena Theater, as a Being that loved me not in spite of my shortcomings and failures, but in the midst of them. If I had never set foot on a stage again that would have made the countless hours I spent in Arena Theater worth every second; as someone who knows the pursuit of this craft will mark the entirety of my life, it was also an invaluable opening into that world."
Jenn Cribbs '99
Actor / New York City