The William Volkman Chair of Business and Law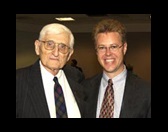 At the center of the Pre-Law Program is the Pre-Law Advisor. Wheaton College made a commitment to pre-law advising with The William Volkman Chair of Business and Law, a chair endowed by alumni in honor of a former professor at Wheaton College.
The Volkman Chair is held by a tenure-track professor who teaches law-related classes in the Department of Business and Economics and Department of Politics and International Relations and who serves as the Pre-Law Advisor. The photo at left shows William Volkman, left, with the Pre-Law Advisor, Stephen Bretsen.
Meet the Pre-Law Advisor
My name is Steve Bretsen, and as the holder of the Volkman Chair, I am the Pre-Law Advisor at Wheaton College. If you are thinking about going to law school, then I am interested in talking to you.
I have gone to law school, practiced law as an in-house attorney for over fifteen years, worked with lawyers in a variety of practice areas, networked with law school admissions directors and representatives, and advised Wheaton College students who have attended some of the best law schools in the nation.
I am available to answer your questions and provide practical advice about the LSAT, the law school admissions process, your law school application, or the legal profession during my office hours, over lunch, or by appointment.