Why Study Spanish?
The Spanish major will help you develop your language abilities and explore the rich variety of histories, cultures and literatures of the Spanish-speaking world. Studying the world's second most common language will open doors and give you a new way of seeing the world.
Studying Spanish will give you new avenues for relating to communities of Spanish-speakers. You will hear new voices and gain new perspectives, whether you are traveling or studying abroad or interacting with your neighbors in the United States.
Why Study Spanish at Wheaton College?
15
Average Spanish Class Size
110
Years of Combined Faculty Teaching Experience
10:1
Ratio of Spanish Faculty to Students
Guest Instructor of Spanish
Come work with us! For more information on this position, please take a look at the listing on the Human Resources website. Look forward to hearing from you!.
The essence of a Christian liberal arts education is to interact with all of God's world from a Christian perspective. No matter your background or future plans, studying Spanish will equip you by challenging you to master a language, to grasp concepts and to shape your own, to ask significant questions and seek answers, to develop original ideas, and to become an intellectually self-motivated, life-long learner and servant of Christ.
As a student in the Wheaton College Spanish program, you will benefit from
A premiere Spanish program focused on linguistic and intercultural skill-building in a distinctly Christian liberal arts framework.
Many available class sessions: 50+ Spanish classes are taught each year.
Great community of learners: over the last five years, our Spanish majors have come from over 30 different countries and states.
Immersion study abroad programs in Mexico, Central America, and Spain
The opportunity to use your bilingualism in contexts like healthcare, education, ministry, business, social services, and government and legal settings.
How to Find Us
For general inquiries on the Spanish program, please reach out to Dr. Stephanie Gates, the section coordinator.
What Will I Learn?
As a Spanish major at Wheaton, you will learn the forms and functions of the Spanish language, understand native speech and writing, and learn to communicate creatively and comprehensively in Spanish. From grammar, composition, and conversation courses to courses on history, culture, literature, and teaching, the Spanish curriculum will allow you to fully grasp the Spanish language and culture.
The Spanish major requires 32 hours of coursework at the 300 level or above. As part of the major, students are required to complete at least one term of study abroad in a Spanish speaking country.
From grammar, composition, and conversation courses to courses on history, culture, literature, and teaching, the Spanish curriculum will allow you to fully grasp the Spanish language and culture, all within a distinctly Christian liberal arts framework.
Opportunities for Spanish Majors

While classroom instruction significantly contributes to the acquisition of a second language, everyday, meaningful interaction with the target culture and people amounts to more effective learning. For this reason, the Spanish major requires academic study, normally 8-10 credit hours, in a Spanish-speaking country of the student's choice. Students may choose to study for a semester or year abroad or they may participate in a summer with approved programs that Wheaton does not offer.
The Spanish program at Wheaton College features several options for studying abroad such as: Wheaton in Latin America, Wheaton in Mexico, Wheaton in Spain, and the Pilgrimage to Santiago.
Wheaton offers a PK-12 Professional Educator License (PEL) in teaching a modern language (Spanish, French, or German). Other endorsements, such as ESL/Bilingual or Special Education can be added to this initial license, which can be earned as an undergraduate student or in conjunction with the Master of Arts in Teaching.
The Violet-Bergquist Scholarship is awarded to an outstanding Junior or Senior student who is a French or Spanish major preparing either to teach or to use French or Spanish in Christian Service. For further information please see either the French or Spanish section leader.
Both through direct communication and by way of the Center for Vocation and Career, the Spanish Section is often made aware of internship or employment opportunities that require proficiency of varying degrees in Spanish. A number of Wheaton students also find occasion to use their Spanish skills in volunteer and ministry positions both in the area and in short-term trips out of the country, such as the annual Spring Break Honduras Trip.
Led by a student with advanced skills, students meet in the cafeteria for casual conversation and language practice over dinner at least once a week. Any member of the campus community who is interested in using or improving language skills is welcome to join the group.
Sigma Delta Pi
Established in August of 2017, Wheaton College's Chapter of Sigma Delta Pi has honored many exemplary students of Spanish into the society, as well as faculty as honorary members. We look forward to promoting the study and scholarship of the Spanish language, always acknowledging Christ as our center and helper in the process.
Spanish News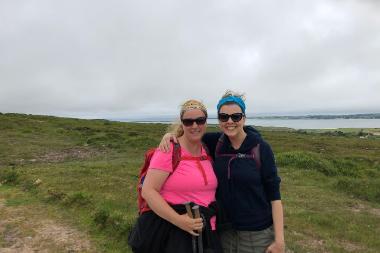 View More