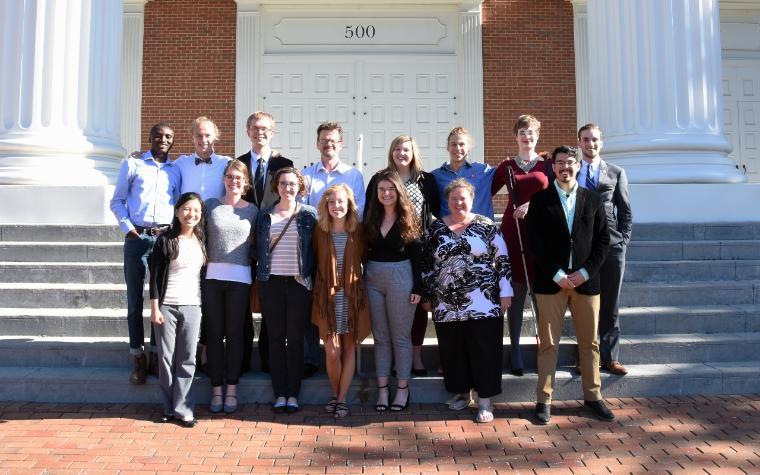 Symposium participants at the first Annual Interdisciplinary Liberal Arts Symposium in 2018.
Upcoming: The 5th Annual Interdisciplinary Liberal Arts Symposium
The Annual Interdisciplinary Liberal Arts Symposium, sponsored by the Wheaton College IDS program, is open to highly motivated, academically curious, incoming college juniors and seniors enrolled at CCCU institutions.
Following a competitive application process, accepted symposium participants will complete the five-day seminar and receive scholarships of $300.
This year, the symposium will run from June 6th through June 10th, 2022.
Description of Activities
During this five-day intensive program, participants will have opportunities to:
Interact with other thinkers who have a passion for interdisciplinary study and problem solving.
Read about key issues addressing liberal arts interdisciplinarity today, especially from a Christian perspective.
Participate in the art of cross-disciplinary conversation with a small group of students from various CCCU institutions.
Practice the academic literacy skills of reading, writing, speaking, and listening within a supportive environment.
Gain important insights into some of the complex problems facing contemporary society.
How to Apply
Deadline: The deadline to apply for the 2022 symposium is TBD. Contact us at IDS@wheaton.edu for more information.
Application: To apply, students must complete and submit an application, which includes short essays and a faculty recommendation.
Eligibility Criteria: Applicants must be incoming juniors or seniors enrolled full time in a recognized CCCU institution. Students must be nominated for the symposium by a faculty member from their respective college or university. Successful applicants are eager to participate in serious cross-disciplinary dialogue on a variety of subjects.

Participants at the fourth Annual Interdisciplinary Liberal Arts Symposium in 2021.
Symposium Testimonials
After five days of nuanced and collaborative engagement, symposium participants emerge with renewed interdisciplinary curiosity, insights into complex real-world problems, and lasting relationships with peers from other CCCU institutions. Here's what a few recent participants had to say about the symposium:
"Getting to talk with other students at CCCU institutions in a format like this was a novel experience and one I benefited from greatly. I love my cohort, and I think our experiences together are in line with learning to understand each other as Christians, past our differences."
"The Zoom format enabled everyone to talk equally, providing maximum input from everybody."
"Dr. Davis's emphasis on making sure that all people have an equal share in the discussions was great. I really had to practice my listening skills...It was amazing to have everyone so involved in our loving discussions."
"This was a wonderful experience that will have an impact on the manner in which I live my life. I cannot thank Dr. Davis or my peers enough for their sacrifice of time, energy, and authenticity. I was blessed to be a part of this event. It will continue to live on with me through my new-found relationships."
"The most beneficial aspect of the symposium was without a doubt the perspectives of my fellow attendees. It was inspiring to hear their thoughts. I hope to dialogue with them long after this symposium."
Check back here and follow the IDS Instagram page for updates.