From the President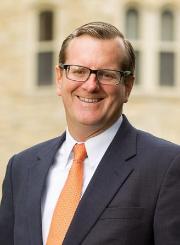 Dear Parents,
Last weekend—amid the pageantry of banners created by our art students—over 200 student musicians with combined choirs, instrumental groups, and student readers from Arena Theater presented this year's Christmas Festival in three concerts. The diverse musical styles unified around the common purpose of celebrating God's redemptive love in Jesus Christ.
Soon the 2017 and 2018 Christmas Festivals will air on public television locally and across the nation. Check our online listing to learn if the programs are available in your area.
This Advent and into the New Year, the global Wheaton College community is invited to reflect on God's gift of grace Through His Own Redeeming Love. This series of devotional readings will help you prepare your heart and mind to receive God's love and to offer yourself back in worship, as the Magi did.
We wish you a very Merry Christmas from Wheaton College!
Year-end giving
This month, we reflect on the precious gift of our Savior, Jesus Christ, and remember those who came with gifts to honor the birth of our King. We are also reminded of your gifts to Wheaton College and how you advance this kingdom work through your prayers, your partnership, and your giving. When you support the Wheaton Fund, you invest in the excellence and affordability of a Wheaton education for each of today's students. Please consider making a gift to Wheaton this month. Your tax-deductible gift to the Wheaton Fund by December 31, 2019 is essential to our mission and truly appreciated. Thank you for remembering Wheaton College in your year-end giving.
A Word from the Chaplain's Office
Wheaton College is a community where your student can journey alongside all faculty and staff in a shared way of life through faith, hope, and love. We are calling this shared way Life with God. As a strategic initiative of the College for spiritual formation, Life with God invites our entire community to express and deepen our faith through nine spiritual practices as summarized below.
Advent is a fitting season to consider the biblical foundation for this spiritual formation initiative, because Jesus Christ came to earth to make life with God possible. He was called Immanuel, "God with us," and is the one who will bring us to our eternal home centered around life with God the Father, Son, and Holy Spirit.
Our prayer is that Life with God will be a practical, faithful and fulfilling way of life in which your student learns what it means to be an apprentice of Jesus.
If you would like to know more, and to request a digital copy of the Life with God Primer, contact chaplains.office@wheaton.edu.
Athletics
The Wheaton football team recently concluded a historic season, posting only the second 12-win season in program history with a 12-1 record. Wheaton advanced to the NCAA Division III Playoff Quarterfinals with victories against Martin Luther College and Central College in the first two rounds. Wheaton's season ended in a heartbreaking 34-33 loss to St. John's (MN). Head coach Mike Swider was named the CCIW Coach of the year and Senior Dallas McRae was honored as the Defensive Player of the Year, among 17 All-CCIW selections. McCrae was recently honored as an American Football Coaches Association (AFCA) First Team All-American. McRae was named the D3football.com North Region Defensive Player of the Year; and was one of ten D3football.com All-Region honorees from Wheaton. Coach Mike Swider '77 recently announced his retirement following 35 years as a member of the Wheaton coaching staff.
The Thunder women's soccer team won its 21st CCIW Championship this season. The Thunder earned an at-large bid to the NCAA Tournament and advanced to the Sectional Semifinal round of the tournament. Junior Sarah Tomich and sophomore Sara Bakke each earned First Team All-America honors. Tomich, the CCIW's Defensive Player of the Year for the second-consecutive season, led the way for five All-CCIW and All-Region selections. Pete Felske '86 was honored as the CCIW's Coach of the Year for the 13th time in his career. The Thunder women's cross country program won its fourth-consecutive CCIW Championship in November. Wheaton placed fifth at the NCAA Division III Midwest Regional behind top-10 finishes by seniors Aryn Embretson and Erika Johnson. Both Johnson and Embretson earned All-Region recognition this fall and represented the Thunder women's cross country program at the Division III Cross Country Championships in Louisville, Kentucky.
The Wheaton women's tennis team earned a league-best 22nd CCIW Championship this fall. Head coach Jane Nelson '83 was named the CCIW Coach of the Year for the ninth time, a league best. Junior Nicole Freeman was honored as the 2019 CCIW Championship MVP. Senior Claire Browning, sophomore Claire Dibble and junior Emme Lindquist each earned All-CCIW recognition. Junior Marin Halvoresen was the medalist at the 2019 CCIW Women's Golf Championship, finishing first at the event for the second-consecutive year. Halvorsen is the first person to win back-to-back medalist since 2008-09 honors and the first to repeat since the tournament switched to its current three-round format.
The men's soccer program posted a 10-4-4 record in 2019. Freshman Silas Galvao was named the CCIW Newcomer of the Year; and he was joined on the All-CCIW Team by Justin Hill and AJ Moyes. The Wheaton volleyball team posted a 17-13 record in 2019, qualifying for the CCIW Tournament for the first time since 2016. Sophomore Colleen Smith and freshman Allie High earned All-CCIW recognition for the Thunder.
For complete information on Wheaton's 21 varsity athletics teams be sure to visit athletics.wheaton.edu for schedules, recaps, videos and much more. Sign up for text alerts from Wheaton Athletics. Be sure to follow Thunder Sports on Facebook (facebook.com/WheatonAthletics), Twitter (@Wheaton Thunder) or Instagram (@Wheaton_Thunder)
Thunder fans can watch many home events on the Wheaton Thunder Sports Network at http://livestream.com/wheatonthunder or watch by downloading the Livestream app on ITunes, Google Play or Roku Store.
For information on Wheaton's club sports be sure to visit the club sports website.
Office of Christian Outreach
Birthday Box Fundraiser: This spring, support summer ministry programming and engage students in global service by ordering a Birthday Box. If you have a student(s) who will be celebrating birthdays between January 12 - April 30, this is the perfect way to show that you are thinking of them on their special day. OCO students assemble and deliver each Birthday Box, which includes a personal note from you (included with your order). Students who have birthdays falling during spring break will receive their box the week before spring break.
Our goal for the 2019-2020 school year is to raise $15,000 through the Birthday Box Fundraiser. We are grateful for your consideration in joining God's work in the OCO through your generous giving.
Spring Break 2020 BreakAway Service Trips: Sign-ups are open for spring BreakAway trips. The mission of BreakAway is to redefine short-term missions as an invitation from our triune God to see God's world, to join God's work, and to be God's church. Encourage your student to join one of the following teams:
Mexico Team: Explore what community development looks like in Mexico City.
Puerto Rico Team: Provide relief from Hurricane Maria through Send Relief, the relief arm of the North American Mission Board.
New Hampshire Team: Learn from His Mansion Ministries, a Christ-centered recovery community where individuals with a broad range of brokenness come to find healing and hope.
Tennessee Team: Spend time working with families on major or minor home repair projects in their community and helping renovate or build in-camp facilities.
Angola, Louisiana Team: Spend time in the largest maximum-security prison in the United States and learn what daily life in the imprisoned church consists of and have perceptions of prison life challenged and transformed.
Have questions or want to learn more about a team? Contact our Assistant Director of School Year Programs, Jared Falkanger, at jared.falkanger@wheaton.edu.
Grad School News
The School of Psychology, Counseling, and Family Therapy at Wheaton College integrates Christian belief and practice with the best of contemporary scholarship and professional standards in the disciplines of clinical psychology, counseling, and marriage and family therapy.
Here are some notable highlights and updates from the School of Psychology, Counseling, and Family Therapy:
This fall, many of our graduate faculty, including Drs. Terri Watson, Eric Brown, Ben Pyykkonen, and David Van Dyke, traveled to several countries in Asia to teach, present, connect with alumni, and meet future students.
Dr. David Van Dyke is back in the Wheaton Marriage and Family Therapy classroom following his valuable Fulbright opportunity in Hungary.
Dr. Mark A. Yarhouse, founder and lead researcher at the Sexual and Gender Identity Institute (SGI) joined Wheaton College as Rech Chair in Psychology.
The M.A. in Marriage and Family Therapy (MFT) will open the Center for Family and Relational Health in October 2020, making Wheaton College Illinois' first and only faith-based, accredited MFT program to have its own student training clinic open to the public.
The application for the M.A. in Clinical Mental Health Counseling's 9-credit trauma certificate (available on campus or online) is open until July 1, 2020, the application deadline for the Psy.D. in Clinical Psychology is Dec. 15, 2019, and the M.A. program deadline is March 1, 2020.
If your student is interested becoming a psychologist, counselor, or therapist, discover our accredited programs in the School of Psychology, Counseling, and Family Therapy today!
How can you pray for Wheaton this month?
Pray for students in the weariness of the last days of the semester, and with finals next week. Pray that those who are struggling would know the Lord's love and care for them, and the nearness of His Presence.
Pray for the Lord's strength and encouragement for faculty members as they finish their classes and complete their grading.
Pray for the Lord's hand of protection for all in the Wheaton community who will be traveling over Christmas Break. Pray especially for those who are unable to return home for Christmas or who are returning to difficult situations.
Wishing you a Merry Christmas!
The Wheaton College Parent Engagement team