Wheaton College is pleased to announce the appointment of Dr. Shawn Okpebholo to the Blanchard Chair of Music (Composition, Music Theory).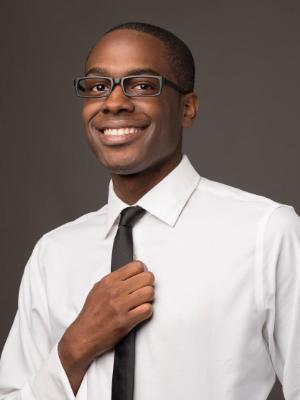 Dr. Okpebholo has served on faculty in the Wheaton College Conservatory of Music since 2010. The Blanchard Chair is an endowed position sponsored by the Provost's office and is designed to provide additional resources for faculty to pursue individual research and projects in their field.
"We are thankful for Dr. Okpebholo's amazing gifts as a composer, person, and ambassador for the college," said Dean of the Conservatory of Music and Division of Arts and Communication Dr. Michael Wilder. "Abounding in energy and love for people, in addition to his commitment to excellence, he exemplifies Wheaton's academic and Christian values both locally and internationally."
In addition to his teaching at Wheaton College, Dr. Okpebholo is a critically acclaimed and award-winning composer whose music has been featured in nearly every state and across the world: from recital series presented by the Los Angeles Opera to the Lyric Opera in Chicago, from Alaska's Uncommon Music Festival to Bowdoin International Music Festival in Maine, from the Chicago Symphony Orchestra Music Now Series to the Houston Symphony, from chamber works in Goa, India to Bogotá, Colombia. His compositional and research interests have been a gateway for ethnomusicological fieldwork in both East and West Africa: studying the music of the Esan people in southern Nigeria, the Akambe people in the Machakos region of Kenya, and South Sudanese refugees in northern Uganda. His field research has resulted in two chamber works, two symphonic works, transcriptions, and academic lectures. Currently, Dr. Okpebholo is in residence at the Chicago Opera Theater as their Vanguard Opera Composer and recently completed his tenure at the Fifth House Ensemble as their Composer-in-Residence.
A prolific composer, Dr. Okpebholo's original song cycle, "Songs of Flight," also premiered in January at the Metropolitan Museum of Art in New York. The 55-minute tracklist features world-renowned musical collaborators, including singer and multi-instrumentalist Rhiannon Giddens, soprano Karen Slack, countertenor Reginald Mobley, baritone Will Liverman '10, and pianist Howard Watkins.
Dr. Okpebholo's full-length original composition album, LORD, HOW COME ME HERE? was one of the nominations for Best Classical Solo Vocal Album at the Recording Academy of the United States 2023 GRAMMY® Award Ceremony. Produced and recorded in Wheaton College's Armerding Recital Hall and George Beverly Shea Recording Studio, the work features alumni and faculty past and present of the Conservatory of Music. The record is a collection of spirituals, folk hymns, and historical art songs, featuring baritone Will Liverman '10, Associate Lecturer of Music (Cello) Leonardo Altino, and former professor Paul Sánchez (piano). Brian Porick '98 was the recording engineer for the project.
"Composing is such a competitive field, and instead of being self-protective in his career, Dr. Okpebholo shares the spotlight with others through ongoing collaboration," said Provost Dr. Karen An-hwei Lee. "We celebrate God's marvelous gifts at work in Dr. Okpebholo's life and look forward to his continued pursuit of creative productivity as a scholar, composer, teacher, and mentor to our students."
Related Links: