Wheaton College is pleased to announce the appointment of Dr. John Trotter to the John and Anita Nelson Distinguished Chair of Sacred Choral Music and Conducting.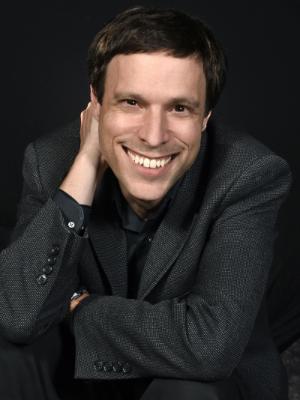 Dr. Trotter has taught at Wheaton since 2012 and serves as conductor for the Wheaton College Concert Choir. He recently conducted the world premiere performance and studio recording of celebrated composer Morten Lauridsen's new choral-orchestral work Ave verum corpus, which was commissioned by the Conservatory of Music and several generous donors.

In conjunction with the College's newly endowed John and Anita Nelson Center for Sacred Music, the Distinguished Chair is designed to advance the mission of the Center in the composition, performance, and study of sacred choral repertoire that features biblical texts. This includes the works of Bach, Mendelssohn, Haydn, Handel, and Mozart. In this position, Dr. Trotter will serve an integral role in welcoming musical guests to campus, offering new training opportunities for Wheaton student composers and conductors, and acting as a bridge between Wheaton College and other college, community, and church partners locally and throughout the world.
"Dr. Trotter is a conductor with his own distinct style, bringing elegance and flair to everything he does," said Provost Dr. Karen An-hwei Lee. "His heart is open and full of curiosity to pursue new ways of looking at classical compositions, which makes him uniquely equipped for the Distinguished Chair as he helps lead the commissioning of new musical compositions based on biblical texts."
Dr. Trotter earned a doctorate in conducting from the University of Michigan and undertook further advanced studies with renowned conductors Eric Ericson, Helmuth Rilling, Andrew Parrott, and Jon Washburn. As a conductor, he has led performances of more than a dozen professional choirs and orchestras on three continents. His ensembles have been honored with invitations to perform live at national, regional, and state conventions of the American Choral Directors' Association, Chorus America, and the National Association for Music Education, and were broadcast throughout North America on NPR and CBC. While on sabbatical in the United Kingdom, he was a Visiting Fellow at Selwyn College, Cambridge, and taught conducting in the Masters in Choral Studies Program. He currently serves as Artistic Director of the celebrated professional vocal ensemble Chicago a cappella, where he founded HerVoice, a global competition and mentorship program for women composers of a cappella choral music.
"With his background in professional music-making and his connections to both professional and academic music institutions around the world, Dr. Trotter will do what he already does so well: offering leadership on campus and in professional circles locally and more broadly," said Dean of the Conservatory of Music and Division of Arts and Communication Dr. Michael Wilder. "He has played a significant role in encouraging the flourishing of our College ensembles as well as providing leadership for the many musical groups he remains connected to off-campus."
Related Links: