Wheaton College is pleased to announce the appointment of Dr. Amy Peeler to the Kenneth T. Wessner Chair of Biblical Studies.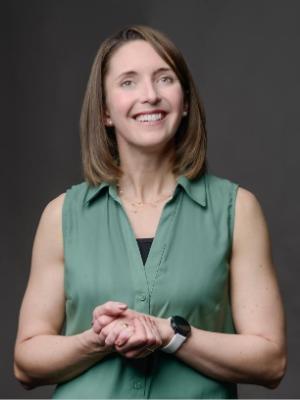 Established in 1998, the chair position recognizes a "distinguished teacher and scholar who is making substantive contributions to his or her subdiscipline within the general field of Biblical Studies." The chair's aim is to support the work of a mature and spiritually vibrant scholar who contributes to the advancement of biblical studies through teaching, mentoring, writing, and academic leadership—with significant contributions to the Wheaton College Graduate School.
Dr. Peeler has taught at Wheaton since 2012 and currently serves as an associate professor of New Testament. She earned her bachelor's in biblical languages from Oklahoma Baptist University and an M.Div. and Ph.D. in New Testament from Princeton Theological Seminary. She also completed a postdoctorate with the John Wesley Honors College at Indiana Wesleyan University. During her spring 2018 sabbatical, Dr. Peeler was a senior research fellow with the Logos Institute at the University of St. Andrews, Scotland.
Dr. Peeler leads undergraduate students through Wheaton's Christ at the Core curriculum with her teaching of the First Year Seminar, the Advanced Integrative Seminar, and New Testament Literature and Interpretation. She also offers advanced courses in New Testament and mentors doctoral students in the Graduate School.
"Her outstanding teaching and publication activities continue to magnify God and edify the church," said Wheaton College Provost Karen An-hwei Lee, affirming Dr. Peeler's achievements as a professor. "It is a joy to see Dr. Peeler engage our students and the broader community of biblical scholars."
In addition to her teaching, Dr. Peeler is a leading evangelical New Testament scholar, with expertise in the Epistle to the Hebrews, Mary the mother of Jesus, and the theological interpretation of Scripture. Her numerous publications range from journal articles and book chapters to commentaries and monographs. Recent publications include Hebrews: An Introduction and Study Guide (Bloomsbury, 2020) and Women and the Gender of God (Eerdmans, 2022). She is the associate editor for The New International Commentary on the New Testament. Her forthcoming works include commentaries on the book of Hebrews and the Gospel of Mark, as well as a second volume to Women and the Gender of God focused on the Pauline epistles.
"Dr. Peeler's vocation as a scholar, teacher, and mentor is squarely within the academy and the church. She lives out this vocation with remarkable integrity," said Dr. David Lauber, Dean of the School of Biblical and Theological Studies. "She is an established scholar whose research trajectory is ever-rising. This chair will fortify her expansive scholarly efforts as she advances academic discussions and edifies the church."
Dr. Peeler also serves as associate rector of St. Mark's Episcopal Church in Geneva, Illinois. As a board member of the Center for Pastor Theologians, Dr. Peeler facilitates conversations among scholars and pastors that edify the work of pastors seeking to lead their congregations as faithful theologians for today's complex world.
"I receive the responsibility of the Wessner chair with gratitude and gravity," Dr. Peeler said. "Calling Wheaton my academic home for the majority of my career has been an incredible gift. I could not ask for more dedicated students or more supportive and insightful colleagues. I pray that the work I will do as a scholar and teacher with this support contributes to deepening knowledge of the goodness of God."