The Buswell Library Archives & Special Collections has received a collection of materials from Trotter's personal papers, including three original journals, two original sketchbooks, 21 original watercolor paintings, and copies of her correspondence with art critic John Ruskin.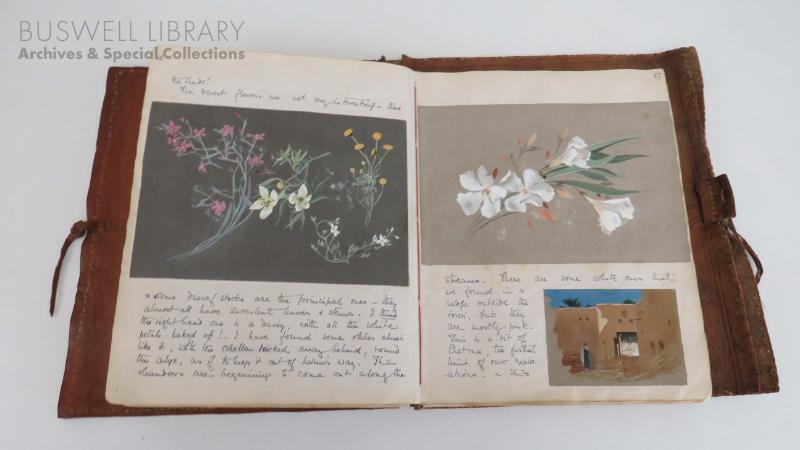 Pictured Above: A page of watercolor sketches from Lilias Trotter's 1893 journal, when she was serving as a missionary in Algiers and the broader North Africa region. Photo courtesy of the Buswell Library Archives and Special Collections.
Born in 1853, Lilias Trotter was a British author, painter, and missionary to Algeria. As a young woman, she broke into an art scene historically closed off to women, earning the approval and mentorship of well-known art critics like John Ruskin and his contemporaries. Despite Ruskin's encouragement to pursue a public-facing art career, when God called her to missions in 1887, Trotter dove into full-time ministry, though she continued to paint privately. Trotter dedicated the rest of her life to sharing the gospel with and living alongside her neighbors throughout the North African coast. During her 40 years in North Africa, she established and led 13 different Christian mission bases throughout the region.
The story of Trotter's Christian life as a missionary and artist has been told in Miriam Rockness' biography, A Passion for the Impossible: The Life of Lilias Trotter, and Laura Waters Hinson's 2015 documentary titled Many Beautiful Things. In 2016, Wheaton College hosted a one-day symposium in collaboration with the Lilias Trotter Legacy, including a viewing of the documentary film, a gallery of her original watercolor paintings, and a panel discussion on the topic of Christian vocation.
"We are thrilled to welcome the Lilias Trotter Papers back to Buswell Library Archives & Special Collections, this time as a permanent part of our holdings, where they will join the collections of other Christian artists, writers, theologians, and missionaries," said Katherine Graber, Assistant Professor of Library Science and Group Leader for Archives & Special Collections. "Trotter's fascinating life and ministry perfectly bridge our two collecting foci in Special Collections and the Evangelism & Missions Archives between her vocation as a Christian artist and her decades-long missionary service. We look forward to sharing Lilias Trotter's exquisite artwork and inspirational writings with our campus community and beyond."
The collection was originally placed on loan in Buswell Library Archives & Special Collections in 2013 before the Lilias Trotter Legacy officially transferred ownership to Wheaton College in April 2023. Although the existing collection and its new materials will not be fully proces x1sed for several months, the Trotter papers are open for research. The collection may be of particular interest to scholars conducting work on global missions, female writers and mystics, and Victorian art.
The Lilias Trotter Papers are housed in Buswell Library Archives & Special Collections, located in Billy Graham Hall on the south side of Wheaton's campus.
—Eliana Chow