From March 7 to May 6, Wheaton College is hosting a traveling international art exhibition "My Secret Double," addressing addiction, depression, and mental health, while offering encouragement and hope.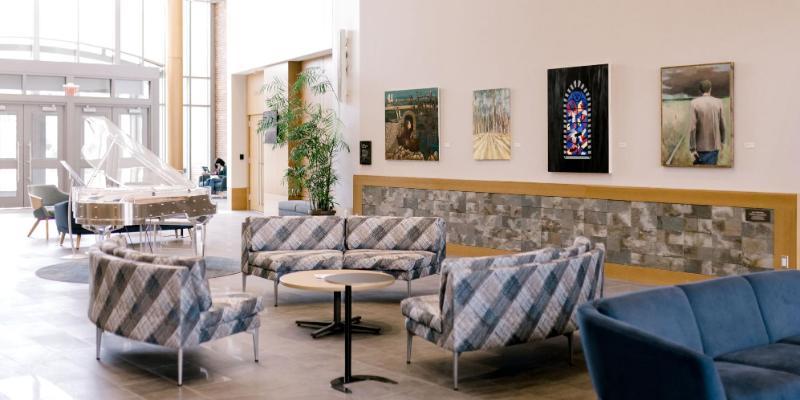 Wheaton College is collaborating with Bridge Builders International to host the traveling international art exhibition "My Secret Double," which addresses depression, while offering help and hope through the visual mediums of painting and photography. The College will host an Opening Reception March 22, 5:30 p.m. to 7 p.m. in the main lobby of the Armerding Center for Music and the Arts.
The goal of the exhibition is to shine a light on our "secret double" – the voice inside that speaks up in dark times, nudging people toward depression, anxiety, or fear, while making us feel unworthy. However, this exhibition is not about showcasing depression, but a visual offering that both affirms individual experience, while offering encouragement and hope to each viewer.
"We are honored to host this powerful expression of the human experience during Wheaton College's Year of the Arts, Faith, and Imagination," said Wheaton College Conservatory of the Arts Dean Michael Wilder. "These visual pieces by international and regional artists travel places within us where we may struggle mentally and emotionally. They can help us commune and heal, both with each other and with God. We are very grateful to Bridge Builders International for this opportunity to share these powerful visual statements."
The concept of "My Secret Double" was developed by Bridge Builders International to help mobilize Baltic artists to speak to critical societal needs. The traveling exhibition began in 2017 when BBI's Latvian affiliate "Partneri" invited 28 artists from Latvia and Estonia, including non-Christians, to paint their understanding of Secret Double. Four professors from the Latvian National Academy of Art participated, including the Rector. The exhibition opened in Riga, Latvia in September of 2017. It has since traveled to five European cities and opened at Oregon State University in September 2019. There are currently invitations to bring the exhibition to Hungary, Lithuania, Bosnia, and Serbia.
"The 'My Secret Double' exhibit addresses a secret 'second voice' that wants to wear us out, make us feel unworthy, and lead to depression and destructive behaviors that can alienate people from each other and God," said Wheaton College Art Professor David Hooker. "These are issues we have often felt uncomfortable discussing in the Christian world. But this deep visual exploration provides hope for how to move forward, which is particularly timely in this era of COVID and tumultuous societal issues here and around the world. In this way, I think the work in the show echoes much of what I read in the books of wisdom, particularly the book of Job and the Psalms."
To learn more, please visit wheaton.edu/mysecretdouble