Leaders Yet Discovered: Experiential Development for Emerging Leaders
Leaders Yet Discovered serves as a practical guide for those called to grow and develop the next generation of leaders. The authors, Greg Robinson, Ph.D. and Rob Ribbe, Ph.D., have sixty years of combined experience developing leaders in camp, church, and college settings.
Today's standard leadership approach is rooted in an illusion of control and certainty. We see the highest level of leaders fail not for lack of skill but from burnout, moral failure, or a sacrifice of values.
We must change the way we develop leaders if we hope to see a difference in the future. Leaders Yet Discovered, using the camp and college environment, explores an alternative way of leadership development for a new generation of leaders.
Our emerging adults are compassionate, energetic, and eager. They provide a bright hope for tomorrow. When given the right context and experiences under the guidance of a leader who values consequential learning, feedback, and personal coaching, they will transform their schools, neighborhoods, churches, and workplaces.
Based on research, best practice theory, and reflective practices, Leaders Yet Discovered invites readers on a journey to discover and define an approach to leadership and leadership development that will create the culture, processes, and relationships to foster the evolution of a new generation of whole and influential leaders. This is an exceptional resource for anyone who leads and invests in today's youth and emerging adults.
"Camps and colleges have life-shaping impact on the calling and identity of emerging leaders. In Leaders Yet Discovered, Rob Ribbe and Greg Robinson bring decades of collegiate research and outdoor adventure experience to the theory and practice of growing authentic Christian leaders. The result is a new leadership paradigm that will prove useful and adaptable wherever leaders are formed, not born." Philip Ryken, President, Wheaton College
Learn more on Amazon.com>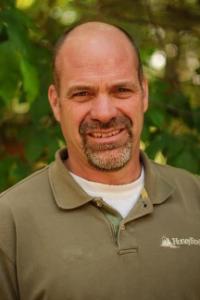 Rob Ribbe '87 serves as the Director of HoneyRock, Wheaton's Center for Leadership Development, and as faculty in the School of Mission, Ministry, and Leadership.