About Wheaton Spaces
At Wheaton College, we believe that each space tells a story—and that our students give those stories meaning. That's why we're running a series called Wheaton Spaces, where we spotlight the spaces significant to our students, staff, faculty, and alumni.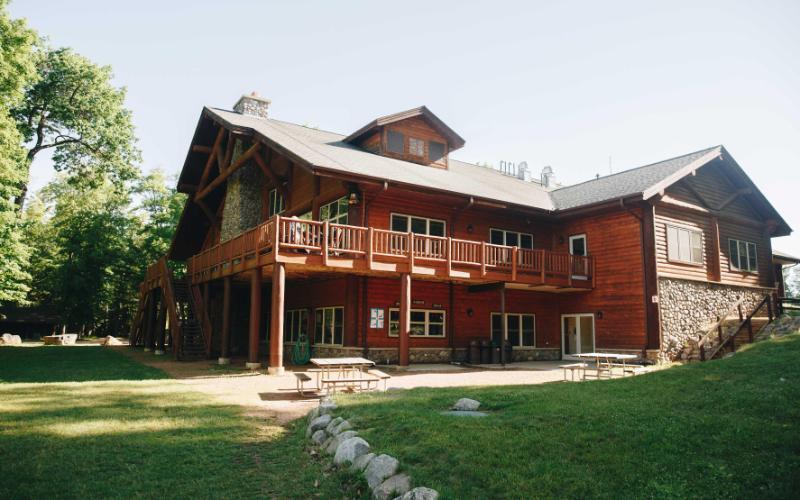 Just off Northern Wisconsin's Highway X, a winding two-way road canopied by a forest of birch and pine trees, is the unassuming entrance to HoneyRock Center for Leadership Development. A wooden sign arches across the road marking the eastern boundary of "A Place Apart"— HoneyRock's tagline since its founding in 1951.
The land, nearly 1,000 wooded acres on a chain of 28 lakes close to Michigan's Upper Peninsula, is a training ground for leadership development, the home base for a leading gap year program, the location of Wheaton College's freshman transition program called Wheaton Passage and a summer camp for kids. The hub of it all is the Chrouser Center, named for HoneyRock Founders Harvey and Dorothy Chrouser.
Built in 1996, the multi-purpose Chrouser Center is one of the largest buildings at HoneyRock. If the tree-lined lake with its stacks of colorful canoes and kayaks and the corral with its herd of horses didn't communicate that you were in a camp environment, Chrouser's quintessential log and stone exterior would. Housing "the Beehive" HoneyRock store, "the Bear's Den" casual hangout spot, the nurse's office and classrooms on the lower level, the Chrouser Center accommodates an upper level dining hall and a wraparound deck that overlooks the lakefront.
Olivia Cassel '18, who will start her M.A. in Outdoor Adventure Leadership in the fall, remembers the first time she entered the boisterous Chrouser Dining Hall. A 10-year-old camper at the time, she momentarily lost her friend and cabinmate, the one familiar face among a sea of strangers. Cassel still recalls the rush of relief at spotting her through the crowd—and subsequently moving swiftly to her side.
By day two, Cassel felt comfortable with the flow of mealtimes, and by day four, she considered all of the cabinmates sitting around the Chrouser table "dear friends."
"What was first chaos and confusion turned into a natural rhythm that you still experience when you eat in Chrouser," Cassel said.
At first, it can be disorienting, echoed current Wheaton College student Peter Lindia, who is serving as a unit leader at HoneyRock this summer. The space is expansive, hosting a couple dozen wooden tables and nearly 100 benches. Natural light spills from windows on either side of a massive stone fireplace, which keeps Chrouser cozy in the winter. It's also loud. Young voices bounce off the high pine-plank ceilings, and the chandeliers constructed from kayak paddles and the trio of canoes suspended from the ceiling beams do little to absorb the sound.
But everything has a purpose, said HoneyRock Director Rob Ribbe. "You can't even sit down without working with other people," he said, pointing at the benches, rather than chairs, that trim the tables' four sides.
To sit down, you have to talk with people, asking "Is there room here?" or "Would you mind scooting over?" You might even have to put a hand on someone's shoulder for leverage to squeeze in or wiggle out.
What's unique about the culture at Chrouser is that "anybody is always welcome at any open seat," Lindia said. "It's almost expected that you go and fill in a table before you start a new one."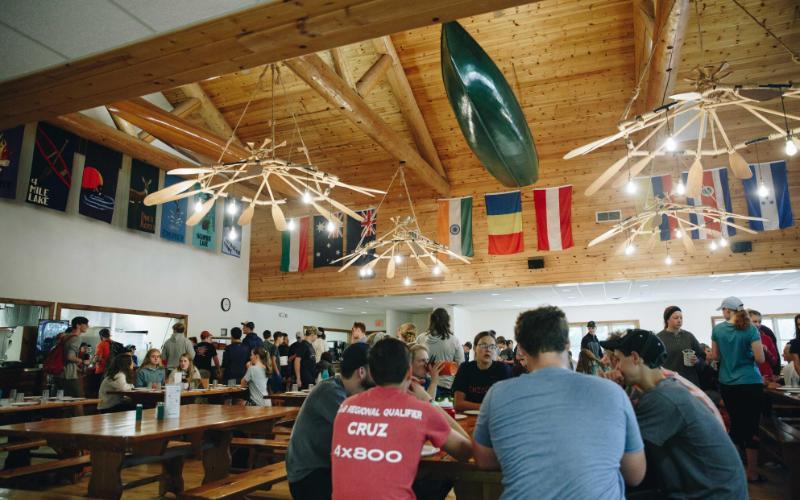 The intentionality doesn't stop at the table design. After praying before the meal, each table designates people to serve one another by walking to the adjoined kitchen windows to pick up the plates and bowls of food, which are shared family-style at the table. At breakfast, one person will pick up the platter of Belgian waffles, another the bowl of sausage, yet another the jugs of milk and orange juice—and everything gets passed all the way around the table.
Lindia, who has several food allergies, felt particularly cared for one day when someone accidentally took his gluten- and dairy-free meal from the window. One of the young men working in the kitchen saw the scene play out, and within 10 minutes, Lindia had a specially made grilled chicken sandwich on gluten-free bread. For Lindia, the experience exemplified the care and service that happens organically at HoneyRock.
Clean-up is another exercise in pitching in with every member of the table contributing, whether it's collecting a tray to bring the dirty dishes to the kitchen or wiping down the table with a wet rag.
But what's really interesting is what happens after the clean-up. It's called "the Chrouser Linger."
"Basically, it's where you just end up staying around and chatting after a meal," Lindia said.
Still, the Chrouser Linger feels unique—especially as life seems to be moving faster and faster.
"At HoneyRock, we prioritize relationship over the task," Cassel said. "Sure, we all might have something going on later that day, but right now, right here, we're just going to stay and chat a bit."
Those chats might look like catching-up or joking around—but they can also be deeply impactful, as Lindia experienced one day lingering after lunch with a young woman he'd recently met. Later, she told him that the time spent in conversation was life-changing since it revealed some of her tendencies that were adversely impacting her relationships.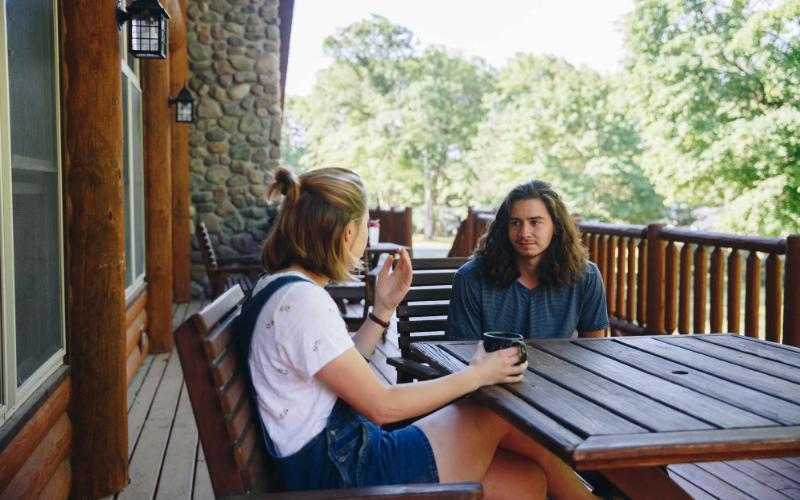 Caption: Olivia Cassel '18 chatting with Peter Lindia on the Chrouser Deck.
A deck overlooking the grounds and lake wraps the outside of Chrouser. Cassel calls it "a sacred place" for reflection or discipleship meetings.
"There's a ministry of one-on-one conversation and deep caring conversations out here," she said. "You'll often see one-on-ones happening between a coordinator and a counselor."
Lindia enjoys summer on the Chrouser deck, when the windows between the deck and dining hall are open. "You can be out here and having a very intentional conversation—a 'let's get to know one another' or a 'how are you doing?' or a 'what's going on in your life?' conversation—but you're also not separated," Lindia said. "It's not taking those one-on-one conversations a place other than where everything is happening."
The Chrouser deck is also a place to read the Bible, journal and pray, while enjoying a lakefront view of sky and trees amidst the din of conversation from inside the dining hall and all the activity down below—from groups prepping for overnight canoeing trips to games of nine-square to kids bouncing on the trampoline in the lake.
Every time that Cassel comes back to HoneyRock, whether it's been a year or just a few weeks, she looks forward to waking up early, making a cup of coffee, and sitting out on the Chrouser deck to reflect on where she's come from and what she's stepping into.
"While I also cherish the long conversations with mentors, mentees, and friends that have happened on the deck, the processing and conversations I've had with the Lord are the points that stick out to me as what sets that space apart as sacred," she said.
Story by Emily Bratcher
Photos by Gabi Satola