The Chicago International Music Competition will bring more than 100 student-musicians from 13 different countries to Wheaton College.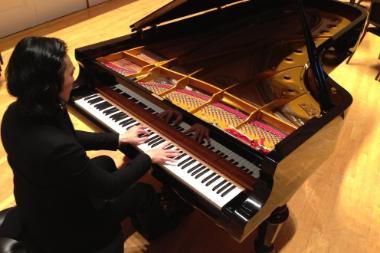 For the second year, Wheaton College will host the Chicago International Music Competition, beginning on July 27. More than 100 student-musicians from 13 different countries will compete for awards, including a recording contract, worldwide concert opportunities, and cash prizes.
"At a time when Wheaton College is increasingly focused on internationalizing its curriculum and outreach, the gathering of gifted young people and world-class artist-teachers on our campus is a genuine cause for celebration," said Wheaton College Professor of Music Dr. Daniel Horn. "The Armerding Center of Music and the Arts will resonate with music, and it is my hope that the Wheaton community's commitment to musical excellence and to faithful service to the Lord and His world will give something of real value to all of those who participate in the Chicago International Music Competition."
To compete in the Chicago International Music Competition, student-musicians, which range in age from 5 to 35, have auditioned in front of a jury composed of faculty from China, Italy, Poland, Russia, Singapore, and the United States, representing institutions that range from the Conservatorio G. Verdi in Milan, Italy to the New England Conservatory of Music in Boston, Massachusetts. During the competition, which runs from July 27 to August 3, student-musicians will also have the opportunity to take private lessons from these renowned music faculty.
For Chicago International Music Competition co-founders Dr. Steven Spooner and Dr. Mei Li, Wheaton College has served as a good partner in their efforts to "improve the art of the piano worldwide, cultivate the love of the instrument by developing teacher-training programs, outreach, and workshops covering topics from the beginner piano student (or beginning teacher) to the most advanced," Dr. Spooner said.
Student-musicians will also perform in nightly concerts at the Armerding Center for Music and the Arts, which is currently undergoing construction for the addition of an expansive Concert Hall. These concerts are free and open to the public:
Faculty Concert and Opening Ceremony on July 28 at 7 p.m. in the Armerding Recital Hall
Student Recital at 7 p.m. on July 31 in the Armerding Recital Hall
Student Recital at 7 p.m. on August 1 in the Armerding Recital Hall
Winners' Recital at 7 p.m. on August 2 in the Armerding Recital Hall
"It is thrilling to have such a concentration of young talent on campus," Dr. Horn said. "The fact that the musical world is being brought to our doorstep gives the people of Wheaton College a wonderful opportunity to extend hospitality, and let more people know about the work of the Conservatory of Music and the ongoing mission of the College, all at a time when our commitment to the future of music education can be seen rising around us in brick and mortar."—Emily Bratcher