Posted September 23, 2016 by
Tags: The Arts Spiritual Life My Wheaton Conservatory
Why I Came to Wheaton's Conservatory of Music
In all honesty, Wheaton wasn't even on my radar when I was looking for a college to attend. Sure, I had heard of it, but it wasn't a name that I had committed to memory. I wanted to be in an incredible music program, especially one that excelled in the vocal/opera department. I was convinced, however, that a Christian school just could not meet my standards. But now I see just how wrong I was!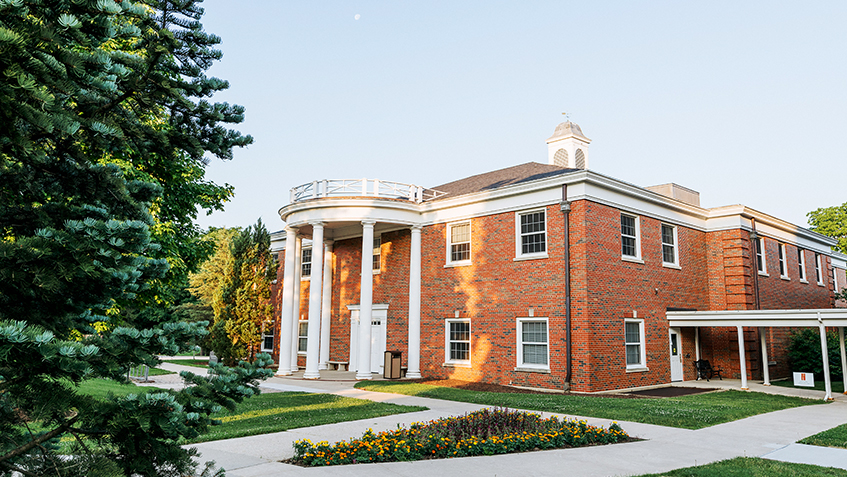 I had some family friends practically beg me to check out Wheaton–their son graduated from Wheaton a few years back with a piano performance degree–so I finally, although somewhat grudgingly, agreed to visit. I scheduled an appointment to meet with Dr. Carolyn Hart, the Chair of Voice at the Conservatory of Music, so that I might understand what Wheaton had to offer for an aspiring opera singer such as myself. The arduous drive to Wheaton, which included driving through a blizzard, had my mother and I exchanging glances that asked, "What have we gotten ourselves into?" However, from the moment I set foot on campus, I knew that I had finally found it: my second home.
Every individual with whom I interacted on that visit was warm, genuine, and overflowing with the love of Christ. The music program offered everything I could have possibly wanted: rigor, performance opportunities, and a huge focus on vocal health. Most importantly, I saw how the school truly did do everything "For Christ and His Kingdom."When we finished our visit, my mother and I got in our car and sat for a moment before beginning our drive home. My mom asked, "So, what do you think?" For a beat I looked at the Conservatory before me, draped in a sparkling white robe of snow, before I turned to her and answered, "I can't imagine going anywhere else!"
Jumping ahead to today, I am beginning my second year in Wheaton's Conservatory of Music, and I have become friends with some of the kindest and most encouraging students and faculty imaginable. They genuinely care about me, pushing me to do more than I ever thought I could, and they lend a listening ear when I need it. My classes have propelled me forward, allowing me to understand and appreciate music like never before. My musicianship and vocal abilities have skyrocketed in ways that leave me dumbfounded. All of these wonderful experiences at Wheaton have solidified in me one simple, but meaningful, response: to praise God.
The Conservatory of Music has fed me relationally, intellectually, musically, and spiritually, so obviously I still can't imagine going to school anywhere else! That's #MyWheaton.
Abigail Beerwart '19 is a sophomore studying vocal performance in opera through Wheaton College's Conservatory of Music. Photo captions (from top): McAlister Hall, Wheaton's Conservatory of Music; student performers after the 2015 Opera Music Theater production of Benjamin Britten's Noye's Fludde; Abigail with Conservatory of Music classmates.