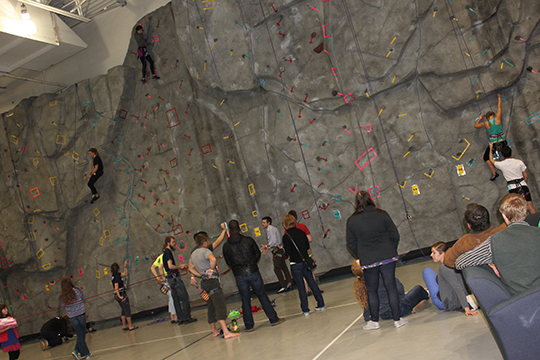 2018-19 Hours
The Climbing Wall is open 8-10:30pm Monday, Wednesday and Friday during Fall Semester with Sunday Hours starting B Quad.
Current hours are also listed on the Chrouser Sports Complex Calendar.
2018-19 Climbing Wall Staff
Christian Erickson
Dan Forkner
Is Perkins
Ben Sekutera
Ziel Smith
Climbing Wall FAQs
Q: How much does it cost to climb at the wall?
A: Climbing at the Wheaton College Climbing Wall is free for students, employees and their families! Harnesses and shoes available on a first-come, first-served basis at no additional cost.
Q: Can I bring children to the wall and is there a minimum age?
A: No minimum age! Kids are welcome at our wall but parents should plan on belaying for their kids. Belay training available on-site.
Q: What is The Comp all about?
A: Our annual climbing competition is the highlight of the year; it's a super fun night of climbing, crate-stacking and door-prizes. Think of it more as a "fun night" than a "competition".