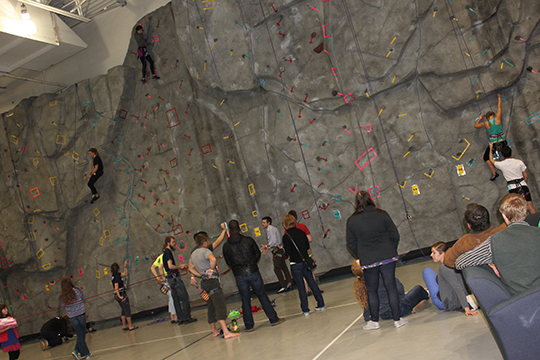 2022-23 Hours
Monday: 8:00 – 10:00 p.m.
Wednesday: 8:00 – 10:00 p.m.
Friday: 8:00 – 10:00 p.m.
Saturday: 2:00 – 5:00 p.m.
Current hours are also listed on the Chrouser Sports Complex Calendar.
2021-22 Climbing Wall Staff
Genevieve Nelson
Annie Rhoads
Adam Erickson
Ryan Sorensen
John Andrulis
*Staff Director: Ellen Stremler
Climbing Wall FAQs
Q: How much does it cost to climb at the wall?
A: Climbing at the Wheaton College Climbing Wall is free for students, employees and their families! Harnesses and shoes available on a first-come, first-served basis at no additional cost.
Q: Can I bring children to the wall and is there a minimum age?
A: Although we do not have a minimum age, open climbing times and routes are set for our college-student constituency. Children under 14 must be belayed by his/her parent or legal guardian. Belay training is available on-site.
Q: What is The Comp all about?
A: Our annual climbing competition is the highlight of the year; it's a super fun night of climbing, crate-stacking and door-prizes. Think of it more as a "fun night" than a "competition."
Wheaton Connectors! Planning on climbing while visiting campus? Please bring a signed waiver (PDF).