How does this alumnus measure the return on investment of his education?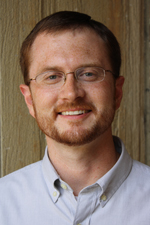 by Brandon O'Brien, M.A. '07
At least once a week for the six months I worked with him at the lumber mill, Vernon slapped me on the back and said, "This is the sort of job that makes you wish you'd gone to college, huh?" Then he'd laugh and laugh.
I had been to college, which was why Vernon thought this was funny. Grading lumber was not my first job after graduation but, at $7.50 an hour, it was the best paying so far. In any case, Vernon had hands the width and girth of a catcher's mitt and forearms like small hams. That's why I laughed at his joke, too, every time he told it.
After graduation—and for several years after that—I had no clear idea what I wanted to do with my education. It was certainly clear to me what I didn't want to do. Grading lumber, for example, was not on my short list of career possibilities. But I always knew what kind of person I wanted to be. College studies left me unsatisfied with simple answers to complex questions and convinced that the more I knew about nearly anything, the better I'd be at whatever job I ultimately settled in. Graduate studies at Wheaton helped me begin to see the connections between issues I'd never considered related—between theology and national foreign policy, between biblical exegesis and domestic economics, between religious histories and my experience among rural mill workers.
In his essay "The Art of Fiction," novelist Henry James admonishes novice writers, "Try to be one of the people on whom nothing is lost." It seems to me that education is a success if it produces this sort of people, whatever they should end up doing for a living. The young man who studies philosophy and later decides to stay home with the kids so his wife can pursue her career; the young woman who majors in piano performance and later runs a small business; the students who never do anything related to their degree are nevertheless worlds richer if their education makes them one of the people on whom nothing is lost. This is especially true if the education is Christian and therefore helps students see all things through the lens of Scripture.
Colleges are under a great deal of pressure these days to justify what they have to offer. It's important to parents and students who will have to bear education debt that they can explain what they will do with their education. I wonder how many are asking what sort of people they will become in the course of their education.
The return on investment of my education, at this point in my career, is not that I make more money as a college graduate or Ph.D. than I would otherwise. The return is that I'm becoming the person I always wanted to be.
Brandon J. O'Brien M.A. '07 and his wife, Amy Packer O'Brien M.A. '09, live in Conway, Arkansas, with their son. Brandon recently completed his Ph.D. in historical theology at Trinity Evangelical Divinity School. He is the author of two books, most recently Misreading Scripture with Western Eyes (InterVarsity Press 2012), which he coauthored with E. Randolph Richards. Brandon "does" a good many things: writes and edits, teaches Bible and theology part-time, and trains pastors and educators.
This article is a feature from the Winter 2014 Wheaton Magazine.