Through the Science Teacher Education program we're training up passionate and curious science teachers who have a desire to share their love of God's Creation with middle and high school students. Our students receive a solid foundation in the liberal arts tradition and a deep knowledge of their chosen scientific field. Students combine their scientific studies with the Wheaton Teacher Education Program (WheTEP), an experience-oriented program that facilitates students working with kids, in classrooms or the community, from the very beginning of their studies.
A Model of Excellence
Our program is regionally, nationally, and internationally recognized and respected. It is a Model of Excellence Award winner, as named by the Association of Independent Liberal Arts Colleges for Teacher Education (AILACTE).
Meet a Science Teacher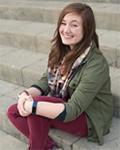 "Overall, I found the program to be exceptionally good at preparing me and others for our teaching careers. "
Sarah Davis '16, Biology Secondary Education | Read Sarah's Story >