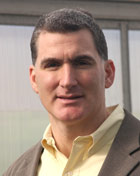 As the Chief of Public Safety at Wheaton College, it's my job to ensure a safe environment for the campus community. The Public Safety website includes helpful information and policies you may want to review, including the Clery Act information, which keeps you informed about certain crimes that have been committed on campus during the previous three-year period. Our mission at Public Safety is to provide a safe environment for our students, staff, faculty and visitors to work and learn, and to do so in a manner that treats each person with respect and dignity in Christ.
We embrace the value of partnering with the campus community. In this way, we all take responsibility for the safety of our campus. Your safety and security are enhanced as together we identify important issues and work towards long-term solutions. We enjoy an excellent relationship with the Wheaton Police and Fire Departments, who also are committed to a community-oriented approach to serving and protecting.
We hope this information answers your questions and makes you more aware of the variety of services that we offer here at Public Safety. If you have any comments or questions, please let us know!
Sincerely,
Bob Norris
Chief of Public Safety