Staff Bios
Bryan Seiler
General Counsel
Bryan Seiler, General Counsel, is responsible for providing and coordinating legal advice for Wheaton College. Bryan also serves as Assistant Secretary to Wheaton's Board of Trustees and leads the Office of Legal Affairs & Risk Management team.
Bryan is a graduate of Wheaton College (B.A., English) and the University of Minnesota (J.D. & M.P.P.), where he served as the Symposium Editor of the Minnesota Law Review. Bryan is licensed to practice law in Minnesota and Illinois and is an active member of the National Association of College & University Attorneys and has been a member of NACUA's Program Committee since 2017.
Prior to returning to the College in 2015, Bryan served as in-house counsel with The Salvation Army's Central Territory, initially overseeing the Legacy Administration Team and later managing the organization's employment, labor, and immigration law matters. Before that, Bryan worked in Minneapolis law firm in the areas of labor, employment, and higher education.
Outside of work, Bryan is a proud and devoted husband and father. His passion for sports from his Dallas/Fort Worth upbringing is tolerated, for the most part, by his family of theater lovers.
Amanda Franklin
Director of Risk Management
As the Director of Risk Management, Amanda loves stopping problems before they start. Whether it's reviewing contracts, consulting with administration about policies, collaborating with departments to ensure best practices, or negotiating insurance protections for the College community, Amanda passionately believes every part of her work is "For Christ and His Kingdom." By providing strategic direction and partnership to the team within the Office of Legal Affairs and Risk Management, Amanda seeks to be a resource for departments across Wheaton College.
Following a career in higher education insurance and risk management services for an international insurance brokerage, Amanda joined Wheaton College in September 2020 to pursue her passion of serving Christ in the marketplace. Amanda graduated from Baylor University with a double major in political science and religion, and then Baylor School of Law with a juris doctorate. Originally from Texas, Amanda lived in New Orleans in the decade prior to her joining Wheaton College while she and her husband worked bi-vocationally to pioneer a new church in New Orleans near the city's universities. She is licensed to practice law in Texas and Louisiana. Amanda is a connoisseur of spicy foods and authentic salsa and when not at work can often be found with her husband and two young boys watching college sports and searching for the perfect tasty bite in the city.
Brian Heinrich
Environmental Health & Safety Specialist
Brian works to ensure all Wheaton College campuses are safe for our faculty, staff, students, campers and visitors. Brian serves as Committee Chair to Wheaton's Transportation Safety Committee and leads the Department Safety Representatives.
Brian is a graduate of Judson College (B.A., Marketing & Counseling Psychology) and holds four Insurance Licenses with the State of Illinois. Brian is married to Claudia (Lopez) – a Wheaton graduate – and has three children (Sofia, Benjamin and Liliana). Brian enjoys camping, coaching and performing safety audits.
Cathy Baumgarten
Office Coordinator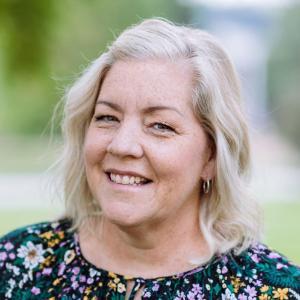 As the Office Coordinator since December 2013, Cathy is a team player and eager to assist her coworkers in any way that is helpful. She loves that each day brings new opportunities to learn and serve various departments throughout the college. Prior to joining the Wheaton College family, Cathy was a homemaker and teacher to her 3 children. She home educated her 2 daughters from kindergarten through high school and her son through 8th grade. Cathy loves bringing her life experiences and organizational skills to the office to serve the Legal Affairs and Risk Management team.
After the workday is over, Cathy enjoys various activities such as gardening, reading and organizing spaces. She regularly serves at church and loves spending time with her entire family.