Department Staff Bios
Karen Tucker
Director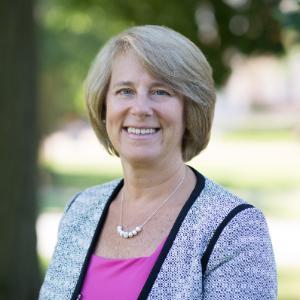 As Deputy Title IX Coordinator for Employees, Karen is dedicated to supporting faculty and staff throughout the Title IX process. She also, provides strategic direction to ensure effective systems and policies are in place to support this office at the college.
Karen received her Bachelor's degree in Sociology from Wheaton College and an MBA from Northwestern University. Prior to joining the College in April, 2012, she worked in Human Resources for more than 20 years at Aon Hewitt, Caremark, and Baxter Healthcare Corporation. No matter what the work day holds, Karen hopes that anyone visiting her office will leave feeling well cared for. Beyond the walls of Blanchard Hall, Karen devours books, and loves spending time with her family doing pretty much anything outdoors.
Heidi Daniels
Assistant Director - Staffing & Development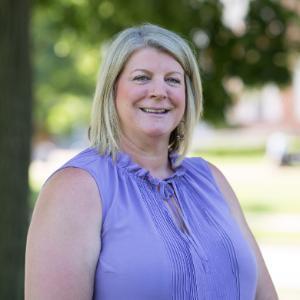 Heidi is a Wheaton graduate, who earned her undergraduate degree in Sociology and Urban Studies, and her graduate degree from DePaul in Organizational and Multicultural Communication.Mixing her mind for strategic planning with her heart for people, Heidi has offered her skills to Wheaton HR since 1999 and the role of Assistant Director of Staffing & Development since 2005. Her current role includes directing the staff recruitment process, as well as aiding departments to strategically measure employee performance, and planning annual employee morale events.
No matter where a prospective job-seeker or long-term staff member may be in their journey, Heidi seeks to advocate for employees to have the best possible workplace experience at Wheaton College. Additionally, Heidi also helps to develop institutional policy that helps other departments on campus maximize their missional impact.
After the end of the workday, Heidi loves going home to spend time with her husband, and their three children. She also loves to cook, watch sports and is an active volunteer in their church.
Joann Beck
Assistant Director - Benefits
Every day in HR is a new challenge, and Joann expertly navigates those challenges as she oversees the benefits team as the Assistant Director of Benefits. Prior to working in human resources, Joann received her Bachelor's in Finance from Miami University, and worked in commercial lending for nonprofits, hospitals, and universities. Since leaning into God's calling in 2009 to shift roles, Joann has been a vital member of our office, helping to manage faculty and staff retirement plans, as well as health and wellness plans.
Wheaton College is a great work environment for Joann because she loves being a part of a strong community, motivated by a common mission to serve Christ and His Kingdom. Outside of the office, Joann enjoys the outdoors with her husband and three children, especially if they're able to get away from the suburbs and enjoy time together at the lake.
Mary Haddock
Payroll Manager
For more than 35 years, Mary has been working with payroll in some capacity for Wheaton College. As the Payroll Manager, Mary is responsible for the processing of paychecks for College employees, as well as a variety of reporting tasks related to the payroll process. These include providing information for several annual audits. A Wheaton graduate and daughter of a Wheaton faculty member herself, Mary loves the connectedness of Wheaton College and strong sense of community on campus.
Helping employees navigate the payroll process is a vital part of Mary's role, and she expertly fields questions surrounding all parts of that process from timecards to taxes. Beyond the numbers, Mary enjoys travelling and knitting, as well as music, and is an active member in her church's choir.
Karyn Granger
Benefits Specialist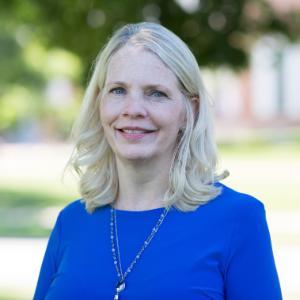 For nearly eighteen years; Karyn has been a vital part of the HR Department. With a Bachelor's degree in Secondary Education, Karyn's history as a junior high and high school math teacher helps her in her current role as Benefits Specialist, as she educates new faculty and staff about their benefit plan options. Multiple times a year, Karyn also helps run educational sessions surrounding the College's educational benefit.
Karyn is grateful for the close knit community she has found within the HR office. The HR team is a team that encourages and prays for one another, which isn't uncommon to see across many departments at Wheaton College. Karyn and her family both enjoy hiking, and vacationing to discover new outdoor destinations. Karyn also recently welcomed a 2 year old rescue pup into her family.
Connie Mixter
HRIS Specialist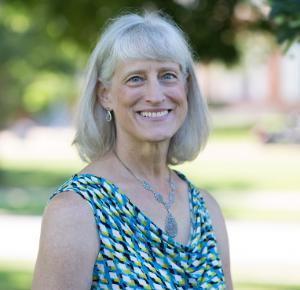 As the Wheaton HR Data Analyst, Connie works to ensure the integrity of the data used as well as identifying system and process efficiencies for the department. After receiving her Bachelor's in Business from Hope College and certification in Computer Programming from DePaul University, Connie worked in the marketplace for 15 years before taking a leave to raise her two children.
Since 2015, Connie has found Wheaton College to be a place where 1 Corinthians 12:6 rings true: "There are different kinds of working, but in all of them and in everyone it is the same God at work."
Beyond the walls of the HR office, Connie enjoys bike riding, playing board games with her family and walking along the Lake Michigan shoreline (weather permitting).
Amy Bloomfield
Benefits Administrator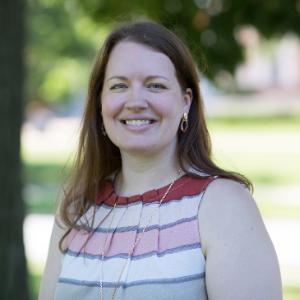 Amy is a vital member of the Benefits team in the department. On a typical day in the office, you will see Amy working through the necessary paperwork that makes status changes and helping faculty and staff to transition into retirement.
Amy earned her Bachelor's in Business Administration at Lincoln Christian College and afterwards worked in an employee-owned company for nearly 15 years helping with everything from office administration to payroll. As a jill-of-all-trades, Amy picked up key HR skills through her previous position and joined the Wheaton College HR team in January 2018.
Through her position here, Amy has loved learning from her colleagues as well as sharing her own experiences. In everything she does, Amy tries to exhibit a Christ-like character whether it be in the office or at home playing games with her husband and 2 children.
Gina Cristman
HR Generalist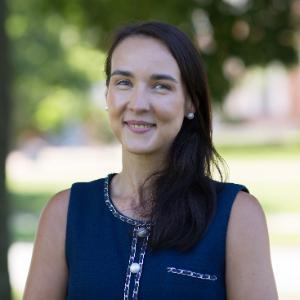 Gina graduated from North Central College with a Bachelor's in English Literature. After school, Gina began working a summer sales job that through the right circumstances, ultimately pushed her into a managerial role which introduced her to a love for human resources. Drawn to Wheaton College for its Christian atmosphere, Gina was excited by the opportunity to come on staff in June 2018.
As the HR Generalist, Gina helps with benefits, along with interviewing candidates for a variety of positions across campus. One of the greatest aspects for Gina about working at Wheaton College is the people, particularly her coworkers, and the opportunity to support each other not only professionally, but spiritually. When Gina's done with interviews for the day, she loves spending time with her family, particularly her niece.
Caroline Kos
Recruiting & Office Coordinator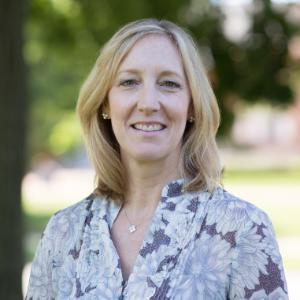 As the Recruiting & Office Coordinator since January 2019, Caroline will be one of the first faces you see when taking a visit to the HR office and she is ready to help you with whatever your need may be. Prior to joining the Wheaton College family, Caroline worked for over 20 years in a sales capacity at a small business. Since HR is such a hub for activity, Caroline loves being in the center of that activity, and is ready to serve everyone who comes into our office.
Caroline loves working at Wheaton College because she feels energized and empowered every day. Whether it be through interaction with students, faculty, or fellow staff members, Caroline sees the entire Wheaton College community pursue positivity, which encourages her to be a light as well.
After the workday is over, Caroline loves going on bike rides with her husband, volunteering in her community, and spending time with her three children.