From the President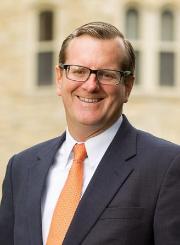 Dear Parents,
After an extended frigid winter season in Chicagoland, next week's Spring Break at Wheaton will give many students a welcome reprieve from the cold, as well as from their studies. Many will travel to warmer climates for recreation, or to ministry experiences overseas and across the US.

My Spring Break travels will take me to Boston, New York City, Philadelphia, and Washington, DC to visit with young alumni. I look forward to connecting with recent graduates, hearing their stories, updating them on the College, and asking for their ongoing support.

On the final day of my trip I will preach at National Presbyterian Church which dates back to 1795, and is where noted abolitionist Frederick Douglass was invited to preach in 1866. The trip concludes that afternoon with a performance from the Wheaton College Orchestra.

We look forward to warmer days as we begin B Quad, and as seniors begin their home stretch toward Commencement on May 12.

In Christ's service,
Philip Ryken
President
Commencement Weekend: May 11-12
Congratulations to the parents of soon-to-be alumni from the class of 2019! We're looking forward to welcoming you to campus for this meaningful weekend in your family's life. To assist with your travel and scheduling plans, the Registrar's office has posted important information about Commencement weekend seating, events, and photo/video keepsakes on their website. If you have any additional questions, contact registrar@wheaton.edu or call 630.752.5045.
News from the Bookstore
For Graduating Seniors
DVDs of the Wheaton College Baccalaureate service and Commencement are available through the Bookstore. All orders placed before Monday, May 13 will receive free shipping. Wheaton's online store has diploma frames, Wheaton memorabilia, and other gift ideas that make a perfect gift for graduates. If you're looking for personalized graduation announcements, they are available at the Copy Center, located in the Bookstore.
Congratulations seniors and parents!
For all Wheaton Students
Encourage your student - A variety of thoughtful gifts are available for purchase and can be delivered directly to your student's CPO.

Textbook buy back - Students can sell their textbooks back during Finals Week, May 6 – May 10. Students can receive cash back on hundreds of titles. Encourage your student to watch for campus announcements regarding locations.

Important Reminder: Rented textbooks are due back to the Bookstore by Friday, May 10.
News from the Center for Vocation and Career
Senior Series
For many graduating seniors, the close of the academic year can be a time filled with exciting possibilities and many questions. Our three-part Senior Series takes place the first week of April and is designed to address some of the most common questions students have before leaving Wheaton. This series includes an HR-led benefits information session, a budgeting workshop, and an evening event with breakout sessions on topics like working with multiple generations, the social side of work, and diversity in the workplace. Your seniors can find all the details on Handshake, our online career services platform.
A Word from Admissions
As parents of current Wheaton College students, you play a critical role in helping us identify the best and brightest students to recruit to the College. You have a unique understanding of Wheaton and can easily identify the type of students who will take full advantage of the Wheaton College experience.

We value your opinion and invite you to join us in the recruitment process. It's easy — just refer a student by using this online form and our Admissions Team will take the next step to connect and start the process.
From the OCO
The Office of Christian Outreach designs experiential off-campus service-learning opportunities for Wheaton students interested in participating in God's redeeming work in the world.
Breakaway Trips
We invite parents to join us in prayer as we send five teams on ministry trips during spring break, March 9-16, 2019. Students will serve with:
The Louisiana State Penitentiary, a maximum-security prison, which houses the state's death row inmates (Angola, LA)
Local Christian organizations who are working in community development in Mexico City (Mexico City, MEX)
Mountain T.O.P., to assist with home repair with the camp and community (Appalachia, TN)
His Mansion Ministries, a Christ-centered recovery community for individuals who struggle with addictions, past trauma, mental health, and eating disorders (Deering, NH)
Send Relief, to serve through manual labor and personal conversations with communities devastated by Hurricane Maria (Puerto Rico, PR)
Parents can participate in the the work of the OCO by making a donation to the General OCO Scholarship Fund. All donations help cover ministry-related expenses for each trip. Thank you for your partnership!
Community Work Day Fundraiser
Community Work Day is a fundraising event where students are sent out into the local community to love and serve our neighbors by doing yard work, cleaning, organizing spaces, etc. If you live near Wheaton and would like to hire OCO students on April 6 or April 13, please contact our Graduate Assistant of Fundraising Esther Tschappler at esther.tschappler@my.wheaton.edu.

Donations go directly toward funding student experiences with global non-profit partners during the summer of 2019. Thank you for your generosity and partnership with the OCO!
How can you pray for Wheaton this month?
Pray that students and faculty will travel safely over Spring Break, and return to campus refreshed and prepared to finish the academic year well.
Pray that the Wheaton College community will grow in grace and love towards one another, seeking to love the Lord and further His Kingdom.
Pray for students who are interviewing for summer internships and for seniors who are preparing for next steps after their time at Wheaton.
With thanks for your involvement and prayers,
The Wheaton College Parent Engagement team