From the President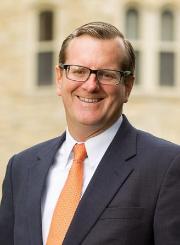 Dear Parents,
My chapel talks this year on faith and doubt have underscored God's good word to us in every desperate situation: "Do not fear!" Like Elisha, who knew he was protected by God's invincible army (2 Kings 6:8-23), we believe that "those who are with us are more than those who are with them." Reassuring news for us all, and especially for our graduating seniors!
Like other parents of May graduates, Lisa and I know how quickly the college years go by. Our son Jack has had more than his share of fun at Wheaton with ice hockey and football games, overseeing intramural soccer and water polo, and more. Along the way, he has become more the man God is calling him to become, partly through ministry in a local church. He still has questions about his future, but he works hard and by God's grace he will discern his first steps after Wheaton.
After Commencement on May 7, our graduates will step out on new adventures. We believe that they can do this fearlessly, knowing that the God who was with them at Wheaton will protect them wherever they go.
In Christ's service,


Philip Ryken
President

Commencement 2023
Congratulations to the parents of graduating seniors! As you make plans to attend Commencement weekend, be sure to consult the Commencement Week Event Schedule, review the Commencement FAQs, and read about the Commencement speaker, Dr. Marlene Wall.
Bon Appetit will host a lavish buffet in the dining hall between Baccalaureate and Commencement ($23.50 for adults, $11.85 for kids ages 3-7, free for graduating seniors). RSVP for the Commencement Brunch by following the link, selecting from the three available seating options, and proceeding to Pricing and Ordering.
Looking for a fun way to celebrate your graduate? Download a generic or customizable yard sign, send it to your local print shop to be printed, stake it in your front lawn, and announce to the world you are proud to have a soon-to-be Wheaton graduate!
Campus Housing Dates and Storage Information
Closing of Campus Housing
If your student is not graduating, housing closes on Friday, May 5 at 5pm unless students receive approval from our office to remain on campus. Siblings of May graduating students may remain in housing until 5pm Sunday, May 7, but they must submit a request. Before leaving for the summer, students are required to complete the checkout list provided by residence life staff and incomplete or improper checkout could result in a fine.
Summer Housing
Summer housing is available Monday, May 8 through Friday, July 28. Students participating in a college-sponsored trip, those from an international country, summer researchers, students working on-campus jobs, or summer school students may apply for summer housing. We are not able to provide housing for students working off campus, or those whose off-campus lease dates differ from our housing calendar. For housing questions, please contact housing.services@wheaton.edu.
Summer Storage
Wheaton College offers limited space for students to store belongings over the summer in the storage area where they currently live. Generally, students may store several boxes, a small fridge (which will count as one box), and a bicycle. Each building has slightly different space limitations. Students can store their room couches or larger furniture on campus for a fee and will receive a campus email about how to do that.
Find general information on storage opportunities in our student handbook. Students are encouraged to use plastic tubs to protect items from a possible summer rainstorm. The College is not responsible, and will not be liable for loss, theft, or damage to students' personal belongings, whether by act of God, accident, negligence, or intentional act. For these reasons, students are strongly encouraged to carry personal property insurance.
Fall Housing
Housing reopens to returning students on Sunday, August 20 at 2pm. Our Housing Calendar will keep you informed of opening and closing dates throughout the year.
Center for Vocation and Career
Every year, the Center for Vocation and Career awards scholarships to students participating in unpaid or underpaid summer internships. Out of 92 total applicants for this summer, we are pleased to announce that we have offered internship scholarships to 60 students, with awards ranging from $500 - $6,000. These scholarships help remove financial barriers for Wheaton students to pursue internships in a wide range of industries, gain valuable work experience, and build their professional networks.
Internships are a critical investment in the vocational success of Wheaton students, and the CVC is thrilled to support scholarship recipients in this way. We are grateful for the partnership of the staff and faculty who made up our scholarship selection committee, and especially for the generosity of the donors who have made these scholarships possible. The CVC's Internship Scholarships were a giving option during Wheaton Gives this year, and we were deeply encouraged by the outpouring of support from donors on Giving Day. Thank you for your support, and congratulations to our 60 scholarship recipients!
Wheaton in the Northwoods (WIN) - HoneyRock
At the start of every summer, HoneyRock offers a variety of courses that meet the Christ at the Core requirements of Wheaton College. Wheaton in the Northwoods (WIN) courses are open to any Wheaton student and are taught in an intensive modular format by Wheaton professors. Using the outdoors, activities, and community dynamics, professors create a unique and engaging environment for learning. WIN students have the added benefit of spending their free time (when they're not in class or studying), in the wide variety of outdoor activities that HoneyRock has to offer. Wheaton students looking to participate in WIN can enroll in one or both sessions, WIN 1 and/or WIN 2.
WIN 1 - May 13 - 26, 2023
WIN 2 - May 27 - June 9, 2023
For more details on course offerings and logistics, head to wheaton.edu/win.
Order Final Care Packages by April 23
The Office of Ministry and Evangelism was grateful to send four teams to Greenville, SC, Chinle, AZ, Deering, NH, and Mexico City, Mexico over Spring Break to see how the Lord is working in various communities and organizations. Students were able to engage with prison ministry, the Navajo nation, a residential recovery home called His Mansion, and experience the global Church in action.
We encourage you to order a Finals Care Package (formerly Fruit Basket) to encourage your student during finals week! Order a Finals Care Package here by Sunday, April 23rd.
How can you pray for Wheaton this month?
Protection from fear and anxiety as students face the academic rigors associated with the final weeks of the academic year.
Pray for wisdom and discernment for graduating seniors regarding post-graduation plans.
Pray for grace for the campus community to lean upon the Lord's sufficiency to finish the semester strong.
With thanks for your involvement and prayers,
The Wheaton College Parent Engagement Team