Dr. Marlene Wall, President of LCC International University in Klaipeda, Lithuania, will address the members of the Graduate School and the Undergraduate Class of 2023 at Wheaton College's 164th Commencement ceremonies on May 6 and 7, respectively.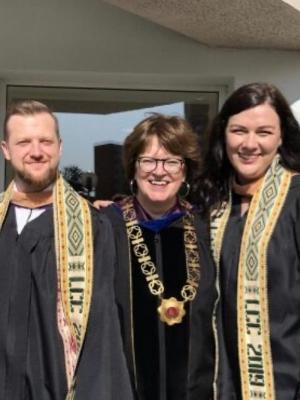 "We are very pleased to host Dr. Wall for our 2023 Commencement exercises," said Wheaton College President Dr. Philip Ryken. "As a Christian leader through conflicts and crises in Eastern Europe, she embodies the global leadership we prize for our students. We look forward to the encouragement and wisdom she will share with our graduates and their families."
Inaugurated in 2012, Dr. Wall currently serves as the sixth president of LCC International University in Klaipeda, Lithuania. Dr. Wall served LCC with distinction before her presidency in a wide variety of capacities for 20 years, including LCC's first Summer Language Institute in 1991.
Under Dr. Wall's leadership, LCC established faculty governance structures, accredited existing and new programs, revised the general education curriculum, and articulated foundational learning outcomes unique to the Christian liberal arts educational model. She has effectively piloted LCC's academic enterprise and represented the university with excellence to external audiences in Europe and North America.
Dr. Wall completed her Ph.D. in Curriculum and Instruction at Kansas State University (Manhattan, KS) in 2000. She received her MA in Linguistics (EFL) from Southern Illinois University (Carbondale, IL) and her BA in English/Secondary Education from Tabor College (Hillsboro, KS). After advancing in the Wichita, Kansas public school system to become the director of a 5,000-student ESL program, Marlene responded to LCC's invitation to serve the university full-time in Klaipda. Since going to Lithuania, she has remained current in her professional discipline, presenting at international conferences and consulting in various countries.