From the President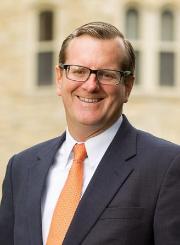 Dear Parents,
You have heard from us frequently over the past month, and it has been encouraging to hear from many of you. We thank you for your patience through many changes as we have moved to technologically mediated instruction.
Wheaton's campus is empty—save for a handful of essential staff who keep the campus physically running, and a small group of international and other students who cannot return home. I am working from home, and grateful for online meetings that keep the administration connected.
For parents who live internationally, and others whose families are separated right now, may God bless you with the peace and presence of His Spirit.
For parents with students who have returned home, we pray you are having a positive experience as a family and can take advantage of the spiritual opportunities this present isolation will bring.
We do not know when our world or Wheaton may return to normal. In the meantime, we are committed to doing everything we can to provide a first-rate education for your student. I am grateful to Provost Margaret Diddams, our extraordinary faculty, and the Academic Instructional Technology team for the time and care they are investing to make sure that Christian education continues remotely.
We are also doing everything we can to ensure that Wheaton College returns from this crisis stronger than ever. By God's grace, we look forward to getting our campus back together again as soon as possible!
We are praying for you. Please pray for us.
In Christ's service,


Philip Ryken
President
Note from the Provost
Wheaton College's faculty has quickly taken up the challenge to convert classes for online delivery for B Quad. Over 900 courses have fully transitioned to remote teaching formats. The faculty's creativity, hard work, and flexibility during this unusual time is allowing students to continue with their learning and complete the spring 2020 semester on schedule. Faculty are engaging with students in innovative ways, through virtual labs and online group discussions. Wheaton students are connecting with classmates and faculty, through livestreamed courses and virtual office hours. Remote learning requires new skills, and your son or daughter may benefit from these tips for staying organized while fully engaging in their virtual courses.
Campus Health Update
In order to care for your student's medical and mental health during this time, we have contracted with a telehealth group called campus.health. To participate, your student can register with their Wheaton College email and enter WHEATON2020 at check-out to have 24/7 access to free visits with a medical and/or mental health provider trained in the care of college students (mental health telehealth is available for all students, but medical service is not available internationally due to licensing restrictions).
For students remaining on campus, or in the Wheaton area, who may need medical advice or an in-person appointment, Student Health Services is still available by phone, email, or MyChart, Monday through Friday, 8:00 a.m. - 4:30 p.m.(CST).
For any probable or confirmed cases of COVID-19, please encourage your student to notify Wheaton College through the student portal using the lifesaver icon. This notification will allow for coordinated support related to medical care, academic accommodations, or other needs related to this illness.
Financial Services News and Registration Information
Billing, payments and refunds
Housing Services and Public Safety have begun processing adjustments for half of spring semester's room and board and parking passes for students that have checked out of their housing. Those on a meal block plan will receive a credit for actual unused meals. March month-end billing has been delayed until Friday, April 3, to allow adequate time for this process and ensure an accurate bill that reflects these credits.
These adjustments will either reduce or pay off any balance due or create a credit on the student account. Payment plans will recalculate or be paid off accordingly. If the result is a credit balance (-$XXX.XX), students can either request a refund or leave the credit on their student account which will be used to reduce future charges. If your student decides to keep the credit on their account, no further action is needed.
Students who would like a refund of a credit balance will need to make sure that they have an Electronic Refund account set up under their profile in the Student Billing and Payment Gateway and submit an eRefund Request Form. Please monitor the Billing and Payment Gateway to watch for student account adjustments.
Registration for summer and fall
Balances must be paid or covered by a Wheaton payment plan before students can register for future semesters, receive transcripts, or diplomas. Please review your student's account (Authorized User login) and make arrangements to pay the balance due. Students will be able to register for summer or fall term classes once the student account balance is below $1,000.00 ($999.99 or less).
If you are unable to pay the account down before your student's assigned registration date, consider signing up for a payment plan, applying for a Federal Parent PLUS Loan (studentaid.gov ) or securing a private student loan with your student. The 4-month payment plan is still open for enrollment which is completed online in the Student Billing and Payment Gateway. Any missed installments will be due at the time of enrollment.
Hardship Appeals
We understand that the move to remote instruction for the remainder of the spring 2020 semester due to COVID-19 has created financial hardship for some students. Student Financial Services (SFS) might be able to assist. SFS has established a Hardship Relief Program to assist with outstanding balances if unexpected costs related to the move to remote instruction have created a financial hardship for impacted students and their families. In order to be eligible for assistance from the Hardship Relief Program, students must complete and submit the COVID-19 Hardship Relief Program form along with supporting documentation of any relevant, unforeseen expenses. The supporting documentation can be safely uploaded by using the SFS Secure File Transfer site. If approved, funds from the Hardship Relief Program will only be applied towards outstanding student account balances. Please note that these funds are limited and intended for our highest need students.
Please email sfs@wheaton.edu with questions.
A Note from the Registrar
Please visit the Registrar's FAQ, where students and parents can keep up-to-date on deadlines, registration changes, and fall 2020 registration. The Registrar's office communicates to students by e-mail, so please encourage your student(s) to check their inbox regularly.
For the fall 2020 incoming class, registration materials are sent in June and registration begins in early July. We purposefully waited to begin registration in July because a high number of incoming Wheaton students will have AP or IB credit and scores are not released until July 5. IB has cancelled exams and are working on a grade reporting process to colleges. College Board is planning for AP exams to be offered securely online where possible. Wheaton College is committed to providing credit for the AP and IB courses, even if exams are not able to be taken. For any student who is unable to take an AP exam, the grade listed on their high school transcript for the course will be correlated to exam scores in order to give credit: A=5, B=4 and C=3. We will accept whatever validation IB develops for its college partners. Students with dual enrollment courses should be sure a final transcript is sent to the Wheaton College Undergraduate Admissions office as soon as all grades are entered.
Global Programs and Studies
Global Programs and Studies (GPS) aches in prayer for the spring Wheaton in Mexico and the other Wheaton study abroad students whose semesters were disrupted by COVID-19. We are thankful for the experiences and lessons learned during their time abroad, for their safe journeys home and, although inherently different than immersion, that everyone is completing their academic work online.
In light of the COVID-19 epidemic, GPS along with the COVID-19 Response Team reviewed all international programming planned for this summer. The U.S. State Department has issued a Level 4 Health Travel Advisory (Do Not Travel) for all countries. The College does not sponsor undergraduate or graduate student international travel to locations with a level 4 advisory, so international academic, athletic, and ministry programs that were scheduled to begin before June 15 have been cancelled.
For travel and programs beginning after June 15, a determination whether the program may proceed will occur on May 1. At this time, there is no way to predict what the status of the pandemic, the State Department Travel Advisory, or travel restrictions put in place by other countries will be at that time. Please note: if a student with an international internship/fieldwork scheduled to begin before June 15 would like to reschedule their internship/fieldwork to begin after June 15, they may, with the understanding that if the travel advisory or travel restrictions to their location are not lifted, or other conditions warrant, they will not be approved to depart. Please see the FAQs page if you have questions about Wheaton's response to COVID-19.
Vital Support in a Time of Crisis
No doubt a central reason you happily support your student's pursuit of a Wheaton education can be summed up in one word: community. Experience has taught you that the best kind of learning takes place in an environment that challenges the mind and heart, but also supports the spirit with loving guidance, nurture, and Christ-centered discipleship.
The coronavirus crisis has forced all of us to dramatically reframe what community means —almost overnight. We are deeply grateful for the ways in which students and parents like you, in partnership with Wheaton's dedicated faculty and staff, are rising to this unprecedented challenge to ensure as much continuity as possible for every student's educational journey.
To facilitate the gathering of much-needed resources, the College has established the following two special funds:
Wheaton COVID-19 Student Relief Fund—The impact of the coronavirus pandemic has placed significant financial hardship, including unexpected expenses and lost income from employment, on many Wheaton College students. We invite you to help the College respond to the most acute needs of our students by making a gift to our COVID-19 Student Relief Fund.
Wheaton COVID-19 Financial Impact Fund—The negative financial impact of the COVID-19 pandemic will total millions of dollars for Wheaton College, from significant, unanticipated expenses and lost revenue. If you would like to help offset this weighty burden on our budgetary resources, we invite you to make a gift to our COVID-19 Financial Impact Fund.
Center for Vocation and Career (CVC)
Virtual Services Now Available
The reality of graduation and the coming summer may be far from our minds right now. But when your students are ready to think about the future, the Center for Vocation and Career is here to serve them. Virtual Drop-Ins occur daily from 9 a.m. - 4:30 p.m. Students can schedule a 1:1 appointment with their career coach through Handshake. Even our popular Taco Tuesday events are still happening—virtually! And parents of seniors, our special series that helps prepare your sons and daughters for life after graduation will go on as planned, online.
There has been so much in the media about the job outlook for recent graduates. We're reading all we can. Perhaps this article from Fast Company will give you a helpful perspective on the world into which your son or daughter will graduate.
Details on all of our events can be found on Handshake, our online platform for students. For more information on how we will operate in the coming weeks, visit our FAQ.
Bookstore
The Bookstore is offering access to eBooks for 80% of their titles, along with free domestic shipping return labels for rental books and an extended non-return period. Enjoy free shipping and no minimum purchase on non-digital items purchased at the online Bookstore. To learn more on how you can save, click the COVID-19 message at the top of the Campus Store website or contact campus.store@wheaton.edu.
Undergraduate Admissions
The voices of current Wheaton parents are usually what prospective parents appreciate hearing from the most, particularly during these unprecedented times. Parents, would you be willing to help Undergraduate Admissions in our effort to secure the Class of 2024? Below are several ways you can help:
Consider sharing your family's Wheaton experience using 150-300 words. It could be a quote, a word of encouragement, a reflection on what Wheaton means to you and how you have seen your son(s) or daughter(s) grow and thrive––simply put, the value of a Wheaton education within Christ-centered community and the ways you see it being lived out. This could potentially be shared via email to prospective parents or for consideration in future marketing materials. Please return it by April 15th, 2020 and, while optional, feel free to include a photo.
We are preparing a Prospective Parent Facebook Page for the Class of 2024 and would love to have current parents be part of that page to encourage our prospective parents. Is this something you would enjoy doing?
Consider participating in a 'virtual' incoming parent reception including parents in your state/region.
Please send your responses directly to Undergraduate Admissions' Alumni, Parent, and HoneyRock Liaison, laura.elliott@wheaton.edu.
A Special Note and Request for Prayer from the Graduate School
Thank you for praying for our graduate school community. Most students in our global community have families and/or are financially independent, and are consequently facing new and complex difficulties due to work and travel restrictions. As one student put it, this is a time of "exile." For our many international students, pray for safety, security, and provision for those who cannot travel home to their families or return to work. Pray the same for our domestic students, also facing job insecurity, isolation, and disruption. Pray that each of our students will remain resilient as they continue their coursework; that they and their families would be safe and healthy; that they would stay connected with community in creative and safe ways; and that they will continue to experience provision for all of their needs. Finally, please pray for our faculty and staff who continue to offer classes, services, and support to students while adjusting to a new "life at home." Pray for endurance, safety, creativity, and provision.
Stay Connected via the Parent Facebook Group
We continue to live in a dynamic, quickly changing environment due to the COVID-19 pandemic. A great way to stay up to date with Wheaton College is through the 2019-20 Parent Facebook Group. As a member of the group, you'll receive timely campus announcements, be prompted to pray, and receive encouragement from fellow parents. Consider joining today.
How can you pray for Wheaton this month?
Give praise and thanks for the mercy and grace of our God, who understands and laments the suffering and brokenness of the world and personally cares about each one of us.
Pray for the Lord's wisdom and daily grace for President Ryken, the COVID-19 Team, and administrators seeking to guide the College in unprecedented times.
Pray that graduating seniors will take all the disappointment caused by the abrupt end to their senior year to the Lord, knowing He invites them to empty their hearts full of pain and loss to Him.
Pray that the Holy Spirit's comfort and peace will be upon students who were not able to go home and are still living on campus.
As the campus community is now dispersed, pray that faculty, staff, and students will find new and creative ways to stay connected and encourage one another in Christ.
We are grateful for our parent community and thankful for your involvement and prayers,
The Wheaton College Parent Engagement team