The Wheaton College alumna will conduct research on non-native English teachers and their identity formation through her recent award from the Fulbright U.S. Student Study/Research Program.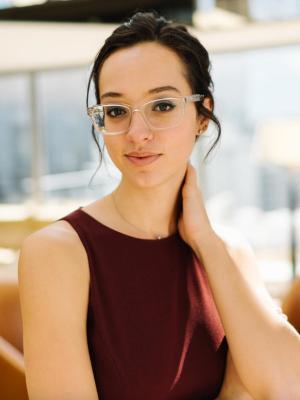 Dervish's research will be in conjunction with Gazi University in Turkey and Dr. Paşa Tevfik Cephe from the Gazi Faculty of Education. The project will contribute to her doctoral dissertation work at the University of Illinois in Urbana-Champaign.
Dervish, who is pursuing an Ed.D., cited her years at Wheaton as the time when she discovered her love for teaching: its hands-on nature and its ability to foster understanding about the world. While completing her English major, Dervish worked in a middle school classroom as a teacher's aide. She recalled the encouragement she received from Associate Professor of Education Dr. IL-Hee Kim after a middle school class, which she considered key in her development as a teacher.
"Afterward, Dr. Kim was giving me feedback, and he said, 'You know, you've really got a gift for this. You've really got a gift for engaging with the students,'" said Dervish. "And that was really nice to hear."
Dervish also had the opportunity to serve as an intern with RefugeeOne in Chicago during her undergraduate years. This experience sparked her passion for teaching English, which she has carried into her career since graduating from Wheaton.
Recipients of Fulbright awards are selected in an open, merit-based competition that considers leadership potential, academic and professional achievement, and record of service. Fulbright alumni include 61 Nobel Prize laureates, 89 Pulitzer Prize recipients, and 40 who have served as a head of state or government.
Dervish is motivated by her own experience as an English language teacher in a foreign country. After receiving her first Fulbright scholarship in 2018 through the English Teaching Assistant Program, Dervish was placed in a Turkish classroom with 20 college students.
"When I first started teaching I had no qualification other than being a 'native speaker,'" said Dervish. "I felt like an impostor standing in front of the classroom because I had no pedagogical training. If I had feelings of imposter syndrome, how were my students crafting their narratives and building identities as 'non-native' teachers? I began my doctorate wanting to return to Turkey to conduct research that would aid ELL and ELT students in their language learning journey and identity formation."
Her current dissertation focuses on facilitating inclusivity within the English language teaching community. With the new Fulbright funding, Dervish hopes her research will be a stimulus to promote discourse surrounding teacher identity and teacher training curriculum, and to inspire future multi-competent language users. Ultimately, she aspires to be a foreign service regional English language officer, promoting cultural exchange and understanding while developing and analyzing English language programs around the globe.
—Grant Dutro