The invitation-only event brought 50 business leaders together to grow in their application of Christian wisdom to the marketplace's most pressing issues.
The Wheaton Center for Faith and Innovation convened the third annual CFI Fall Executive Forum this past Thursday, Friday, and Saturday (November 4-6). This invitation-only event brought together 50 Christian business leaders committed to building a Christian legacy in their sectors. The focus of this year's Executive Forum explored how Christian wisdom can help navigate the challenges out in the marketplace, which include everything from supply chain issues, cultural and political pressures, and changing government mandates and guidance.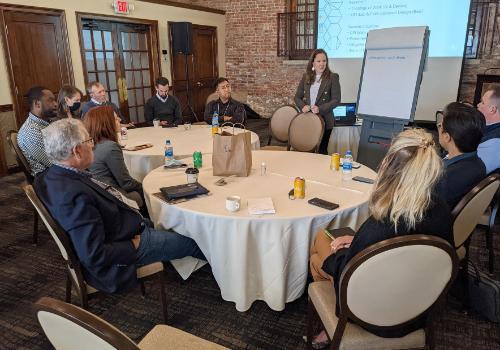 "This Forum is our opportunity to be in conversation with Christian leaders who are partnering with the work of Jesus in the marketplace, to join them in prayer and in training the next generation of dedicated Christian leaders in business," said CFI Executive Director Dr. Hannah Stolze.
During the three-day event, hosted at the Historic Herrington Inn & Spa on the Fox River in Geneva, Illinois, CFI staff and directors hosted a group of 50 business executives, which included:
Pete Ochs, Founder & Chair, Capital III
Julia Oltmanns, Assistant Vice President, Zurich North America
Steve Wilhite, Senior Vice President, Schneider Electric
Andrea Mac, Growth Strategist, Prequal
J Cheng, Founder, Gen 1 Capital
Lance Clevinger, Founder and Chief Steward, Legacy Left
Amy Schmidt, Director, HR Strategy, Commvault
Across the weekend, the group heard lectures from Dr. Hannah Stolze on tending business ecosystems and Dr. Nicholas Pearce, an award-winning management expert and megachurch pastor, on the social responsibilities we have as Christian business leaders and held workshops aimed at tackling the marketplace's challenges.
They also shared recent research. In the State of Faith in the Marketplace report, CFI details the findings from their case studies with five companies on the question, "How do Christian leaders integrate their faith into their business decisions to create competitive advantages in employee retention and business strategy?" They also announced the news that KeHE, a national wholesale food distributor, has come on board as a sponsor to fund further studies.

CFI is a full-service research and training institute at Wheaton College dedicated to teaching Christians to apply their faith to questions and issues, ranging from customer retention to problem analysis in the marketplace, with the goal of creating innovative solutions for businesses. Learn more at www.wheaton.edu/cfi.