Posted May 11, 2016 by
Tags: Financial Aid My Wheaton Student Activities The Arts
2015-16: #MyWheaton "Top 5" Recap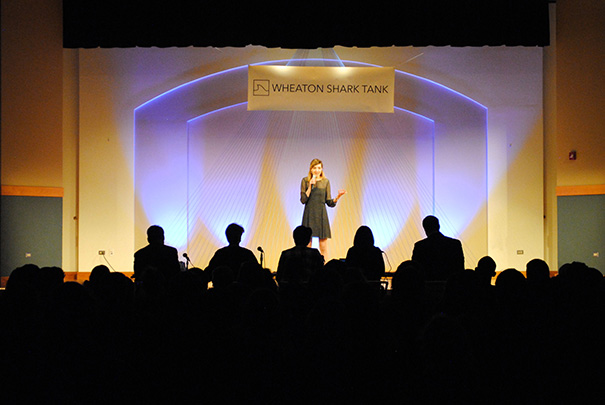 Take a look back at the 2015-16 academic year through the lens of our "Top 5" #MyWheaton posts from August through May of this year. From student entrepreneurship to varsity athletics and financial aid, here are the top five student stories, based on total number of page views, that our readers enjoyed on the #MyWheaton blog this year:
Wheaton Shark Tank Winner: Flourish
Based on the original Shark Tank TV series, hopeful students pitched their brand ideas to investors over several rounds of Wheaton Shark Tank. Mary Elizabeth Goodell '16 (pictured above) won this February with her brand, "Flourish." Mary Elizabeth shared about her inspiration, her Shark Tank journey, and what makes her brand unique. "The idea was to sell sustainably made dresses by employing victims of sexual violence," she says.
2015 Student Video Competition Winners
For the 2015 video contest, students were asked to capture their Wheaton experience on video in less than three minutes and were judged on originality, creativity, production quality, and reflection of Wheaton's Mission and Community Covenant. Zack Johnston '17 won with "Our Wheaton," Larryon Truman '16 won with "Worship is a Lifestyle," and Matt Adams '17 won with "Feet of Wheaton."
Wheaton Soccer: More Than a Sport
Marshall Hollingsworth '16 shared how playing soccer at Wheaton shaped who he is as a person and athlete. "I have not experienced God's love as much as I have these past three years at Wheaton College," Marshall said. Watch Marshall's video to learn more about soccer at Wheaton, faith through injuries, and learning to lean on God.
Wheaton Swimming: Success Within a Community
Kirsty Nitz '16 turned down swimming scholarships to D1 schools, drawn to Wheaton's academics and community. "Even during my first semester here, God affirmed my decision to come to Wheaton repeatedly by providing wonderful friends who encouraged and motivated me athletically, academically, and in my walk with the Lord," said Kirsty. She shares how swimming in community at Wheaton has grown and encouraged her.
When circumstances jeopardized Travis Mercante '17's ability to continue at Wheaton, he discovered the Financial Aid Office. Through their patience, encouragement, and assistance, Travis found a way to remain at Wheaton. "They have been my advocates and mentors," shares Travis. "I will never be able to thank them enough for their assistance and all the help they continue to provide.
Stay tuned for a series of summer 2016 #MyWheaton posts dedicated to showcasing Wheaton students' study abroad, internship, and curricular opportunities, and share your summer experiences on social media using the hashtag #MyWheaton.