Posted March 23, 2016 by
Tags: My Wheaton Global and Experiential Learning
My Own Indiana Jones Trip
As a freshman and recently declared geology major I decided to spend my summer in an archaeological excavation in Ashkelon, Israel. At the time, I thought I was signing up for an Indiana Jones kind of trip that would allow me to explore the Holy Lands while pursuing a childhood dream. However, two summers in Israel, over a year of work, and a trip to Belgium later, I realized that it has become so much more than that.
My first summer in Ashkelon was a summer of exploration: exploring the field of archaeology, new friendships, a new country, and much about myself and the person I wanted to become. Through the grueling six day work-weeks and 5am wake-up calls, I still found myself enthralled in the discoveries we were making each day, as well as deeply privileged to have the opportunity to uncover (quite literally) someone else's story.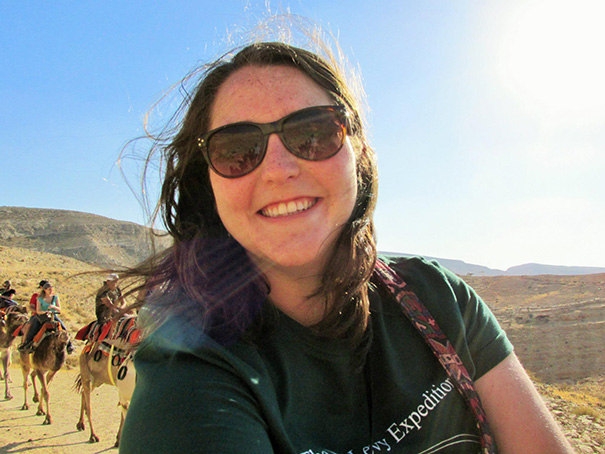 After that first summer, I thought I was done with archaeology, but God had other plans. Within months of starting my sophomore year, I was presented with the opportunity to serve as the student research assistant for a Geoarchaeology project under Dr. Daniel Master. In conjunction with the Levantine Ceramics Project (LCP), our goal has been to acquire and create an aggregate meta-data set on ceramic petrography (a subset of Geoarchaeology in which microscopic sections of pottery are analyzed.) The LCP, once completed, will serve as a fundamental research tool for archaeologists in the Mediterranean region. It will enable those interested to view and cross-reference their colleague's data, allowing for wider and more important historical connections to be made. Working with the LCP gave me the opportunity to travel back to Israel last summer, where I worked with researchers and peers at the excavation. It also enabled me to travel to Belgium over spring break to attend a conference to discuss the LCP database.
I cannot believe how much my Wheaton experience has been shaped by my random decision freshman year to spend a summer digging in dirt. I never expected to travel across the world for work in college or to have the opportunity to meet so many fascinating people across diverse disciplines. I've learned that you never know where God is going to take you, so have faith, trust in Him, and have fun seeing how His plan for you unfolds!
Sarah Ostertag '17 is a junior major and international relations minor. She presented her Levantine Ceramics Project findings in a Belgium archaeology conference this March. Learn more about the Biblical Archaeology major and minor at Wheaton.
Photo Captions: Sarah riding a camel during her trip to Israel; the grid Sarah dug on; Sarah working on a section drawing of the trench she dug.