Posted December 2, 2015 by
Tags: My Wheaton Campus Financial Aid
#GivingTuesday: Cultivating An Attitude of Gratitude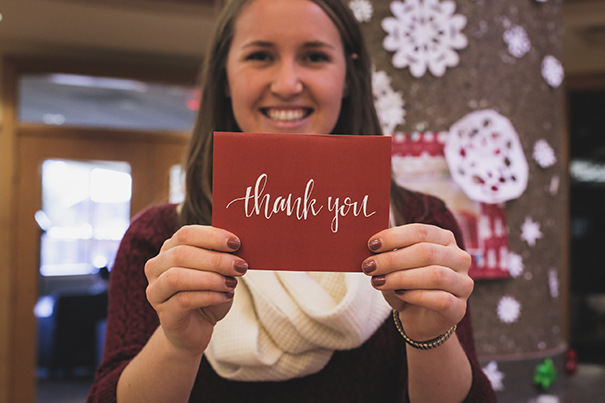 When I first came to Wheaton, I had no idea how important fundraising is to an institution like Wheaton College. Because I'm not receiving any direct financial help from the College, I always saw fundraising as an area of college life I could never connect with. However, all of these perceptions changed when I became involved in student leadership. Both my time on Student Alumni Board and my semester interning in the Office of Annual Giving opened my eyes to the importance of fundraising at Wheaton.
Throughout my internship with the Office of Annual Giving, I gained an even greater awareness of the ways Wheaton's donor base made my time here possible. Regardless of whether a student is receiving financial aid or not, the Wheaton Fund subsidizes each student's education by about $10,000 a year. The Fund also pays professors, takes care of facilities costs, and much more. Whether or not we're aware of it, the Wheaton Fund plays a role in each of our Wheaton stories.
One of my responsibilities as an intern has been to relaunch and rebrand the Advancement Associates program, now known as the Student Ambassadors program. As Student Ambassadors, we play a unique role in campus life: we are responsible for both donor care practices as well as student education of what fundraising looks like at Wheaton. We have the opportunity to engage a significant portion of the Wheaton family as we integrate Wheaton's donor body with Wheaton's current student body. We try to bring both together under the common ground of a deep love for Wheaton College and for its work for Christ and His Kingdom.
As a national holiday, focused on encouraging people to give back in response to Thanksgiving, #GivingTuesday provides avenues to accomplish this. Our intention for #GivingTuesday was to thank those who have been so generous to Wheaton, both through their donations and their prayers. We celebrated #GivingTuesday this week by taking time as a student body to thank those that have made our Wheaton experience possible. We spent all day Tuesday in Lower Beamer educating students about the Wheaton Fund and asking them to write notes to thank those that have made our Wheaton experience possible.
If Wheaton were to cost an extra $10,000, many students wouldn't be here, and we wouldn't be the community we are today. I think it's critical that all students understand the impact of the Wheaton Fund on themselves, their peers, and our campus. #GivingTuesday is all about cultivating an attitude of gratitude at Wheaton.
Erica Forkner '17started the Student Ambassador group as part of her internship with the . She now leads a group of eight Student Ambassadors. To learn more about giving to Wheaton, Wheaton Associates, and the Wheaton Fund, visit their websites.
Photo credit: Kevin Schmalandt